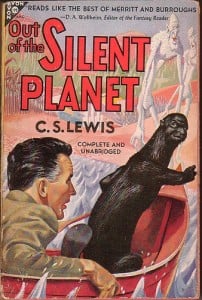 Today, I had a great conversation with a college student and a campus minister about Geek culture. The student and I became "geek" teachers to my friend. He didn't really grasp what a geek might be or why it might be important to know. We argued how "geek" is the main language of pop culture and influences more than people comprehend.  Three hours later, we realized something important; the next C.S. Lewis needs to be a geek.
Allow me to step back. If you're not a Christian, you probably don't understand why finding a new C.S. Lewis is important. To us Western Christians, Lewis is "the man". He has impacted many of us in deep and profound ways.
So, it's a bit of an obsession with Western Christians to search for "the next C.S. Lewis". This means two things; we're looking for the next person who can explain the Christian faith in a relevant way to  people who don't believe and we're looking for the next "creative" writer in the fiction realm.
However, when you talk to "educated" Christians, the latter part of this equation has long been forgotten. They are looking for the next "apologist" for the faith. They're looking for the next person who can make Christianity credible to the watching world. It's not a bad desire, but they don't understand the world has "moved on". Educated Christians want an academic like Lewis who will make "smart" people "get it". The thing is, they don't realize Lewis spoke in his time, the early 20th Century.
Most of the time, Lewis' ability to tell an amazing story gets ignored or relegated to his Chronicles of Narnia series. Pssst, if you're knowledge of Lewis' storytelling prowess is limited to the Chronicles, reference the following; The Space Trilogy, Til We have Faces and The Screwtape Letters.
What most Christians don't realize is, they're looking for the next C.S. Lewis in the wrong place. Instead of looking at academics, preachers or theologians, they should look to the Geek culture of comic books, graphic novels, stories, and movies.
Sounds simple doesn't it? Not so fast. Many, I would say most, Christians avoid geek culture with either suspicion or disdain. For example, an online movie reviewer dismissed comic book movies as being from "the mind of a fourteen year old boy". I've written on this disdainful opinion here, but the point is clear; Geek culture seems to be below us educated Christians.
Why is this? Why is there a disdainful attitude to Geek culture among the church, especially among Christians who are supposedly concerned with "engaging and transforming the culture"?
These questions become important when one realizes; geeks really do rule the world. Need proof? Think computers and gaming. Think of movies like Star Wars, Harry Potter, Lord of the Rings, Star Trek and a number of other geek franchises that rule the entertainment world. What do you get when you add entertainment and the computer world? Powerful forces in the current cultural discussion that many Christians just ignore, even as our own college students are neck deep in these realms. They're asking the questions of how to relate their Geekness and their faith.
For example, I was at the Jubilee conference this past weekend. It's a great Christian college student conference of about 2500 college students. My friend, Byron Borger, the World's Greatest Book Seller (trademark pending), recommended a book from the main stage called, "Of God and Games". After the session, the book sold out in an hour with tons of requests for copies to be mailed to them (I ordered one). The book addresses what it means to be a "gamer" in light of God's calling to redeem culture. Want one? Order it here.
This brings me to my main point; the next C.S. Lewis is going to have to be a geek. He or she is going to have to understand Geek culture in a deep, profound way. They're going to have to be a Geek themselves. They're going to have to realize how much Geeks actually guide the cultural conversation.
Finally, and most importantly, he or she is going to have to be a fantastic storyteller in their own right through a number of different entertainment mediums.
Who will it be? I don't know. I'm excited to find out. Talk about it below.
P.S.: There is a new biography on C.S. Lewis by Alister McGrath. I have it, but have not read it. Still, it looks fantastic and highlights Lewis' rough life.