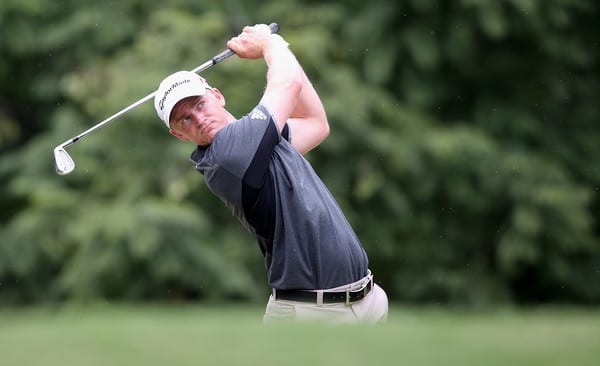 Adam Long–a PGA Tour rookie at 31 years of age–just won the Desert Classic in La Quinta, California, at the Stadium Course at PGA WEST designed by Jack Nicklaus. He made a fourteen foot putt on the last hole to win by one stroke in an exciting finish.
Three players were tied at 25-under par, all playing the last hole together in the same threesome: Phil Mickelson, Adam Hadwin, and Adam Long. On the final nine holes, Hadwin was in command with the lead, often by two strokes. Mickelson was troubled with the short stick all day. Then Mickelson made a couple of birdies to tie Hadwin. Then Long did the same.
On the last hole, a par four, Long drove right into the dormant, short rough. His lie was fine, but the stance was not. It was a sharply side-hill stance, with the ball below his feet. But he played an excellent shot right on line with the pin to fourteen feet. His putt had a left-to-right break about six inches outside the hole. He hit it perfect, right in the middle of the cup for the win.
Mickelson had tied the course record the first day with a blazing twelve-under par 60 at the LaQuinta Country Club. That golf course has more out-of-bounds stakes than there are tiddedly winks in the can. It was the third 60 Phil had shot in his PGA Tour career; but he had never broken 60. He led the tournament starting every day after that. So, Mickelson was definitely favored to win. But his baulky putter wouldn't cooperate. His claw grip wasn't working. Sometimes, he went back to his conventional putting grip.
Adam Long played pro golf tours all over the world, especially Canada's MacKenzie Tour and the PGA Tour's Web.com Tour, and never won a tournament. Yet he made that last putt as if he was veteran Phil Mickelson, who was going for his 44th win on the PGA Tour. Instead, the 48-year old superstar had to take a bow to the 31-year old rookie.
I like Adam Long's swing. He "stays with the shot." Most golfers would call that "staying down," since his head doesn't rise up on his follow through. Plus, he finishes well onto his forward (left foot for right-handed golfers) foot. That really works well under pressure. I think that's why Adam was able to survive brilliantly in those closing holes today.
It was the sixtieth anniversary of this tournament. While Bob Hope was still alive, it was called The Bob Hope Desert Classic. I used to love to play in that tournament. Beautiful weather in the wintertime. And I always felt great in the dry, desert climate. Plus, that's where I got my nickname, when Bob Hope made fun of my name by calling me "the pro from the moon." Memories!