~~~~~~~~~~
The biggest reason why Josh will get away with sexually assaulting five girls is purity culture. If you're a regular reader that connection should be apparent right now, as I've frequently talked about how my belief in "purity" kept me from talking about my rape for years.
Everything about this situation was not just mishandled, it was covered up. On purpose. That makes any mandatory reporter that knew about this a criminal (at the minimum, the church leadership and the original police officer, who did not file a report), and it makes Jim Bob and Michelle, in the words of Jesus, hypocrites and vipers. White-washed tombs, full of dead men's bones and rotting corpses.
However, Jim Bob and Michelle and the church leadership and the police were able to cover this up because of the culture his victims belong to. They have been taught since they extremely young that women are capable of tempting the most holy man to sin, that women can provoke men into raping them, that if something bad happened they must always look for their part in the blame. The Duggars belong to an even more nightmarish subculture than I was exposed to, since they follow Bill Gothard. If you're not familiar with ATI/IBLP, this is what Gothard teaches about sexual abuse.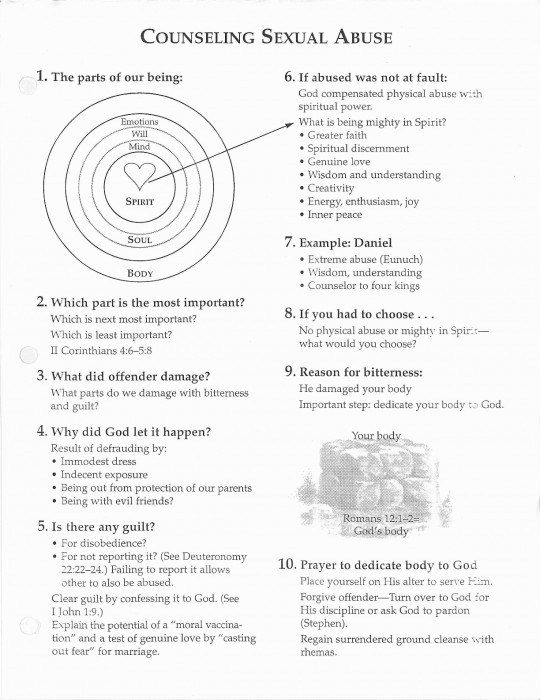 That is the only framework that Josh's victims had to process their assaults. Like me, they were forced by the only things they knew to evaluate how they could be responsible for what Josh did to them. It was their responsibility to repent of "immodesty" or any "sensuousness" they may have displayed, however innocently. Then, because they contributed to their own assault, they don't have the ability to pursue justice. They were duty-bound to "forgive" their abuser because, after all, it was their fault, too.
If his victims were to come forward, to make police reports within the limited three-year window they had to get justice, they would have been dragged through a nightmare the likes of which we can't even begin to imagine. It is extremely likely that every single last person they knew– their family, their church– would have turned their backs and rejected them. They would hear sermons preached about them about the "spirit of bitterness" and how it can destroy a young woman. They would have been sternly reminded that Christians handle problems among themselves and don't involve the courts.
In ATI/IBLP, if they received any "counseling" at all (which seems unlikely, considering Michelle Duggar said that Josh's "counseling" involved helping a family friend remodel his house), it would have been laser-focused on figuring out what the victims did "wrong" so they could be shamed for it.
This is what purity culture does. More than anything else, it silences victims.
~~~~~~~~~~~
Further reading:
"When my abuser is welcome at the table, I am not" by Sarah Moon
"Josh Duggar and the Purity Lie" by Sarah Posner
"Josh Duggar and the Problem of Easy Forgiving" by Mary DeMuth
~~~~~~~~~~~
Samantha blogs at Defeating The Dragons and is a member of The Spiritual Abuse Survivor Blogs Network
Read Samantha's detailed review of Mark and Grace Driscoll's book "Real Marriage"
Part 1 | Part 2 | Part 3 | Part 4 | Part 5 | Part 6 | Part 7 | Part 8 | Part 9  
Part 10 | Part 11 | Part 12 | Part 13
~~~~~~~~~~~
If this is your first time visiting NLQ please read our Welcome page and our Comment Policy!
Comments open below
NLQ Recommended Reading …