by Cindy Kunsman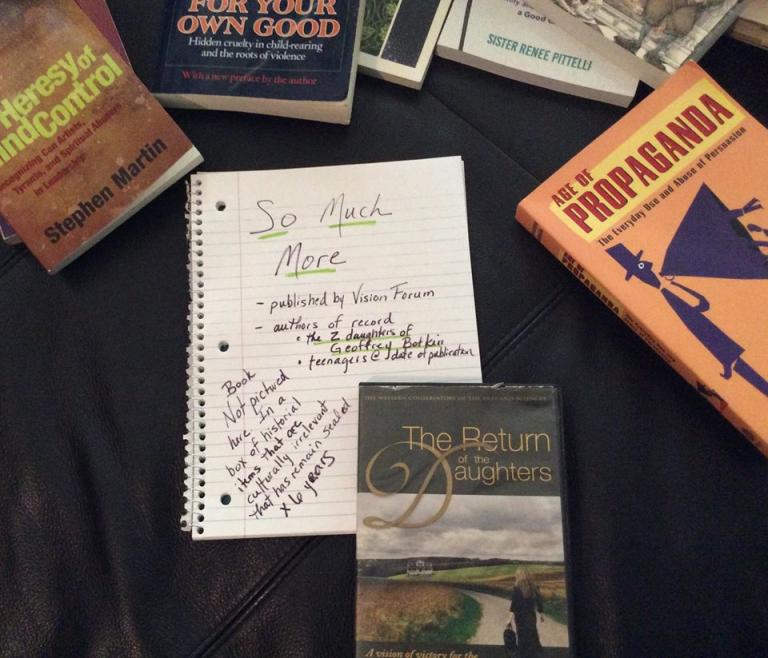 PIC #1 of the Botkin Book and Video
The NLQ readers have asked me what I expect to accomplish by addressing the daughters of Geoffrey Botkin (GB) publicly in blog posts. When asked if I am willing to forgive them (as most people find their claims to be what I'll summarize as cruel and questionable), I hope to give them information that they will need to understand my position. Because I see the question of their own agency as an unknown under a model where the standard of what is right and good filters to them through GB, I already forgave them. However, I'm still feeling many different emotions, but the angry ones fall on their father's shoulders. I will respond publicly on my blog and here at Patheos, offering them information that they will need if they truly wish to cooperate with me, relating to me as a fellow Christian. Good Bereans should be willing to search out the truth, and I'd like to help them.
If they are sincere about what they wrote, offering flattering words that acknowledge that I want to help people who are in pain and that we share many common goals, they need more information about the misconceptions that they hold about what I've written and why. I am very happy to clarify them. Much of the information can help them as well as many other daughters and parents, and all can learn more about the history and the practices for which those in this subculture developed a reputation. The nature of the letter itself speaks to a system of how Matthew Chapter 18 is misinterpreted in order to counter 1st Corinthians Chapter 6 to exempt plaintiffs from a host of imperatives laid out by both Jesus and the Apostle Paul. (That's another blog post to come.)
Yesterday, I thought about the books that I pulled off my shelf and ones near the top of my 'to be read' pile while the rain poured outside. I wrote in this post about people that I'm sure that these young women know nothing or little about, and Suzanne chose to post a couple of them. As I looked at the books, I thought about the people who wrote them. It was said of me that I hurt and used people with names and faces — people that I didn't even know — that I had allegedly hurt without conscience and without respect for them. I wrote because of those same people to one day stand before God with clean hands and a pure heart, but without a better understanding of my vantage, they can't understand. I thought that it might be nice to GB's daughters a bit more about the people that I know who left Great Commission Ministries and those who helped me when I left my own spiritually abusive group and the unhealthy churches that I've found myself in since then.
Faces of Friends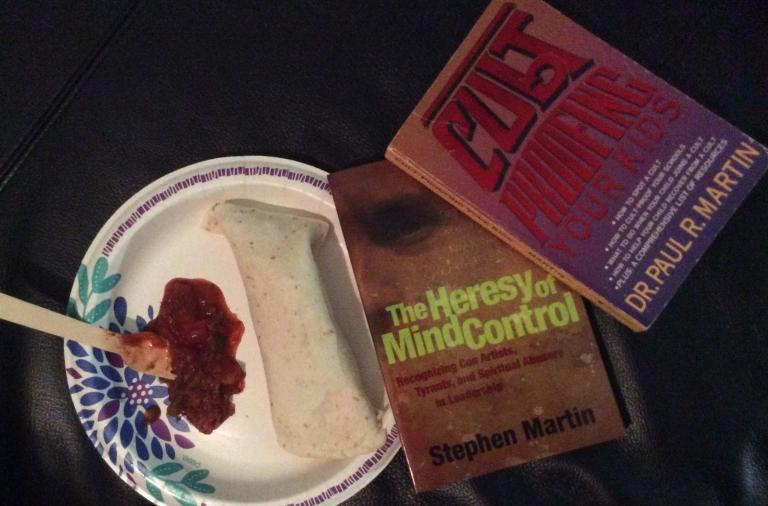 PIC #2 Martin Brothers
With the books in front of me, I saw the parallels between the sisters and brothers. The books of Paul and Steve Martin laid right beside the Botkin video in front of me. How I wish that Paul was still with us to share a message of hope that Steve now labors at along with Paul's wife, Barbara. As I note in a comment, with their consent, it is quite possible for me to arrange for the daughters to meet the Martin brother and perhaps Larry Pile who is the resident historian at Wellspring Retreat and Resource Center and a former member of the religious group where GB first claimed some fame. If you see a picture of Barb Martin online somewhere, it won't do her justice. She is one of those people who is so kind, serene, and loving that she seems about 100x more beautiful to me in person.
Lawrence "Larry Pile" coined the acronym of TACO within the Christian Apologetics community which he prefers over cult or cultic: a Totalist Authoritarian Christian Organization. People tend to dismiss the word cultic, and I chose to embrace the word of 'cult' when I left my own TACO because it didn't try to dress up the horrible nature of what happened to me. It called a horrible thing by a horrible name, and that helped me claim my right to my own recovery. It is tremendously hard for a Christian to take a stand like that, but I found liberty in the term. People also tend to sit up and listen if a person is willing to admit that what they experienced in a TACO church was really that terrible. Some people fault me for my choice of language, but I didn't believe that dressing things up with kinder language helped anyone. Larry would very likely not have chosen the language that I use, but I'm happy with TACO!
If I ever get the video edited from a talk that I gave in DC at an International Cultic Studies Association (ICSA) meeting, you can hear Larry in the front row laughing from time to time as I talk about Christianity's alternative mental health system. (Our own NLQ host, Suzanne, drove up from Culpepper to attend that day, too.) We don't usually take photos at those meetings because people are afraid of ending up in a picture that might make it back to their TACO, and they find themselves terrorized once again. I don't take many photos if any at all at those meetings, and I'm careful about how I use those that I do.
This is why, to the best of my ability to recall, I show only one picture of the Botkin Family with none of the girls themselves. From among some 1500 blog posts I've written about TACOs and such. I still have to check, though, to make sure that my memory is accurate on that point. I may make material concerning Geoff Botkin live on the blog again so that the reader can decide for themselves whether I'm true in that. My memory assessment may just be the wishful thought of confirmation bias. I don't believe that I have a picture of Larry, but you can see his face in his review of Quivering Daughters. I love him so much that I once told him that I wanted to take him home with me if I had someplace to put him.
Larry's undergrad degree is in German Language, and I went up to him years ago and asked him in Pennsylvania Dutch if I could give him a hug and a kiss. (Dave Clark was there with him, the exit counselor who trained my exit counselor, but I'll show you a picture of him in another post.). Larry was so funny! He said "My God, woman! That is practically Amish! And no self-respecting Amish woman would ever ask a man for a hug and a kiss!" I explained that many people call Pennsylvania Dutch "mix-ta-pickle Dutch," a (very) low German dialect that is actually more Bohemian/Austrian. Dave lives in a town about as close to Dutch Country in PA as the one where I grew up, so it had some humor for him, too. So I then looked at Larry and said, "Can I have a buss and a dricke anyway?"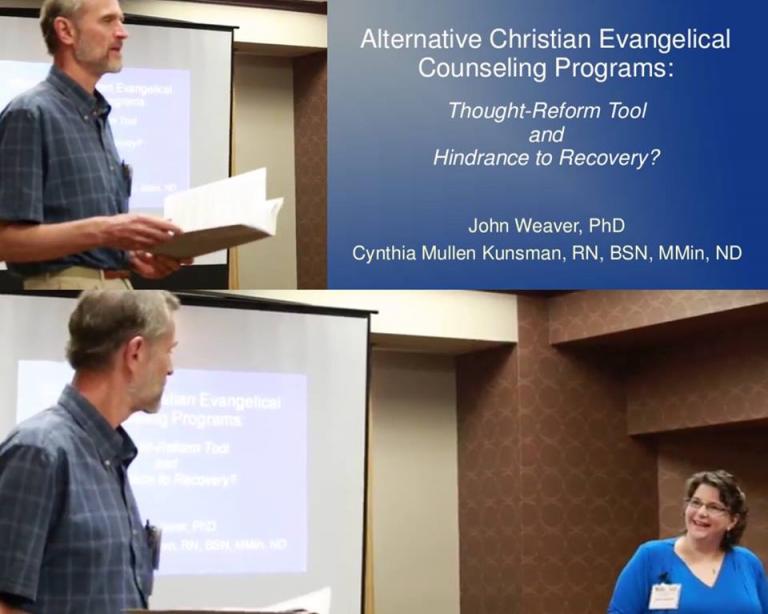 PIC #3 STEVE as EMCEE
And Steven Martin is a dear friend with whom I've corresponded for a very long time. I took this screenshot from the video where, one day when I get it edited, we can all hear Larry laughing. Steve is the author of the book, The Heresy of Mind Control., and as already noted, he's the brother of Paul who walked away from the Great Commission group. His friendship, kind ear, and encouragement have meant so much to me, as do so many of the folks involved at Wellspring.
I have written much about the estrangement with my own parents, and I usually send what I write to three or four moms to make sure that I don't sound like I mean to hurt them. I would then sit on those writings for weeks before I posted them. But I have also found a sweet community of people who have become a new family for me. I love them so much and am so grateful for their work, but especially for the love and fellowship that we share with one another. And I want to be a better person when I'm around them so that people around me can sense the love of God in me like I do in them. And I'm glad that my parents have that same kind of love and have people in their lives who know their loving kindness, too.
Stay tuned for some more faces and more information. Dave and Paul Martin are yet to come.
Editor's note: I remember that day because Cindy spoke about two fo the most confusing books I was forced to study in my old church "Pigs in the Parlor" and "Needless Casualties of War"
---
Stay in touch! Like No Longer Quivering on Facebook:
If this is your first time visiting NLQ please read our Welcome page and our Comment Policy! Commenting here means you agree to abide by our policies.
Copyright notice: If you use any content from NLQ, including any of our research or Quoting Quiverfull quotes, please give us credit and a link back to this site. All original content is owned by No Longer Quivering and Patheos.com
Read our hate mail at Jerks 4 Jesus
Check out today's NLQ News at NLQ Newspaper
Contact NLQ at SuzanneNLQ@gmail.com
Comments open below
NLQ Recommended Reading …
I Fired God by Jcoelyn Zichtermann