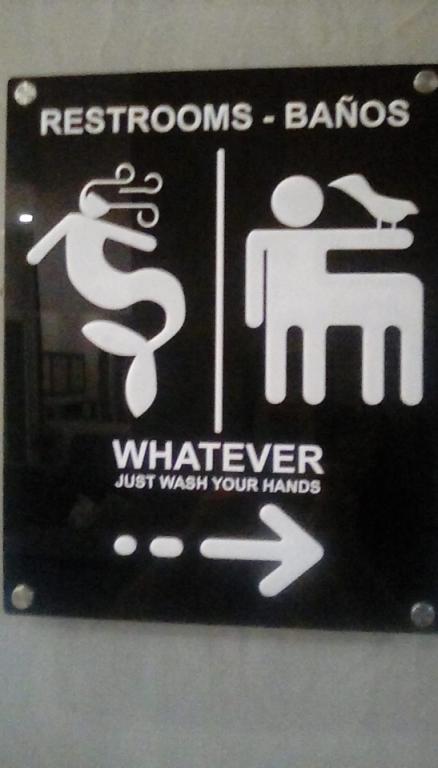 A new post by Larry Solomon of Biblical Gender Roles lurks on the edge of the lady-bashers. He posts about getting married no matter what and bemoans the lack of non-liberal ladies to marry. What is interesting is nothing Larry says in the new post titled "Is Marriage Worth Bothering With?" It's the commenters, the piles of self-described MGTOW guys and the pure misogynts complaining about a lack of 'real women' For bonus giggles Trey makes an appearance.
Larry's piece was in response to a question about if marriage is worth bothering with by his regular commenter Anglo Saxon. You remember Saxon, he was the commenter last week that said this about the silent treatment from a wife: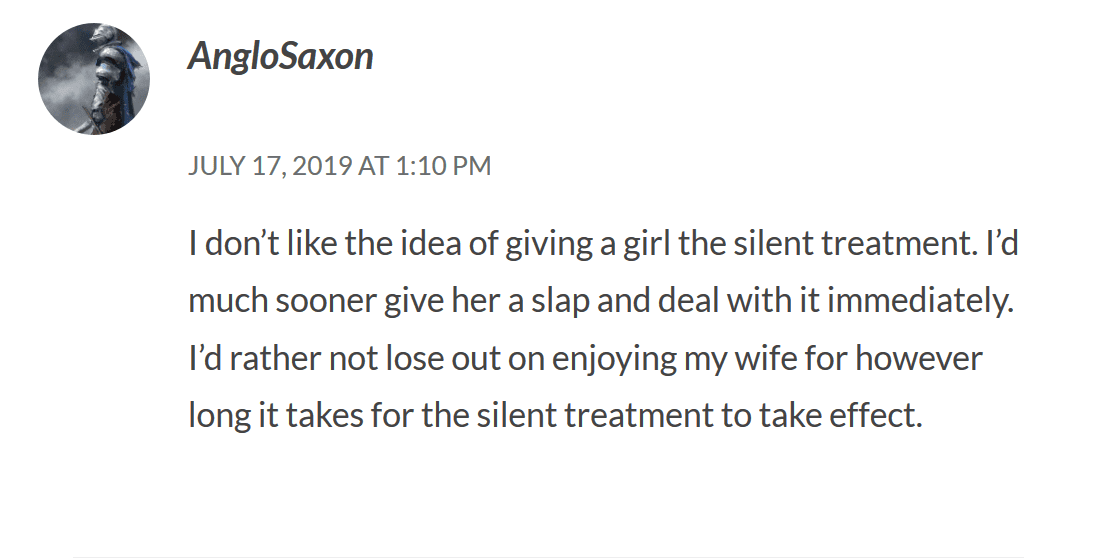 Yes, this dude, who responded to Larry's telling him to find a wife this way:
The reason why I asked is marriage worth it is because I've been tempted to go sleep with random women as I have the looks to attract women but not the income to have a wife (in addition to what I said about how most marriages seem rubbish).
He needs to only be with Real Dolls and ladies of the night. Which leads me to the insane piles of commentary Larry's MGTOW fans did on this largely uninteresting piece. Which, as always, can be distilled down to marry to have someone cooking, cleaning, groveling and making with the horizontal rumba on demand.
First I must address this in Larry's piles of drivel on marriage:
Many women in our post-feminist culture do not seek out men in marriage for their provision and their protection. Rather they seek out men simply for "friendship" and to have someone to "that makes me laugh".
This goes back to a comment I made the other day about men and bedroom fun. Bedroom fun only lasts so long, and you'd better have something to talk about afterward or it's going on to be one long night. Friendship in marriage is essential. How on earth can anyone consider partnering in a life long commitment without friendship being the bedrock? You're setting yourself up for marital failure without underlining respect, friendship and just plain old liking to be together.
I thank God every day I'm not married to Larry and his hairy man ways. Laughter is the oil that can smooth things along. I've been married 33 years now and we frequently laugh! Just yesterday the husband walked past the large window in my studio, his pants around his knees and said, "Did you hear there's a flasher lurking in our neighborhood?" I laughed uproariously!
He had surgery on his left arm 13 weeks ago and still cannot pull up his pants without help. I knew he wasn't intentionally flashing me. In Larry's world Larry would have likely come to the window and yelled to come pull up his pants. I did go up and pull up my husband's pants after I picked myself off the ground from the laughing. We both tend to crack each other up regularly.
Laughter, friendship, happy times together and fun are all parts of a great marriage!
Okay, back to Larry's load of lady-hating weak weak male commentators. I'm going to just pile them in and you can make your own options. I hate to do this just a mere two days after an invasion of MGTOW guys in our comments. A word of warning to the ones that will pile in on this: You can discuss it all you want here, but the minute you say something nasty or personally attacking I will ban you. I am happy that most that came in the other day did not go there. We can discuss differing ideas without being personally insulting.
Now on with the nasty comments
~~~~~~~~~~~~~~~
From "Feminist Destroyer"
Also it's not just atheists who teach that marriage is not good…..one of the strongest bible believing Christians right here in WordPress, a guy named DALROCK teaches and warns men of the inherent dangers of marriage, and he's not the only born again Christian whose teaching this.

My personal view is that any man, I don't care whether he is a Christian or not, who gets married today is committing financial and mental suicide, it is literally far too dangerous for men to get married in today's world
Teaching others to get married should come with very severe warnings about the risks involved for men.
Unfortunately marriage now days is an awesome ideal but it comes with risks
The charming sobriquet "Wood Chipper"
Had me until you started quoting Wilcux. Married men make more money because they have to, not because roofing or any other job is necessarily in their own best interest. They are also only healthier if you don't compare married men to equally marriageable men. Fat married men look good when you compare to poor divorcees and the disabled that would never find a wife in the first place. You make strong arguments, but he is just here to sign up new recruits to the modern marriage steamroller.
Here's "Rick Oshay"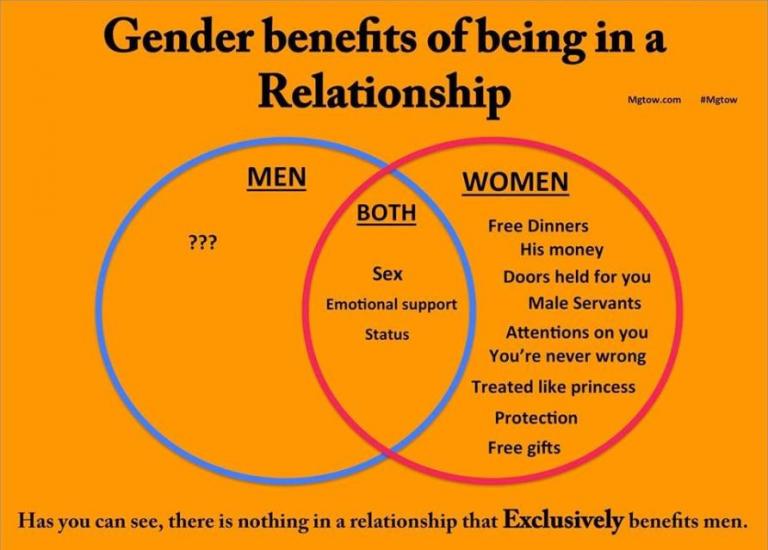 A woman, but not a very safe one "Living In Blurred Lines"
Here's a hint: pass up the hotties for the cute gals. Ditch the 9 and 10s and marry the 6 and 7s. I'm never going to win Miss America, but I keep my husband satisfied. I love him, serve him, submit, respect him, nourish him. I have never refused him sex. He gets breakfast in bed.
Heresssssss "Anm1"
The shiny new thing issue happens with both men and women – the real question is will both the man and the woman do right with each other after the novelty wears off and selfishness rears its ugly head? Biblically that answer is yes, they have a duty to.

On the issue of 9's, 10's, and so on, I give my son this piece of advice at least twice a week: Son, it doesn't matter how hot she is on the outside, if she doesn't have the right heart on the inside, it will be guaranteed misery. Note that I don't tell him that what she looks like on the outside doesn't matter. The reason is that is does matter, and to understand men and the way God designed men, one has to accept this. Men are hardwired to desire beauty and this is why it is so important that a wife take care of herself physically as best she can. In short, it isn't all the outside, it isn't all the inside, it is both.
Another woman but with an amusing name "The Edutcated Wife"
Also, while I agree sex is a shared responsibility, more often then not, sex being good is reliant on the woman's attitude and her willingness to partake in the marriage bed.
Up pops "Trey"
"Wood Chipper" again
What SMV scale are all of you using? Given hypergamy, this must be advice for men who are 9's and 10's. I'd also like examples of the plain janes that can't find a man (age, weight, # of kids / other red flags). I see men willing to lower their standards, but I've noticed very few women (especially 6's and 7's) hanging around church with nothing to do.
I didn't copy over any of Larry's long, l-o-n-g LONG replies because he is just repeating himself ad naseum and Larry has stated MGTOWs are not Christians.
Awful theology only attracts awful people.
---
Stay in touch! Like No Longer Quivering on Facebook:
If this is your first time visiting NLQ please read our Welcome page and our Comment Policy! Commenting here means you agree to abide by our policies.
Copyright notice: If you use any content from NLQ, including any of our research or Quoting Quiverfull quotes, please give us credit and a link back to this site. All original content is owned by No Longer Quivering and Patheos.com
Read our hate mail at Jerks 4 Jesus
Check out today's NLQ News at NLQ Newspaper
Contact NLQ at SuzanneNLQ@gmail.com
Comments open below
NLQ Recommended Reading …
I Fired God by Jocelyn Zichtermann