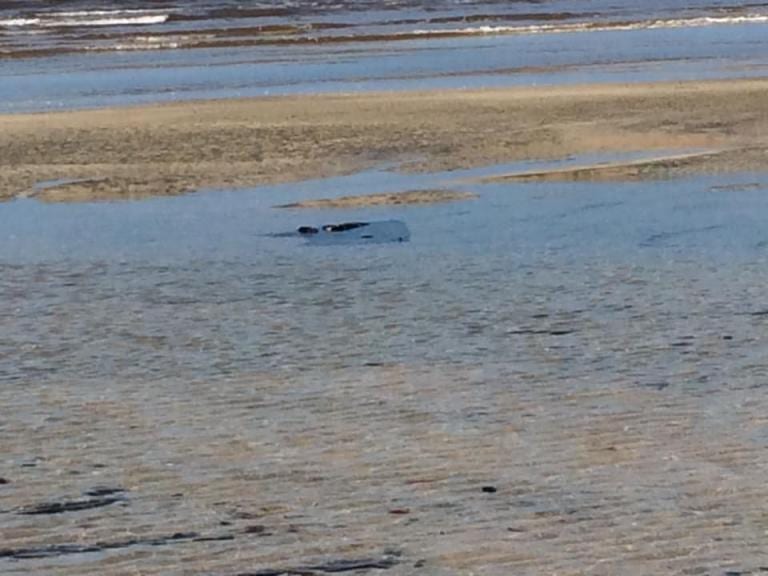 Sometimes when I am researching one thing for No Longer Quivering I will run into something else just so completely wrong it takes away all thoughts of what I was going to originally post. Today is one of those days. I don't know this author, and am not familiar with his ministry, or know where he is on the Quiverfull question. But I do know one thing. This type of  'healing ministry' does incredible harm to those struggling with chemical imbalances, terrible situations driving situational depression and anxiety and depression rooted in physical maladies. Just the fact that all of their pray examples are labeled 'Shame Stories' tells us just how toxic and wrong this all is.
I found this 'Set Free Prayer Ministry' because I was tracing the origin of something Lori Alexander posted this morning at The Transformed Wife, the story of an African woman claiming that staying married through cheating was God's design. Parts of her story are up on the prayer ministry site and a few others. It's not original to Lori Alexander's comments as she claims. Perhaps it's a Poe. She's been hookwinked, not surprised as she's so naive for a woman of sixty plus.
Lori is on an ugly roll right now. Yesterday she posted a very close to plagiarism post taking a swipe as Christian blogger Sheila Wray Gregoire. I've written about Sheila here a few times, and she's taken it in good grace. We don't agree on certain things, but overall her blog is more helpful than harmful. She has an interesting survey up right now on sex in marriage you might want to look at.
Back to this website and it's claims to have "Certified Set Free Ministers" This is a meaningless label cooked up by the fundamentalist founder Jim Gardner. Jim has a PhD and was a counselor for many years, claiming he was not able to help people in counseling like his prayer ministry did. He must have been really quite bad at his job then, or likely connected to a Christian counseling service that pushed guilt on people. I just do not know.
This story on his site is making me so sad this morning. This is the danger of when Evangelical or Fundamentalist Christians decide that they and their prayers are more important than the pain of others.

When you're dealing with uneducated 'prayer warriors' you miss that sometimes depression gets worse before it gets better while they seek to titrate the right medication combination. It takes time to get it right because it's not a one size fits all solution. Sometimes this requires going inpatient at a facility for the safety of the patient. Anyone developing suicidal thoughts during the medication process must be seen immediately, and likely moved to inpatient.  So by even seeing this lady they were interfering with with her physical health and mental health.
Skipping a pile of codswallop on the 'traumas' this guy says she has from the deaths of family and friends. We end up here: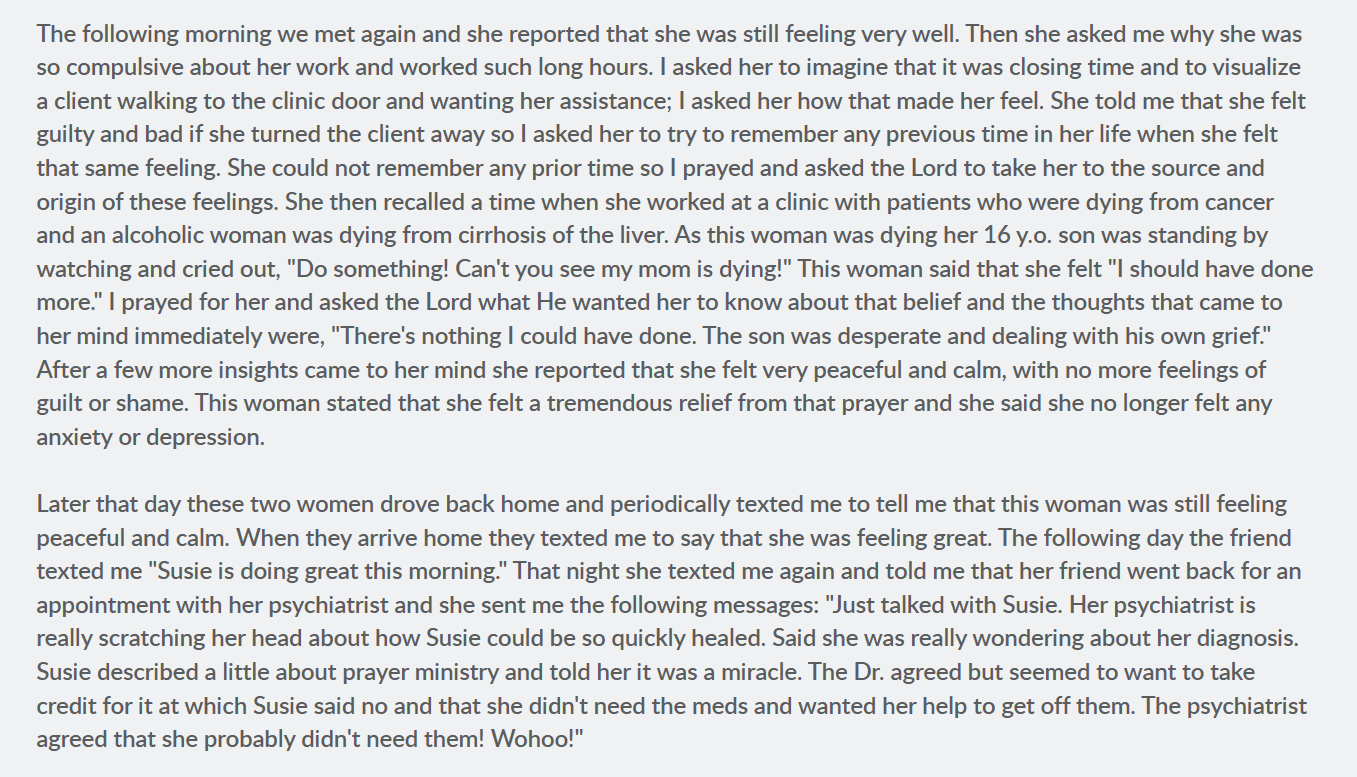 Trauma involving her job, and this man's solution is only prayer. He denigrates the treatment she was currently receiving, takes the nasty fundy swipe at legitimate medications. He does not tell her to start with a complete physical with a licensed doctor. He does not come up with a future plan to deal with lingering traumas and anxiety that might pop up. He does not care about the follow up. It's a one and done. This is all just ego fulfillment for a quack Christian out of Oklahoma.
Oddly enough if you look at the list of providers they claimed to license they are all in those states with lax laws on who can call themselves various official sounding things that are meaningless, like Arkansas and Oklahoma. NONE of these people are licensed by the State to provide any sort of mental help or treatment to people.
Can prayer help when you are depressed? Sure it can help. It cannot hurt. It may be a comfort to some, but it's not the answer for many folks. There are as many reasons for depression as there are types of cereal on a grocer's shelf. Many types involve a lack of brain chemistry, or an organic physical cause. There are types that carry an inherited tendency. For those types of depression this is the worst possible treatment.
I'd say it's a treatment that has a long string of bodies of the dead attached. I've spoken before about my husband's depression that only lifted when it was discovered that he had parathyroid tumors. It could not have been prayed away, he would have died had it not been found.
For years we went from ministry to ministry like this at the behest of our pastor. He was in Christian counseling. Nothing helped. Nothing. It was the tumors.
One 'ministry' we went to that sounds very much like this Set Free Ministry, in Wilmington, North Carolina spent an entire weekend praying for him through their deliverance ministry. I remember that weekend well because it was the weekend after Thanksgiving, and we had to skip family Thanksgiving to travel down to see these people. I remember how red hot angry I was over it all because the pastor, the ministry and my husband had arranged this all behind my back and sprung it on me.
It was one of those transformative moments for me that showed me there genuinely was no benefit to this. It was all ego and the Great and Powerful Oz with the little guy behind the curtain. Once the team separated us and started telling each of us what the prayer team had discovered during their week of prayer for us I knew it was all bunk. Not even close on a thing.
The most toxic thing they said was they told me Jim was cheating on me, and told Jim I was cheating on him. Thankfully both of us had been married a long while by that point, and knew beyond a shadow of a doubt that there was no infidelity going on.
This is just part of why ministries like this are so damaging, and borderline criminal. They are playing with the lives of others recklessly. There are so many stories I've seen first hand, like the guy who was bipolar for many years a prayer team convinced to stop his lithium, who ended up in a terrible mania before killing himself.
Another lady I know had untreated schizophrenia, relying only on prayer ministries. She went from one to the other, over and over again, until they became so frustrated by her lack of healing that they told her she was demonically addled. She killed herself shortly thereafter.
Prayer ministries that claim to heal mental illness do anything but. They heap you with shame and blame. They're a way of the prayers propping their own egos up. They exploit people by sharing their stories on pages like 'Shame Stories.'
That ministry in North Carolina? They ended up having to change names four or five times from the law suits lodged against them for the harm they have done. I'd like to see all of these charlatans sued.
Stay in touch! Like No Longer Quivering on Facebook:
If this is your first time visiting NLQ please read our Welcome page and our Comment Policy! Commenting here means you agree to abide by our policies.
Copyright notice: If you use any content from NLQ, including any of our research or Quoting Quiverfull quotes, please give us credit and a link back to this site. All original content is owned by No Longer Quivering and Patheos.com
Read our hate mail at Jerks 4 Jesus
Check out today's NLQ News at NLQ Newspaper
Contact NLQ at SuzanneNLQ@gmail.com
Comments open below
NLQ Recommended Reading …
I Fired God by Jocelyn Zichtermann