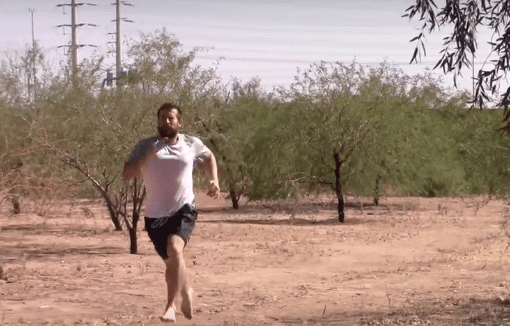 Do you remember the mess back around the beginning of 2019 involving hate pastor and pope of the New IFB Steven Anderson and his firing from Stedfast Baptist quasi pastor Adam Fannin? We wrote about it almost every day at the beginning of 2019 because it turned into a scream fest fundamentalist flinging dung situation. Fannin kept saying that Anderson was involved in financial chicanery with Stedfast Baptist church funds in Jacksonville, Florida.
Apparently Fannin has caused a lot of problems for Stedfast Baptist in Jacksonville, and still is to this day. He said he hoped comedian Sarah Silverman would die because she made a joke about Jesus. He said this before leaving Stedfast Baptist in January 2019, but Silverman didn't around to officially responding until recently. She said in August 2019 that if she was killed it would be because of Adam Fannin's sermon threat.
Stedfast Baptist, while still being part of the NIFB under Steven Anderson control, has attempted to distance itself from Fannin's words. Even if you know they all secretly agree.
Turns out that Adam Fannin has landed on his feet in Jacksonville, and is now pastoring another church, Law of Liberty Baptist Church there. It's not part of the New Independent Fundamentalist Baptist church network. It is listed as a King James Bible only church, and as a regular IFB church, but no evidence it's anything but a random Church of the Holy Basement offshoot without affiliation and oversight.
This last weekend he exhibited he's still no different than cult leader, lunatic and all around crazy hate pastor Anderson. He spoke on Mother's Day about feminism. Babbling out inanities so horrific they could have easily come ot of Steven Anderson's mouth.
… the truth is: Feminists actually hate mothers. They hate families. Feminists hate babies and those that would choose to just give up their own life to have a baby. Right? It's a very perverted sense of life and they really, ultimately, it comes down to that they hate God. It's in their heart. They cast off God. They have a rebellious heart. They don't want anybody to tell them anything. They don't want to be… weighed down in life with a child, and that's a wicked heart. Feminism is a plague and it affects not just the little girls in America but also the boys…
I suspect he's never actually bothered to talk to anyone that self identifies as feminist. The great irony is that feminists have fought for the right of women to determine their own futures, even stay at home motherhood, if that is what they want. It's about self determination, getting rid of bounded choices created by sexism, and not a darn thing to do with being a mother. Lifting up all women to have the same rights men have enjoyed for hundreds of years.
… There's an agenda in feminism and that is to criminalize manhood. They want to make it where men are snowflakes, they won't speak up, they won't… they're soft, they're effeminate — which, by the way, being effeminate is a sin in the Bible. Men, it's your job to toughen up and carry the load and protect — instead of you hiding behind your wife, you need to protect your wife. You need to protect your family…
Tote that barge, lift that bale. To hear Fannin speak one might think that the only proper jobs for men involve sweaty men with big greasy muscles to protect the delicacy of frail little women. The reality in the working world these days is that those sorts of jobs are rapidly disappearing, and men and women must function together in the same genderless job market.
These guys are so hung up on effeminism that one must wonder why. What's up with all the over compensation?
… And you need to be married to somebody that's saved. That's a biblical concept! And there are children that are growing up that are gonna be tempted with somebody that's not saved! Satan wants to lure them and say, "Listen, they've got the car! They've got the job. Ooh, they got the muscles." Whatever it is, they're gonna try to draw them away. The Devil is gonna try to get them out of church and the Christian lifestyle, and you know what happens when that happens? Destruction.
What? This is just some ridiculous drivel!
… Feminism corrupts on the inside! It makes you an evil person! You rebel against God and His law.
The God he's preaching sounds like a powerless little wimp if He cannot handle women voting and working outside of the home. Who wants a God like that?
Hemant Mehta of The Friendly Atheist talked about this little sermon of Fannin's yesterday and was kind enough to post the highlights in a video. Glad we're not having to sit through hours of this nonsense to pull out the most toxic parts.
What is it with these NIFB and IFB pastors and their cheesy nature backgrounds that make it seem like they are talking in the great outdoors instead of a run down strip mall on the edge of town?
After last year's debacle of Fannin and Anderson fans flooding our social media and comments let me state the obvious. If you have come here to defend Steven Anderson and pals please read our comment policy first before posting. I have no trouble banning and blocking those of you that violate it on purpose. Plus you'll be moved to Jerks 4 Jesus and unmercifully mocked.

Stay in touch! Like No Longer Quivering on Facebook:
If this is your first time visiting NLQ please read our Welcome page and our Comment Policy! Commenting here means you agree to abide by our policies but our main rule is this – Do not be a dick!
Copyright notice: If you use any content from NLQ, including any of our research or Quoting Quiverfull quotes, please give us credit and a link back to this site. All original content is owned by No Longer Quivering and Patheos.com
Read our hate mail at Jerks 4 Jesus
Watch our goofy rants on YouTube and the bad Biblical advice of Dori Dalexander.
Check out today's NLQ News at NLQ Newspaper
Contact NLQ at Suzanne.calulu@gmail.com
Comments open below