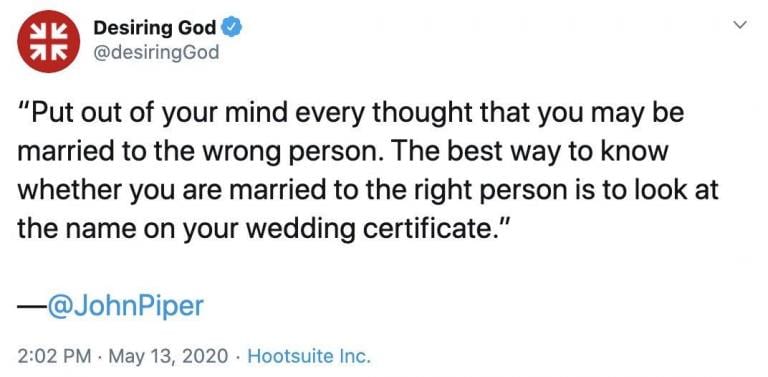 First a side ramble on Piper.
A few days ago someone in a forum said something I've been really pondering over. They said that when you leave the real extremist cult versions of Christianity you merely end up with John Piper. Like leaving the NIFB, New Independent Fundamental Baptist and ending up somewhere like Piper's Bethlehem College.
I've wondered over that after discovering that one of the FLDS notorious leaders has had a jail house conversion, is now out of prison and spent a year at Bethlehem College under the tutelage of John Piper. Addam Swapp back in the late 1980s held off federal agents of the ATF and FBI for 13 days after bombing a Mormon chapel in Marion, Utah. I admit I am always fascinated to see what direction people take when they leave high demand religious groups. Some leave all faith, some backpedal to something less toxic, but some fall right into a group nearly as toxic as they left.
While Piper has said not one word about his notorious student and follower in public you know behind the scenes he's likely crowing about his convert and patting himself on the back. Swapp seems to be living like a fine upstanding citizen since leaving prison by looking at his Facebook. I just hope that his time in Piper's clutches does not produce the damage and bitter harvest it has for so many others.
I will say that Swapp's story on Sacred Groves was very interesting to listen to. I have to wonder now why some people go from average faith to over the top extreme, and if it's ever possible to come down to normal again? If you love hyper Calvinism Piper is the guy for you.

Side ramble over on Piper. If you've been reading here long you'll know I'm not a fan of John Piper or his Desiring God website. Just look at the two quotes I've shared. This is pretty standard for Piper and his shaming, blaming and hating theology. He made the conscious choice to try and exploit our COVID 19 pandemic by writing about book about COVID 19. In the book he goes right back to blaming the gays and 'heathens' for the virus. Instead of the real cause, the emergence of virus mutations in unsanitary conditions. Science, biatches!
Consider the popular pastor John Piper, who was asked what he would say to pastors who claim that the pandemic is God's judgment on sinful cities and arrogant nations. "God sometimes uses disease to bring particular judgments upon those who reject him and give themselves over to sin," Piper responded.
So okay, so Piper wrote a book blaming something scientific on his usual pile of strawmen, gays, feminists, non believers. That's bad enough on its own, but now he's engaging in some good old fashioned Christian martyrbating after a minister in the military was caught sharing it willy-nilly like it was a virus.
The Military Religious Freedom Foundation is asking Secretary of Defense Mark Esper to discipline Chaplain Kim for his actions. As well they should. We have seen no further word on if this will happen or not.
"Some people will be infected with the coronavirus as a specific judgment from God because of their sinful attitudes and actions," writes Piper
Now YouTube had first pulled down and then restored the video of Piper's book. YouTube cannot seem to make up its mind if Piper's blaming language straight out of hyper Calvinism violates their own Terms of Service. But YouTube seems to have a COVID 19 problem, pulling down videos and (according to Dear Mr. Atheist) demonetizing those videos that mention the words 'Coronavirus' or 'Covid 19', leading video bloggers to call it euphemisms like 'The Cuddlebug'
John had been martyrbating madly over all of this at his site Desiring God.Org, but this morning it looks like all of that I'd been reading for weeks now has been buried way back. Or just gone. I have looked for the same articles again and they seem to be missing. Curious. A denial of previous bad behavior? The typical Evangelical pretense that it never happened? Bad behavior all the way around. Hide and pretend it never happened. Lying again.
Hemant wrote about this several times now too at The Friendly Atheist if you need more information on Piper's book "Coronavirus and Christ" and the resultant controversy.
We're not had an open thread for COVID 19 in here in a while. I've burned out with the daily coronavirus briefings and the bad behavior of President Trump. You reach a point of disgust, over saturation and weary of seeing very ignorant people make claims, like Piper's, that has nothing to do with science, facts, or anything beyond fear and hatred. It's hard to take.
I wish there were more real life consequences for when guys like Piper promote falsehoods during a time of national emergency.
Stay in touch! Like No Longer Quivering on Facebook:
If this is your first time visiting NLQ please read our Welcome page and our Comment Policy! Commenting here means you agree to abide by our policies but our main rule is this – Do not be a dick!
Copyright notice: If you use any content from NLQ, including any of our research or Quoting Quiverfull quotes, please give us credit and a link back to this site. All original content is owned by No Longer Quivering and Patheos.com
Read our hate mail at Jerks 4 Jesus
Watch our near daily exploration of our topics on YouTube and the bad Biblical advice of Dori Dalexander.
Check out today's NLQ News at NLQ Newspaper
Contact NLQ at Suzanne.calulu@gmail.com
Comments open below