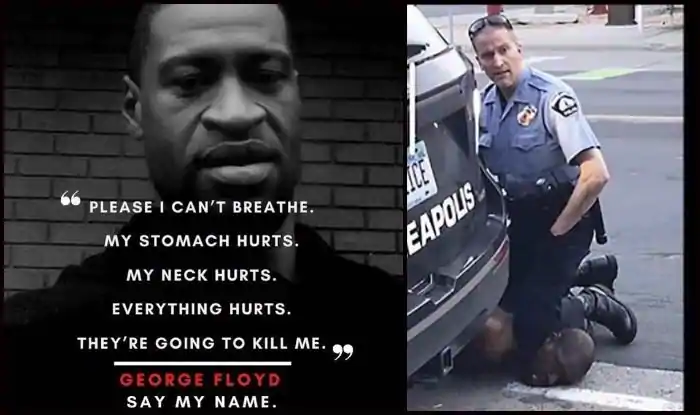 As world outrage over the death George Floyd at the knee of Officer Chauvin continues we're starting to see the usual suspects in the world of Quiverfull Evangelical Fundamentalism chime in with either shaming and blaming like Lori Alexander of The Transformed Wife, or with their utterly useless 'thoughts and prayers' like hyper Calvinist John Piper of Desiring God.
Last night myself and my husband watched the continuing carnage and outrage throughout the U.S. on CNN, Fox News and BBC World Service. Rioting throughout the land over Floyd's death, angry people of all races in the streets demanding justice.  Buildings on fire, even a police station in Minneapolis burning to the ground. So many years of pent up rage exploding.
What the religious world seems to miss is how this is the result of many decades of systemic racism. But they are hardly the only ones, on Fox News I got to watch another one of their interchangeable blonde clone women state that it was happening because of George Soros and the Intifa. No, no, no! Not at all, this is purely pent up frustrations in a nation that has never truly fairly dealt with the aftermath of slavery. A long overdue bill with brutal crushing interest tacked on.
The denial of Lori, John and others, who are making this all about the businesses and buildings that are burning during the rioting is pretty disgusting. Especially from a people ordered by Jesus to love one another not buildings. While I'm not a fan of burning down buildings it's a deeper symptom this frustration. People of color want the same things white others enjoy, the ability to simply exists and enjoy life without the risks of being randomly killed by law enforcement. They should have that same ability.
Seeing so many on the religious spectrum saying "Why can they not protest peacefully?" They have, for many years, and nothing changes, no matter how many times Colin Kaepernick took a knee at NFL games.
And the responses to this are just so horrific from the right and the religious.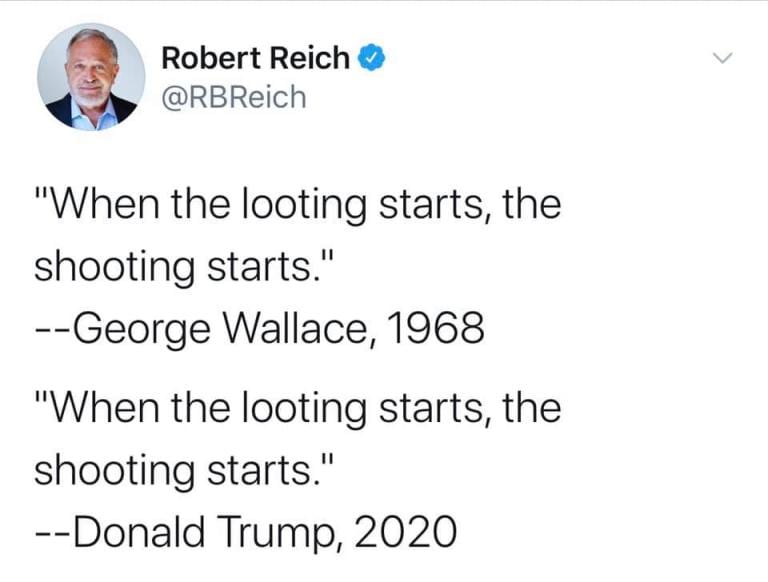 Wrong answer, chump.
So many instances of systemic racism I could quote, including it happening repeatedly during the aftermath of Hurricane Katrina in New Orleans. Heather Doney of Becoming Worldly witnessed these things:
After Hurricane Katrina there were all these signs saying "looters will be shot," when the worst thing that actually happened is black people trying to cross the highway 11 bridge to safety on foot in Slidell, desperate from long walks escaping floodwater in the August heat, were then turned back by the very racist (and now known child rapist) sheriff Jack Strain and his deputies, who didn't care if people had elders with them or were without water, or if they died from heat exhaustion on the walk back. They bragged about it after the storm too. About how they supposedly kept all these "inner city looters" out.

Protecting property is not at all on the level of protecting humanity. Safeguarding property is never worth more than safeguarding humanity. Not now. Not ever. And anyone who wants to equate the two or elevate property above people need to look back at the history of when and what human beings were considered property, and how the roots of that legacy remain with us in the kinds of things people do and say to this very day. So even if someone saying this doesn't "feel" racist, if you say these things you are helping breathe life and strength into something evil that has never fully left us.
I am afraid if we as a nation keep getting this wrong, refusing to help our sisters and brothers of color achieve true equality, freedom and safety there will be a terrible price to pay in the future. Reminded of the French Revolution and this scene from the movie "Les Miserable" many years after the Revolution where the numbers of the poor and oppressed become overwhelming.
Yesterday uneducated Duggar daughter Jessa Duggar Seewald quoted Calvinist John Piper over the situation. I got screen caps and instead of just quoting a few words of Piper's I decided to share it in full, the ultimate in "I'll pray for you" without offering solutions or sorrows over the death of Floyd and so many others at the hands of law enforcement. John Piper better pray the modern tumbrils do not come for him….he's in the thick of this thing living in the Minneapolis area.
Jesus wept! Thoughts and prayers and no actions at a time when real rightness is needed.
Stay in touch! Like No Longer Quivering on Facebook:
If this is your first time visiting NLQ please read our Welcome page and our Comment Policy! Commenting here means you agree to abide by our policies but our main rule is this – Do not be a dick!
Copyright notice: If you use any content from NLQ, including any of our research or Quoting Quiverfull quotes, please give us credit and a link back to this site. All original content is owned by No Longer Quivering and Patheos.com
Read our hate mail at Jerks 4 Jesus
Watch our goofy rants on YouTube and the bad Biblical advice of Dori Dalexander.
Check out today's NLQ News at NLQ Newspaper
Comments open below