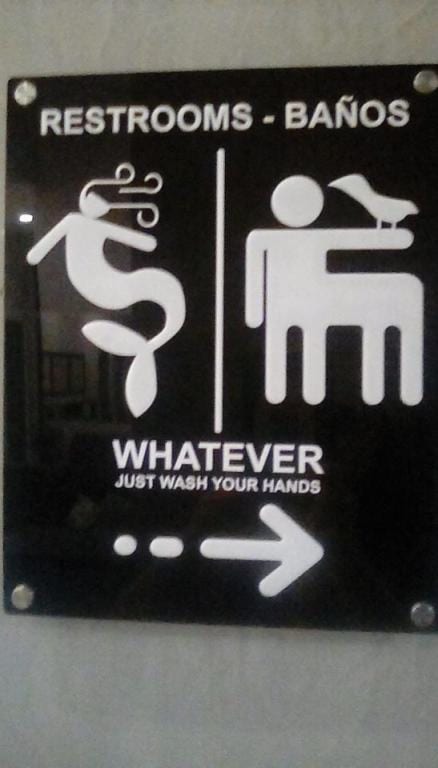 And you thought we were done when Larry posted his sex education website? Nope, we're back with Original Larry – extra flake-y, extra misogynistic with a side order of cognitive dissonance. Larry Solomon of Biblical Gender Roles days. Larry also set up a political Biblical discussion site, but I haven't been able to steel myself up enough to drift in and read his various praises and prattling over Donald Trump.
Larry starts this piece with an email to him. For once I don't believe he's been trolled, like so many of his advice emails. This is from a guy that took his wife and kids into the big bad city or suburbs away from her mother and her rural home. She ran back to mother and the bucolic countryside with the children.
The thing I find the most curious about all of this is that the husband never once mentions marriage troubles, disagreements, or any of the other things that drive marital splits. He seems completely in the dark over what happened beyond his wife missing her mother. He wants Larry to tell him what to do, leave his position and the big bucks to return to a lessor job in the country with his family? Larry's 'advice', such that it is, is about what we've come to expect.
"The sad reality of a post-feminist world is that the scales are massively tilted toward women. Our modern society no longer recognizes a man's God given ownership over his wife and his children. So, in this sin-cursed and upside-down world what is a Christian man to do?"
People do not own other people. No matter what the legal status is, or marriage, or parental rights. It's illegal, it's immoral. This has nothing to do with feminism and everything to do with civil rights we all enjoy under the U.S. Constitution.
"A man's career is a defining aspect of who is he is as a man. That is why the first thing men ask each other is "What do you do for a living?" Our careers as men define us. They give us something to strive for, something to be diligent in and compete in. But they also give us the ability to do something else that is crucial for us as men. Our careers give us the ability to provide for our families."
And right here is the severe cognitive dissonance I mentioned earlier. We've all seen where Larry really lives, the small house, and his self employed gig doing computer based works. His own defining aspect is meek and small, yet he's claiming that this is how a man defines himself. Oh Larry, thanks for the laugh this morning.
No one should literally or mentally define themselves by what they do for a living. It's merely a way to make money for most folks, not a determinable thing that decides their value. Most of us, in our lifetimes, will have jobs we don't love, from flipping burgers to working retail and our personal worth is not affected by what we must do to pay bills.
This is why all these Good Patriarchs spend so much time trying to come up with 'ministries' or 'conventions' to boost their self worth. Or even blogs.
"A man is called to rule over and teach his children, not spend all his time with children"
I feel so sorry for Larry's kids reading this. Not every minute with the kids involves ruling or teaching. He is missing some of the most important parts of fatherhood here. Modeling right behavior, leading by example, simply loving them, creating a trusting bond and so many more.
And then we arrive here, and bizarrely enough I agree with Larry on his assessment on the way forward, at least based on what little we see here.
"..you can still be a presence and have a relationship with your children without physically being there all the time with them. I have known some men in your same situation, the wife took the kids back to the home state and the father could not leave the state he was in or they would all be impoverished. So, these men see their kids for 4 weeks in the summer and fly to see them a few times in between like around Christmas and other holidays. But here is the very important part. While they are not physically with their children, they are regularly, multiple times a week calling them on their phone and doing video calls with them.

And in this way, they are able to talk with their children about their daily lives and pour spiritual advice into their lives. They also regularly send their children gifts and make sure they are properly provided for."
But then Larry makes it bad again:
"For mothers the quantity of time in their children's life is crucial especially at a young age. But for fathers it is not the quantity, but rather the quality of the time spent with their children that is so crucial. "
No, children benefit from being with their own fathers in daily relationship just as much as from their mothers. A man that leaves most of the parenting to the mother without spending a fraction of the same time his wife does will one day wake up and realize he's not a part of his children's lives.
Children need both parents. Maybe not together, but they need sustained parenting, love and guidance from the stable adults in their lives.
Stay in touch! Like No Longer Quivering on Facebook:
If this is your first time visiting NLQ please read our Welcome page and our Comment Policy! Commenting here means you agree to abide by our policies but our main rule is this – Do not be a dick!
Copyright notice: If you use any content from NLQ, including any of our research or Quoting Quiverfull quotes, please give us credit and a link back to this site. All original content is owned by No Longer Quivering and Patheos.com
Read our hate mail at Jerks 4 Jesus
Watch our goofy rants on YouTube and the bad Biblical advice of Dori Dalexander.
Check out today's NLQ News at NLQ Newspaper