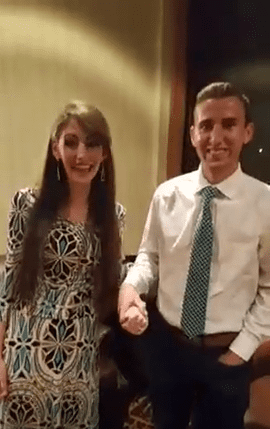 I don't know about you, but I am completely obsessed with tomorrow's QF royalty wedding between Nurie Rodrigues and Nathan Keller. It will have everything! Duggars! Plaths! Kellers! QF of every stripe! Including the SEVERELY excited mother of the bride Jill Rodrigues and her husband David Rodrigues. I've been busy this week counting down the wedding predictions at my YouTube channel and I'm going to do the final count prediction after this is posted.
In a sea of COVID bad news, insane politics and everything else happening in 2020 this is a welcome oasis of fun. I hope the wedding is glorious, that the bride and groom have an awesome day, and that someone duct tapes the bride's mother's mouth shut. I haven't anticipated a wedding so much since Lady Diana married Prince Charles all those years ago.
Complied from various friends and sites here's my drinking game to play if Jill decides to live stream the blessed event. No harm intended.
Rodrigues – Keller Wedding Drinking Game

Remember! If you pass out you lose~

Take a drink when ~

~ Jill mentions Plexus

~ Jill sings

~ The kids sing

~ Jill cries

~ Anyone mentions "Satan"

~ Anyone mentions "Severely"

~ Anyone from the Plath, Keller or Duggar family gives Jill the disapproving side eye.

~ Every time Jill mentions her wedding to David

~ Jill mentions the Duggars, or being a Duggar in law now, or the Plaths.

~ If Jill is also the Matron of Honor

~ If Jill is wearing a fancier white dress than the bride

~ If either the bride or Jill's dress is a puffy sleeved leftover from the 1980s

~ Jill announces her pregnancy, and/or Timothy's pilot's license

~ If Jill attempts to mention or pimp out older daughters as marriage ready at any point.

~ If anyone in the bridal party is wearing shade shirts

~ If the kids are tricked out in wrinkled second hand bridesmaids dresses.

~ If the wedding cake is just a pile of cupcakes

~ If there is zero social distancing, or masks to be seen

~ If Jill either tries to "save" someone, or mentions a salvation experience with a random stranger.

~ If the food is not Aldis-branded snack foods.

~ If Jill gets up and makes a speech to the newlyweds all about her and David instead of the newly weds.

~ Jill mentions her severely paralyzed sister Amy

~ Jill takes endless grinning selfies

~ Nurie wears a tiara

~ Jill wears a tiara

~ Jill's tiara is bigger than Nurie's

~ None of the kids gets to eat any of the reception food

~ Plexus is served at the reception and Jill makes a Plexus pitch speech

~ Someone mentions 'fertility,' 'babies,' or a 'New season of life'.

~ Timothy announced a courtship or engagement

~ Every guest is limited to one cupcake and a handful of potato chips

And………… here's the hard one……….

~~If you spot something truly tacky take a drink.~~

Sadly this one will get you drunk in a hurry likely!

Guzzle the whole bottle if..

~ David 'sings'

~ Timothy 'sings'

~ Jill plays her banjo

~ If the wedding cake is just two left over old cakes smushed together with some other sentiment scraped off and covered over with extra icing.

~ Jill manages to grift most of the wedding for free.

~ David eats the entire wedding cake

~ Someone plays the saw like a musical instrument

What did I miss?
Mr. Covid is lurking and Ohio is under a number of health dept ordinances for weddings. Wonder how many will be trampled during this wedding? Stay tuned!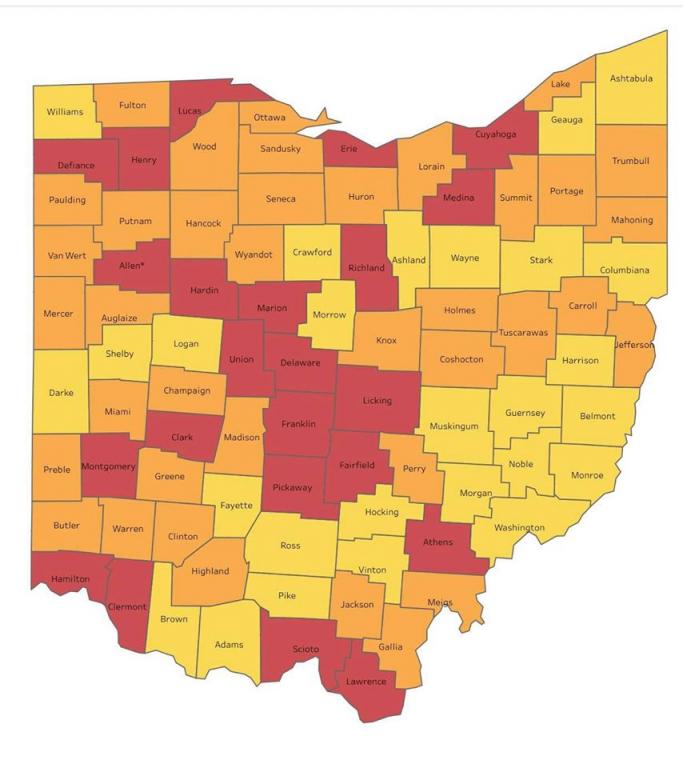 Map of COVID 19 infection rates in Ohio courtesy of our friend Bruce Gerencser of The Life and Times of Bruce Gerencser
Stay in touch! Like No Longer Quivering on Facebook:
If this is your first time visiting NLQ please read our Welcome page and our Comment Policy! Commenting here means you agree to abide by our policies but our main rule is this – Do not be a dick!
Watch our goofy rants on YouTube and the bad Biblical advice of Dori Dalexander.
Check out today's NLQ News at NLQ Newspaper
Contact NLQ at Suzanne.calulu@gmail.com