Today we're looking at a posting by she I try never to mention because I have no desire to feed her ego or martyrbating Lori Alexander – The Transformed Wife. She's talking about holidays, particularly the upcoming Halloween celebrations. I have very mixed thoughts about what she's doing, and how it may simply not be possible because of the pandemic.
Lori starts by talking of a young man whose family didn't believe in celebrating any holidays, so he had no memories of pleasant times from childhood. He now wants to do differently in his family. Good for him. Good for Lori saying that it's important to have happy family holiday memories. I could not agree more.
One very interesting tidbit is that Lori and Ken and assorted adult children are at their Door County Wisconsin cabin. Remember that tale about the Christmas that Lori lost it and flipped out because the kids got up early and opened presents? Yeah, about that…
"She remembers different Christmas celebrations that stood out for one reason or another, like the time she talked her siblings into opening all of their presents at four in the morning before mom and dad woke up."
Part of me is aghast at what happened, but part of me feels bad that Lori is so hung up on perfection that this was her response to unplanned kid hijinks. I grew up with a frustrated perfectionist mother like Lori, and it is not easy on anyone in the family. Eggshells, tension, and always looking over your shoulder.
Lori goes on to praise the celebration of holidays that have Christian roots, Christmas, Easter and Thanksgiving before going on to talk about last Halloween. She and Ken went out to dinner and came home to find the entire neighborhood lit up like a carnival and kids everywhere.
"Then there was my house. The door darkened and I am the one who sits out in front of my home often with my grandchildren and other children in the neighborhood feeding them popcorn and watching them having a great time playing together. This Halloween, I will be passing out candy to the children who come to my home. I don't like much about Halloween but I love my neighbors and the children who come to my home. It's about community and spreading the love of Jesus to those around me."
Now Lori has changed her mind on Halloween. Just mere days ago she was bashing it along with yoga. I would be glad for this if I thought it was unconnected to her less than rational stances during our pandemic. But I question her motives here. If it's as she's stated then that is a baby step forward for her. I cannot fault her for wanting to reach out to children and neighbors. We don't have to approve of every single action or belief of our neighbors, we're just called to love them. Lori being able to realize that she can participate in loving others is pretty huge.
But the way rates are climbing I hold out little hope for a Halloween public celebration at all. Which, while sad, is entirely understandable. Like church, COVID 19 might just change the reality of how we must safely celebrate holidays.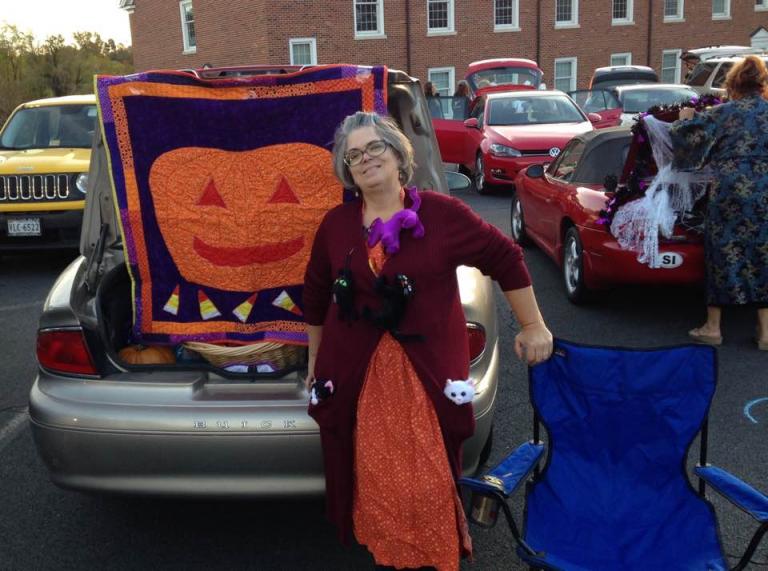 Post 9/11 Halloween in my small Virginia town shifted. Very few kids still go door to door, most showing up at the event the church hosted every year instead. A shift in the shadow of D.C. and that's actually perfectly fine.
During our years living in Germany and other places we've always managed to find a way to celebrate holidays, even if they looked nothing like what you might traditionally consider a holiday to be. During our years in QF we also did alternative things with children so they didn't feel like they were missing out on Halloween.
We're likely going to have to do the same this year as we move through this season of lockdowns, pandemic and virus avoidance. It does not mean not celebrating, but it might just mean it will look different this year, or even the next. The news coming out of Dr. Fauci and the CDC isn't encouraging about returning to what we had before.
Stay in touch! Like No Longer Quivering on Facebook:
If this is your first time visiting NLQ please read our Welcome page and our Comment Policy! Commenting here means you agree to abide by our policies but our main rule is this – Do not be a dick!
Watch our goofy rants on YouTube and the bad Biblical advice of Dori Dalexander.
Check out today's NLQ News at NLQ Newspaper
Contact NLQ at Suzanne.calulu@gmail.com