ETA: Not true, just as I thought. Allegations from the "Pickles and Hairspray" page on Facebook that turn out not to be remotely true. The person they were naming did not molest anyone. For once I'm glad a rumor turned out to be just that! I could not find any reference to this anyplace legitimate.
~~~~~~~~~~
I cannot believe it's not a full moon right now! Had to spend a fruitless afternoon clearing death threats against Lori Alexander, Republicans, myself and others galore on all platforms, from Steven Anderson based videos on You Tube, through various Facebook pages, and other social media. Insane.  Anderson's followers kept telling me to cut my hair, giving crazy scripture references that made zero sense.
This is why our comment policy now is that we do not tolerate threats or death wishes on anyone. It's just tacky.
While this was going on I've had a bunch of people messaging me about an upcoming YouTube video by Katie Joy Paulson of Without a Crystal Ball. She is making some very out there allegations about people who are surrounding the Duggars.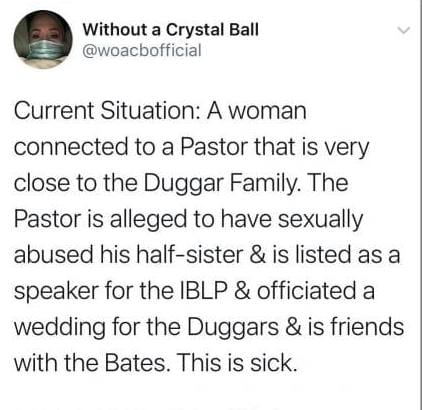 I have no idea who this is, if it's true, or not. But I will be watching. Want to see proof or at least information from another more reputable site.Some independent confirmation, some documentation more than the gossiping words of a blogger who's tried to say in the past that she believes Jim Bob Duggar possibly molested his son Josh. I seriously doubt Jim Bob did anything to Josh more than spank him. I just don't see it, and the things Josh did seem more religious sexual repression related than molestation related.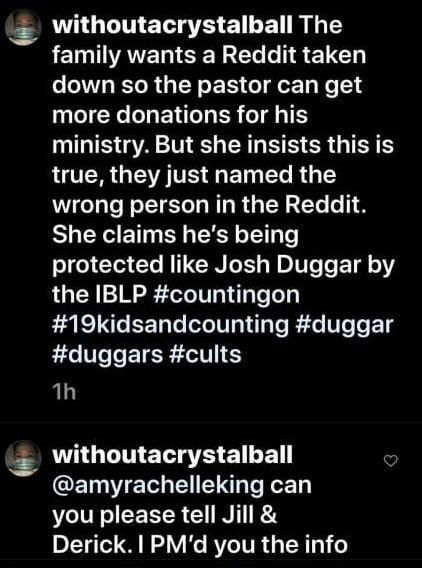 Yes, Katie Joy is about to do a live video only for her paying subscribers on her YouTube channel. The first time she did a live with Amy it is rumored that Jim Bob Duggar forced Amy Duggar King to get Katie Joy to remove the video from her channel. I think it's likely there will be some talk of this, especially since it's a private chat.
So how true is this? What did this pastor supposedly do besides supposedly sexually assault a relative? This is a mere rumor on Reddit, it does not make it entirely true. When you unquestioningly publish every thing you hear from insiders without bothering to confirm the allegations you're going to get some things wrong. I've done it and regretted it based upon false information from supposed insiders. Sometimes those insiders aren't so insidery.
It really does not matter. This is not a member of the Duggar family who has allegedly done this. It's an unfamous regular guy. If he's sexually assaulting people from his church, or as a pastor that's one thing. It's an entirely different thing if he did this years ago before he was a pastor, and hasn't reoffended in the years afterward. Then it is really no one's business.
There's a very fine line between exposing the sex crime of someone using their position of power to make it happen, and people not involved using that information to garner hits and money. Sexual assault victims are no one's tea or gossip. When you dedicate yourself to exposing sex crimes without supporting the victims, you harm the victims and sometimes you make it all the harder for true justice to happen.
We already know what the IBLP will say if it's true. Look how hard they fought when the many women came forward to accuse IBLP head Bill Gothard of being sexually inappropriate with them. They circled the wagons to protect Gothard, tried to defame the victims, and they denied Gothard had done anything. They are still in complete denial of his behavior with the teenage volunteers.
There are enough awful things about the Duggars to legitimately criticize without having to dredge message boards for rumors and badger family members.
~~~~~~~~~
Stay in touch! Like No Longer Quivering on Facebook:
If this is your first time visiting NLQ please read our Welcome page and our Comment Policy! Commenting here means you agree to abide by our policies but our main rule is this – Do not be a dick!
Copyright notice: If you use any content from NLQ, including any of our research or Quoting Quiverfull quotes, please give us credit and a link back to this site. All original content is owned by No Longer Quivering and Patheos.com
Watch our goofy rants on YouTube and the bad Biblical advice of Dori Dalexander.
Check out today's NLQ News at NLQ Newspaper
Contact NLQ at Suzanne.calulu@gmail.com