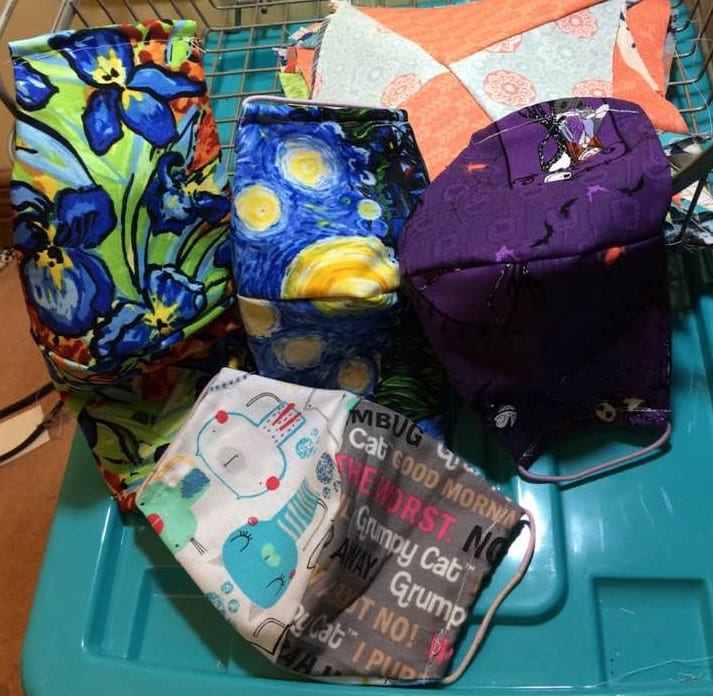 Please for the health and safety of everyone wear your mask! It is the one proven thing you can do to defeat the Coronavirus! It's what it took to end the Flu Pandemic of 1918.
One of the most frustrating things since this pandemic started is the high number of supposed Christians who have decided that masking is some socialist government plot, and that they don't care enough about others to don one. Yeah, people who claim to follow socialist hippie-like Jesus who likes everyone to be considerate of the needs of others first.
Here's Nancy Campbell yammering on about it. At least we know if we're out and about in Tennessee and you see that flaming red hair of hers to get the heck away from her. Don't let her anywhere near you with her super spreader ways. I swear if I was living in the States now, where there is no mandatory masking law that hits you with fines and jail time like here, I'd have to walk around with a loaded can of Lysol clutched in my hands at all times. Spray her down.
Nancy asks where the smiles have gone? Behind the mask, silly. Did you know that you can soften your face and convey a smile with your eyes?
Yesterday I had an appointment in a different town than I usually shop. I popped into a store to get some groceries. Colin and I, and two other people, were the only ones without masks. Nobody looked at one another. Everyone's eyes were downcast.

I entered another shop. I saw only one other lady without a mask. We gave each other a big smile. Oh it was delightful. I could not get eye contact with anyone else.

Oh dear ladies, this is not the way God intended us to live. It's the devil's way. God intends us to interact with one another. To smile at people. Give a kind word where we can.
IT IS NOT THE DEVIL!!!!!!!! Gah! These people make me nuts. It's science, and medicine, and caring for others. Things she clearly does not believe in. What's wrong with smiling with your eyes to convey that sense of happiness?
"Those of us who are believers should be revealing the image of God wherever we go. That's God intention for us. We are God's letter to the world, "known and read of all men" (2 Corinthians 3:2). And how do we reveal His image? Through our faces. Of course the devil knows this and he's making sure it doesn't happen. And you can just feel the depression.

We cannot go on living like this. And the interesting thing is that we don't have to. The only reason that governors and mayors and businesses can do this is because the majority are caving into their tyranny. Total submission."
Again! THIS IS SCIENCE AND CARING FOR OTHER PEOPLE! Nothing to do with 'Satan'
If there is depression in the faces of people that could well be due to the times we're living in, of the loss of wages, homes, having to homeschool when you are not used to it, feeling the uncertainty of our times. The lies spilling from the mouth of the President, the election situation, the death of the Notorious RBG.  Lack of food for the family because hunger is starting to be a problem in our families. The isolation is starting to get to some people. This is not 'Satanic', this is our new normal.
I am bummed out I may not get my voting ballot in time to vote in the Presidential election because there has been no mail service between the U.S. and Costa Rica since March. No mail, no getting things delivered from the States for me. Everyone's reasons are different.It's normal to be at least sort of shaky and depressed right now.
"Now I know I'll get feedback from the people who say I'm not caring about others. Oh please, that's one of their great brainwashing slogans. If I was sick, or coughing germs, I would not go out. I wouldn't think of spreading my germs over anyone. But I am not sick. I am healthy. I don't have a thing wrong with me. I diligently and daily boost my immune system and I have the Spirit of God living in me who raised Jesus Christ form the dead! Read Romans 8:11.

And I didn't notice anyone who was sick in the shops I entered. Well, if they were, they should not have been there. They should stay at home because masks don't stop the virus. The size of most cloth coverings range from 20 – 100 microns whereas the virus is 200 and up to 1,000 times smaller at 0.1 microns! The mask is a fraud.

More people die of the seasonal flu each than have died of this virus"
Jesus wept! Nancy is right in the age danger zone of dying from this thing and is completely clueless that this is an illness you can carry around and transmit to others while you have zero symptoms of the disease.
If everyone masks those micron measurements do not matter. The masks stops the transmission from droplets caused by speaking, from sneezing or coughing, making the majority of droplets land in the mask. Add in social distancing and those few particles escaping have almost no chance of reaching the other person and slipping through their mask. This is why masking and social distancing are so important and how the Flu Epidemic of 1918 finally died out. Yes, masking played a big part.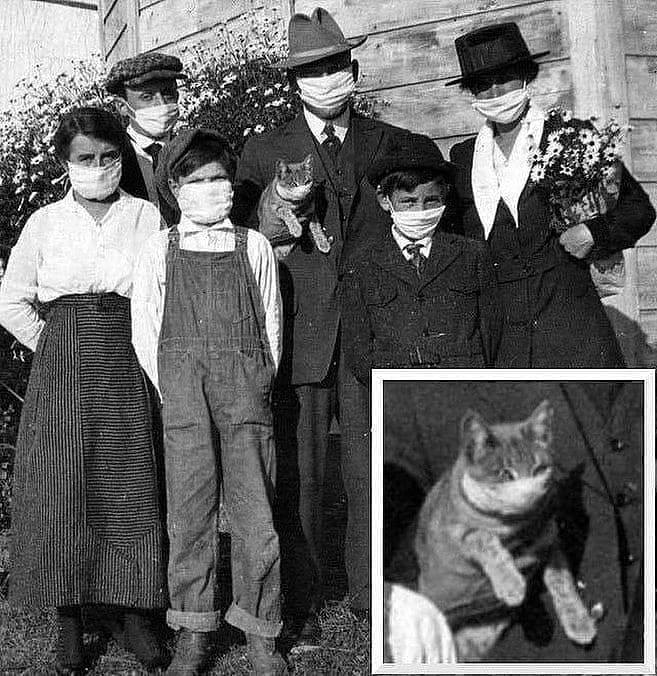 I still love that they masked their kitty! More sense than Nancy.
If everyone properly masked and social distanced and avoided going out except for essential reasons this could have been stopped quickly. but no, the Nancys of this world must be allowed to spread illnesses while buying their chotchkies and  charcuteries because freedumb.
No Nancy, the death toll now stands at above 200,000 people. The flu only claims around 6,000 people annually. The last time I took a math class 200,000 > 6,000.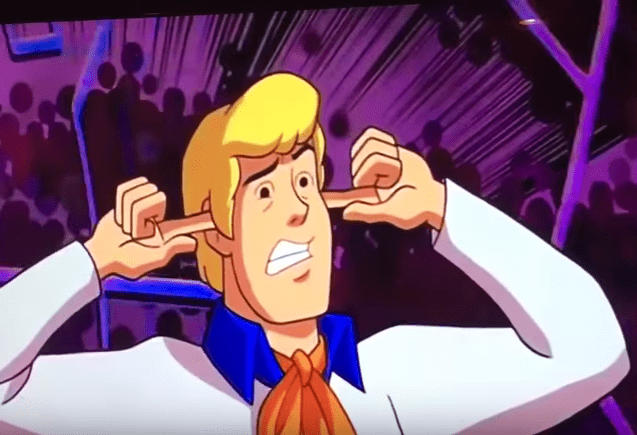 Sorry Nancy, I'm not listening to you any more than Fred is listening to the music of Kiss in "Scooby Doo and Kiss: Rock n Roll Mystery"
Edited to add this: This virus is not entirely understood yet, and the science behind it keeps shifting and changing. Just today the CDC announced their findings on droplets being airborne transmitting the virus. More reasons to mask and social distance.
~~~~~~~~~
Stay in touch! Like No Longer Quivering on Facebook:
If this is your first time visiting NLQ please read our Welcome page and our Comment Policy! Commenting here means you agree to abide by our policies but our main rule is this – Do not be a dick!
Copyright notice: If you use any content from NLQ, including any of our research or Quoting Quiverfull quotes, please give us credit and a link back to this site. All original content is owned by No Longer Quivering and Patheos.com
Watch our goofy rants on YouTube and the bad Biblical advice of Dori Dalexander.
Check out today's NLQ News at NLQ Newspaper
Contact NLQ at Suzanne.calulu@gmail.com