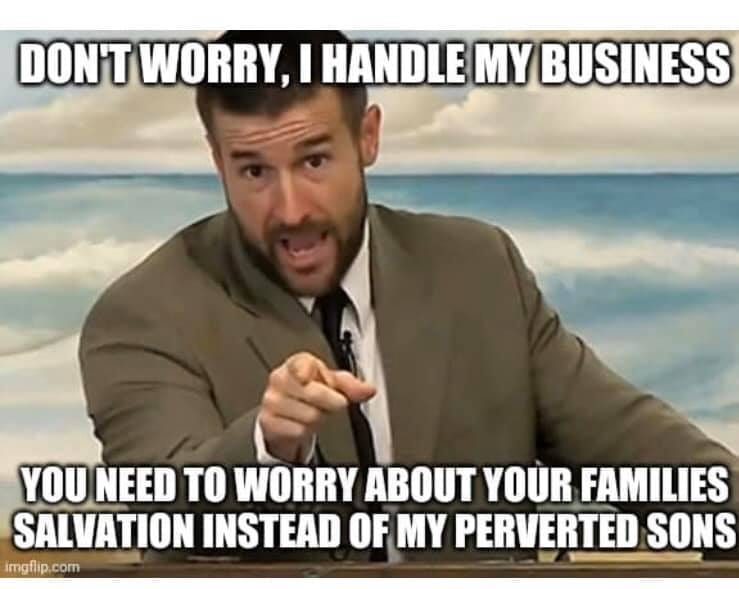 This is an evolving situation with Steven Anderson and Faithful Word Baptist church that I've been watching for several months now. What happened is that You Tube finally decided that enough hate speech was enough and took down all the 'official' YouTube channels of Anderson.
I guess they got tired of listening to him explain how various people needed to die in his opinion because of sexual orientation and other equally vapid reasons. As a private company with terms of service that is their right to have and enforce a terms of service, that Steven kept willfully breaking. Under the law they are allowed to have minimum standards and boot those who violate them.
He has been preparing for this for quite some time. Steven's had alternative YouTube channels under a variety of names he started using after the initial YouTube firebombing earlier this summer. Early in July YouTube took down his channels, he moved on to other channels.
According to assorted rantings by Steven it's happened again. YouTube figured out that some of the new names and took everything down again. The Friendly Atheist Hemant Mehta listed all the ones he says are down that he got taken down, but he missed a pile of them that are still up. Singing Baptist is still up along with a huge pile of others. I keep reporting every single time I see new ones pop up. Anyone with half a brain can find Steven's new channels because he himself keeps posting them on social media. There's zero attempt at subterfuge or subtlety by this guy.
Anderson has tried to be at least a little sneaky now, using a photo of politician Bernie Saunders to disguise one channel, and bitterly complaining that YouTube allows recording artists Insane Clown Posse with their "Effing magnets how do they work?" lyrics. Anderson is annoyed that the dirty words are acceptable and up but not his words of shaming, blaming and hatred.
Insert crazy calliope music here.
I don't obvious recommend watching too much Insane Clown Posse with lyrics about lying scientists cheesing them off. But this one is funny in a very unintentional way. It's still more pleasant than any Anderson sermon.
There are a couple of big issues involving Anderson and YouTube at play here. It's been spoken of that the YouTube ravings of Steven are the primary outreach of his hateful little cult church and the New Independent Fundamentalist Baptist church group he's built around it. This pretty much kills his reach and influence if those that watch him have to try and figure out where he is now. Cutting the number of eyeballs on his garbage is a good thing.
What no one is talking about with Steven's channels that I wonder about is this – Were they monetized? Anderson pulled in thousands of hits on his hate speech on YouTube from around the world. Once you start getting hit numbers in the thousands they will pay you per play. I would not be surprised one bit if his original channels were monetized and making him a tidy little sum. No chance of that now! Which has to smart at a time when he's attempting to buy a bigger home in the Tempe, Arizona area.
Yes, it turns out that Zsuzsanna and Steven are staying put. He's not stepping down, there is no big move to another state or country. Zsu confirmed it's a move from one area in town to another.
Keep reporting his channels as you run up on them.
If this is your first time visiting NLQ please read our Welcome page and our Comment Policy! Commenting here means you agree to abide by our policies but our main rule is this – Do not be a dick!
Copyright notice: If you use any content from NLQ, including any of our research or Quoting Quiverfull quotes, please give us credit and a link back to this site. All original content is owned by No Longer Quivering and Patheos.com
Watch our goofy rants on YouTube and the bad Biblical advice of Dori Dalexander.
Check out today's NLQ News at NLQ Newspaper
Contact NLQ at Suzanne.calulu@gmail.com