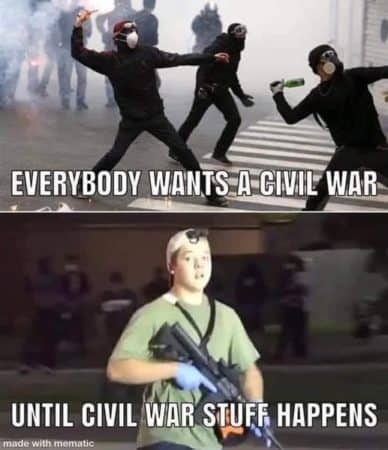 Today we're looking at Doug Wilson's mea culpa involving the Kyle Rittenhouse shooting and those gun waving lunatics that spoke at the Republican National Convention Mark and Patricia McCloskey. In this piece Wilson babbles on and on in his word salading mountaineering way to justify Christians shooting Black Lives Matter protesters and people who loot.
Yes, he tries to make the argument that property is more important that people, as well that there is a broken social contract in America that means it's not necessarily wrong to shoot looters and protesters.
First we start with teenage murderer Kyle Rittenhouse, the McCloskey's and he throws in John MacArthur and his defiance of all church closing mandates like the three things are the same. No, Doug, a murderous rampage, two possibly intoxicated white people waving guns in front of their Mcmansion and a pastor refusing to do what is the right thing to protect his church members are three VERY different things.
"So David French has written on the Kyle Rittenhouse situation here. His central concern is that he wants Christians to do a better job respecting the social compact we have here in America, and is concerned that those Christians who have rallied to the support of Kyle Rittenhouse are failing in this important duty. In addition, he also believes that we are violating our social compact if we support Mark and Patricia McCloskey, the St. Louis couple who brandished guns in front of their home, or John MacArthur in his failure to have his congregation mask up and/or socially distance."
All three of these are wrong if you believe in the idea of social compact, and law and order.
Rittenhouse crossed state lines to foment trouble while heavily armed. Taken there by his heavily armed mother with the express goal of shooting looters. He came into the community armed to the teeth and ready to shoot others, supposedly to protect property. That's like bringing a can of gasoline to a beach side weenie roast. The potential for something awful happening is high!
Mark and Patricia McCloskey took the mentally unhinged action of standing outside of their house and pointing loaded weapons at peaceful people walking past their home on the way to a protest. Threatening behavior that hints at sone underlining issues now being celebrated as 'Godly'. If you feel threatened you remove yourself from the situation, not arm up!
John MacArthur, denying and defying all scientific data and local laws to boost his considerable ego and hold church.
Three very different types of bad behavior that Doug is trying to link vie that idea of social compact, or contract. Doug burbles along, trying to claim that social contract/compact has been destroyed for some time now.
"Perhaps it is the case that Kyle Rittenhouse was breaking the social compact. Or perhaps his actions were a natural response to the fact that the rioters were breaking the social compact. Remember that the Wisconsin governor was the one who refused federal assistance in quelling the riots. Perhaps the governor was breaking the social compact by allowing the rioters to burn down all those businesses. What are the responsibilities of decent citizens when they are standing in the smoking ruins of a social compact? Perhaps rioters can burn down more than businesses. Perhaps they can burn down the moral legitimacy of those who lay claim to political authority. Perhaps social compacts are flammable"
Doug has been busily wetting his Fruit of the Looms ever since this shooting happened, coming down firmly, like above, in favor of good Christians executing protestors, mostly peaceful protestors. It's murder, protecting things over people is always wrong no matter how you slice up that steaming load of detritus!
He goes on to bemoan the masking mandates and everything else various governments have had to do to keep his old self protected from the deadliest virus in over a hundred years. He goes on to claim it's all a conspiracy theory put in place to take Trump out of the White House. Knitta please! That's not even possible in any way, shape or form that the virus was a constructed political plot!
"Now this was done, it can be plausibly argued, for the sake of partisan political advantage. Donald Trump was not going to be allowed to go into the November election with an economy that was blowing down the road. That would have resulted in an undesirable outcome, to wit, the reelection of Donald Trump. So, in order to accomplish their political designs, your small business, and a hundred thousand others like it, were soaked in lighter fluid and set off."
America has a long history of protest, non-violent and violent, from the very beginning, starting with the Boston Tea Party through our recent BLM marches. Great societal shifts and changes have happened as a result. To deny the people the right to protect because you are personally afraid just shows what a racist gun nut he is with zero in common with this Jesus he claims to follow.
If this is your first time visiting NLQ please read our Welcome page and our Comment Policy! Commenting here means you agree to abide by our policies but our main rule is this – Do not be a dick!
Copyright notice: If you use any content from NLQ, including any of our research or Quoting Quiverfull quotes, please give us credit and a link back to this site. All original content is owned by No Longer Quivering and Patheos.com
Watch our goofy rants on YouTube and the bad Biblical advice of Dori Dalexander.
Check out today's NLQ News at NLQ Newspaper
Contact NLQ at Suzanne.calulu@gmail.com