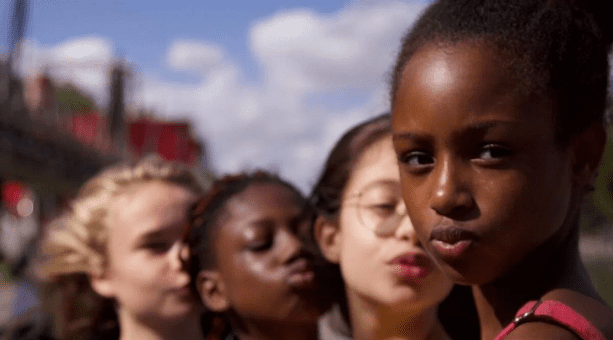 So now I've seen it, and everything I said earlier today about the world of dance and children does not apply. As a former dancer that once wore what amounted to two small chiffon scarves and did a routine with other girls containing some of the same moves used in the film at a Mardi Gras ball this is not that. There are no instructors, no oversight or hovering stage parents. Nothing about the dance world applies here, and my earlier thoughts explains why seeing something for yourself instead of replying on the hyperbole of others who also haven't seen the film is a good idea. Mea Culpa. I was quite wrong.
If you think this film is just about the dancing, the few short sequences of rump shaking, floor humping and twerking you've missed the entire point of the film. Those things were terrible and offending, but they were hardly the only ones. They were the clumsily shoe horned in sequences that were symptoms of the disease this film amptly illustrates. Not patriarchy, not coming of age and discovering one's sexuality.
The main point of the film is the struggle of girls growing up in a world that has been what I call Kardashianized. For quite a long time now fashion, entertainment, music, movies and that like have been moving the goal posts on the sexualization of children. Even toys have sexualized the childhood experience with things like Bratz dolls. It's crept up upon us. That is the crux of the film, and why it was so horrifically hard to watch.
The main character Amy and her friends seem to live almost completely devoid of parental interactions. Amy's mother suffering from depression and sadness in the wake of her Senegal Muslim father taking a second wife, and another friend has parents who work all hours of the day and night while ignoring their daughter. What you end up with is children from the poor side of town with zero supervision attempting to figure out life. After discovering that being  a good girl does not work they turn to the cultural ideas about sexuality they've been bombarded with since birth. It also does not work, and the girls suffer many a frustration in being labeled kids.
My friend and fellow Patheo's columnist Andrew Spitznas of Secular Cinophile  has a more in depth dive into this movie than I did.
A couple of things are driving extreme hatred of this movie by most that haven't seen it. First, that unfortunate and tone deaf marketing poster that Netflix burdened the film with. It's lurid nature lures in creeps, the Larry Solomons and Vaughn Ohlmans of this world who fantasy about prepubescent girls being ready for marriage. The film did not need it, and it just gave Qanon and Sean Hannity something to construct conspiracy theories over.
The Evangelical crowd seized upon those brief dance sequences as pedo porn, which Netflix should have known they'd do. The film could have done with a very toned down dance sequence or none and pushed the same narrative about the sexualization of children.
Second, it's an independent film from France, and European sensibilities to subjects of a sexual nature are much more relaxed than the puritanical mindset present in American Evangelical circles that decried the movie over those few short dance sequences. The director made the wrong choice in the era of sex trafficking and the "Me Too" movement. It was exploitative.  The Evangelical crowd focused right on those dances to the detriment of the entire film.
Good film if you can look away from the dance parts. Missed the mark by adding those in.
And about those dance sequences, they looked identical to what's going on in this Nicki Minaj video for her song "Anaconda" NSFW and filled with profanity with the same dance moves no kid should ever be attempting.
I prefer the parody version.
If this is your first time visiting NLQ please read our Welcome page and our Comment Policy! Commenting here means you agree to abide by our policies but our main rule is this – Do not be a dick!
Copyright notice: If you use any content from NLQ, including any of our research or Quoting Quiverfull quotes, please give us credit and a link back to this site. All original content is owned by No Longer Quivering and Patheos.com
Watch our goofy rants on YouTube and the bad Biblical advice of Dori Dalexander.
Check out today's NLQ News at NLQ Newspaper
Contact NLQ at Suzanne.calulu@gmail.com