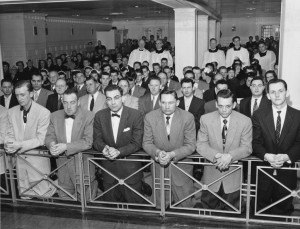 Why does Catholic worship appeal to men?
It has to do with liturgy.
This is why the feminization of the liturgy is so unattractive to men. When well-meaning liturgists and priests feel they have to make everything in the liturgy emotionally relevant and "meaningful" to everyone, many men switch off. When Father Fabulous insists on being emotionally entertaining in the liturgy he is likely to please the women while the fellas roll their eyes. When Sister Sandals develops new age liturgies that attempt to connect with our emotions, or when Pastor Hipster tries to push the emotional hot buttons with his sermon, most men are not only ready to switch off, they're ready to head for the door.

Traditional Catholic worship, on the other hand, is by the book and objective. Men perceive it as being dependable and rock solid—not emotional, subjective, and flighty.
Go here for my latest article for the website Those Catholic Men.