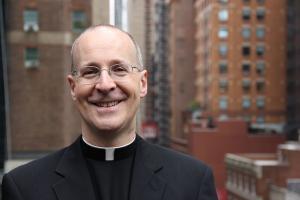 Fr James Martin SJ is a very popular Catholic priest who is an activist for gay liberation. He has written a book called Building a Bridge–which advocates a better relationship between Catholics and gay people. I commented on the book for CRUX here some time ago.
Fr Martin may, of course, say and write what he wants, but like Donald Trump, some of his Twitter comments must be written hastily and without much thought.
After one or two were brought to my attention I figured somebody ought to simply correct Fr Martin's egregious errors. While he is entitled to write what he wants, it is also true that he is a Catholic priest and he is obliged to teach the Catholic faith as well and as clearly as possible. This he does not do, and where he teaches error or confuses people, he should be corrected.
Take not that my correction of Fr Martin is not a comment on homosexuality or people with same sex attraction. I have no opinion on this matter that is any different than the simple and clear teaching of Sacred Scripture and the Catechism of the Catholic Church. Besides, other people who are more knowledgable about this matter than myself are engaging in dialogue with Fr Martin: Daniel Mattson, Joseph Sciambra, Ross Douthat and others.
In one tweet Fr Martin voiced his rage at the fact that a lesbian woman was fired from her job at a Catholic School after she married another woman. In another tweet Fr Martin taught some things which were strange and simply wrong about Jesus in the gospels.
If you care to you can read these two blog posts at my main blog: Correcting Fr James Martin and Correcting Fr Martin…Again.
Image Wikkimedia