Lisa Marie Basile's 2018 book, Light Magic for Dark Times: More Than 100 Spells, Rituals, and Practices for Coping in a Crisis (Fair Winds Press) is an utterly fantastic read, and an even better practice. It's accessible to all kinds of people, spiritualities, and beliefs. With simple yet eloquent words, this book feels more like a compassionate, uplifting letter to the reader, with magic and insights all throughout, rather than your ordinary book on magic.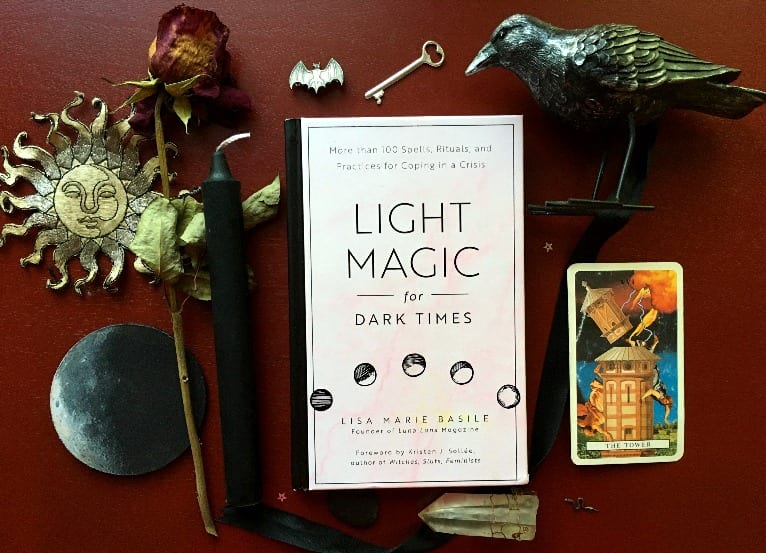 There's a reason why Light Magic For Dark Times has 4.8 stars on Amazon: this book speaks to you. It holds space for your grief, despair, negativity, and shadow. Basile's spells don't whisk your bad times under a rug and cover them up with false optimism and glitter. She opens up about her own rough moments, which lets you feel that you're not alone.
Basile's spells are magical and transformative. Some of them take several days, as you would expect when going through hard times. Some of them involve going deep into turbulent emotions and exploring where you are in the process of healing.
"Life is, at best, a series of unpredictable happenings. They have the potential to elicit everything from pure joy to untold misery. Whether we've lost our lover after many years of marriage, or we've lost ourselves after a traumatic event like an assault or illness, defending against that bleak sea of darkness can be difficult as its waves crash up onshore, threatening to pull us under. The one thing we can do is choose how we respond."

-Lisa Marie Basile, Light Magic for Dark Times
However, not all of the magic in this book is about getting through the rough times. Light Magic For Dark Times also includes several uplifting spells that are geared toward renewing one's energy. Basile shines a light on hope and the ability to regenerate after trauma. Through her spells, Basile gives the possibility of true healing on a soul level.
Some of my favorite spells and rituals include:
A Healing Love Ritual for Your Younger Self
A Ritual to Encourage Growth After a Traumatic Event
A Ritual to Get Rid of Imposter Syndrome
A Self-Love Spell for Those with Chronic Illness
A Ritual to Reduce Stress from Political Chaos
A Practice for Honoring Your Truth After Experiencing Gaslighting
As you can tell, these are not your standard spells, and I love this book for including them! In this day and age, these issues are at the fore of most people's awareness and practice. Light Magic For Dark Times also has a few standard spells, such as attracting a lover/lovers, an amulet protection spell, a morning tarot ritual, and a glamor spell, among others.
View this post on Instagram
I highly recommend following Basile on Instagram for great, heartfelt content.
One thing I love about Light Magic is that you don't have to believe anything in particular. You don't have to call upon any deities or spirits. You can, of course, but this book has a bit of intuitive witchcraft about it, which gives it greater flexibility than many other spell books.
Another great thing about this book is that Basile writes for everyone–people with different capabilities, polyamorous people, non-binary folx, the marginalized, and non-traditional witches. I highly recommend this book for beginners and adept practitioners, especially for people who want to learn what the younger generation thinks and feels.
I believe Lisa Marie Basile is a powerful voice of the younger generation, and I am looking forward to reading more of her work. As the founding creative director of Luna Luna Magazine, we're lucky to have more of her insights, hopefully for many years to come.
The Magical Writing Grimoire: Use the Word as Your Magic Wand for Magic, Manifestation, and Ritual (to be published April 14, 2020)
Nympholepsy (prose)
Andalucia (fiction)
Tragedy Queens: Stories Inspired by Lana Del Rey and Sylvia Plath (fiction)
Happy reading!