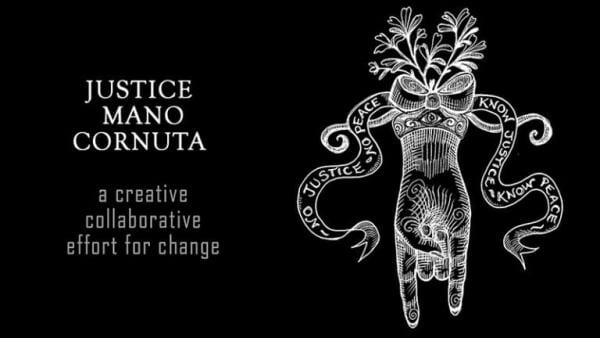 Many of us breathed at least a small sigh of relief when Joe Biden was announced as president-elect – but we know there's still so much work to do. With two crucial Senate run-off elections happening in Georgia this January, my brain was already off and running about what's next – both physically and metaphysically. One part of my magical resistance plan is once again collaborating to help raise funds with magically-focused art.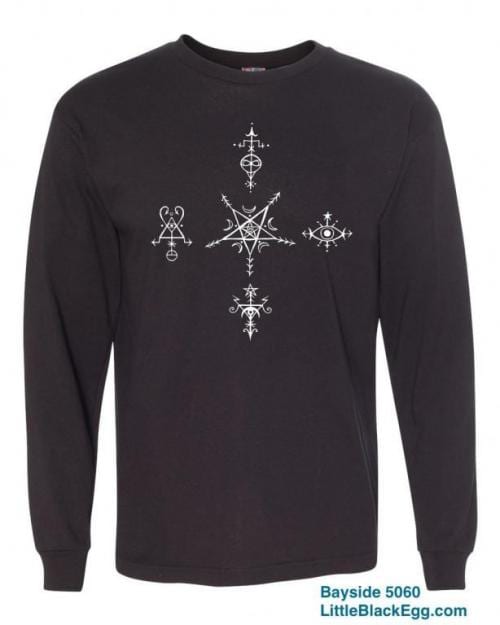 The Quintisigil Collaboration (Phase 3)
Back in June, We Are Aradia joined forces with the awesome folks at Little Black Egg (a black-owned silkscreen company based in San Francisco) to offer the Quintisigil design as a fundraiser to benefit Black organizations. For the first run back in June, we raised $2645 which was distributed to the Black Visions Collective, Juxtaposition Arts, and Black Women Speak. Due to demand, we ran a second printing in August and raised $700 for National Bail Out.
Now we're going to do a third run of the Quintisigil design and we're introducing a new design – the Justice Mano Cornuta. We've added a couple of garment variations as well and stickers. We will be donating the proceeds of both the Quintisigil design and the new Justice Mano Cornuta to Stacey Abram's Fair Fight to help aid with the Georgia Senate run-off elections in January.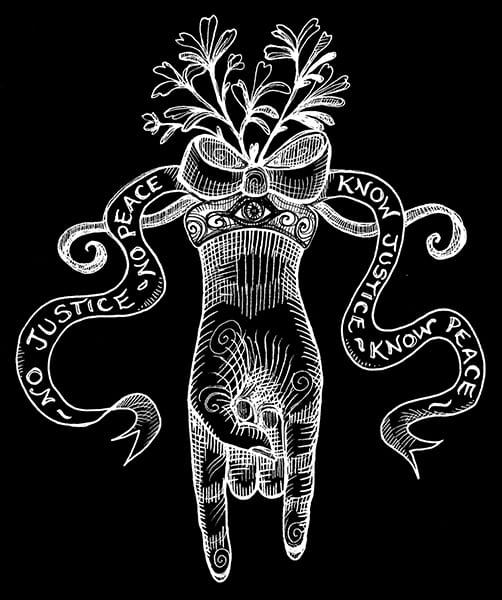 About the New Design:
Created by Laura Tempest Zakroff, this Mano Cornuta ("horned hand") image pulls upon Italian ancestry (and a nod to the myth of Aradia) and has long been used as symbol of protection and power. The design features the herb Rue, an eye of focus, and the phrase "No Justice, No Peace – Know Justice, Know Peace."
How to Contribute:
If you'd like to help contribute to an important cause and also acquire some great wearable magical art in the process, head over to the shop at the We Are Aradia website – http://www.wearearadia.org/shop.html You can purchase at the base price or donate $10-$20 more per item which goes directly to the cause as well. BUT don't delay! Pre-orders close on Sunday, November 22nd and shirts/stickers will be shipped out in early to mid December.
More about Magical Resistance 2.0:
Important Links for Magical Resistance
GA Senate / Fair Fight:
https://gasenate.com & https://fairfight.com/
2020 Freedom Sigil
https://www.patheos.com/blogs/tempest/2019/12/the-2020-freedom-sigil.html
Power Sigil
https://www.patheos.com/blogs/tempest/2016/11/a-power-sigil-for-our-times.html
Quinitisigil
https://www.patheos.com/blogs/tempest/2020/06/introducing-the-quintisigil-a-collaborative-fivefold-sigil-for-change.html
The Sevenfold Waning Moon Spell
https://www.patheos.com/blogs/tempest/2020/06/a-witchs-sevenfold-waning-moon-spell-for-magical-resistance.html
We Are Aradia
http://www.wearearadia.org/