outline:none; } ul.xtabs li a:visited { color: #000; } ul.xtabs li a:hover{ background:#5EADD0; } ul.xtabs li.selected a { /*selected tab style */ position: relative; top: 0px; font-weight:bold; background: #EBD94C; } ul.xtabs li.selected a:hover { /*selected tab style */ text-decoration: none; } ul.xtabs li a img { width:60px; height:60px; } div.xtabcontent { display: block; height:100px; overflow:hidden; padding: 0px 0px 10px 0px; } div.author { color: #555555; font: bold 18px/1.2em "Century Gothic",Verdana,sans-serif; padding: 4px 0px 2px 0px; } div.teaser { font: 11pt/1.2em Georgia,"Times New Roman",Times,serif; color: #555555; display: inline; padding: 0px 0px 10px 0px; } div.read { font: 11pt/1.2em Georgia,"Times New Roman",Times,serif; display: inline; float: right; } div.xtabcontents { padding: 1px 10px; background-color:#F2F0E6; border-radius: 8px 8px 8px 8px; margin: -2px 10px 0px 10px; }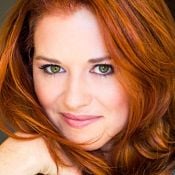 Partial Transcription of the press roundtable for Sarah Drews May 28, 2013 on the set of Mom's Night Out
What do you like about this project?
I like everything about this project. I was telling other people in these interviews that I was looking for a passion project and talking specifically to my agent/manager just the last year about what I wanted to tell, about the kind of story I wanted to tell. I would get up..I would be up at night and pull out a notebook and start journing ideas of things I wanted to tell..stories I wanted to tell. Cuz I became a new mom. My son is 16 months old. So when I became a new mom it completely was like "ooohh" what's happening. So intense and so crazy and so terrifying and amazing and beautiful and magical and horribly terrifying. Um, all at the same time. And I wanted to actually, like, dive into, like, the depth of what that meant. So that was the one thing I wanted to tell. And the other thing I wanted to tell was I wanted to tell a  story about what if feels like to go through life feeling like you're never enouh and feeling like you are not enough. You're not a good enough wife, you're not a good enough mom, you're not a good enough person at work, you're not a good enough friend, you're not this, you're not that. And I wanted to tell a story of coming to a place of recognizing and I can just breathe and just be and I am enough because I'm loved. Basically I read this script and those were the two things this story told, that my character got to walk through and journey through. I sarted crying when I read the script I was like please I want to do this so badly.
Tell us a little about your journey how you came to Hollywood.
I've been acting since before I can remember. It's the only thing I wanted to do. I think my parents noticed something in me in my kindergarten graduation standing up on stage. And ever since that moment, I've been in community theater and plays and everything. I basically felt like this was the trajectory I was on. This was my joy, this was my passion, this was my gift and I've purused it my whole life. I went to college. My parents are both very educated. So they were like there's no way you're not going to college. It never even crossed my mind I wouldn't go to college. So I went to college and I didn't go to acting school but I majored in drama there at University of Virginia and I did a musical theater program the summer after my second year where a casting director saw me and started bringing me in for auditions. I was cast as Juliet in Romeo and Juliet, reviewed by the New York Times and Variety and then kind of got to have my choice of agents after that. Then finished college, got married, moved to New Haven because my husband was going to Yale and then booked my first movie two months after graduation. So it's been crazy.
Where was it where you were growing up?
I grew up in New York, Long Island.
Did you feel like the church supported you in acting or was it somethingodd and strange?
My dad is a minister and was our pastor so all I got was complete and total support.
What denomination?
He's Presbyterian.
How does this compare to the tv series you've done? Everwood and Grey's Anatomy How would you contrast?
It's totally different. It's different doing a movie versus doing television. I love the freedom that we have on this set to kind of find moments and find beats and change lines and it's sort of like here…It's so great here, there's not an ego anywhere which is amazing. It's sort of like the best idea wins. So it feels very collaborative and it feels like I'm part of the creative processes in creating actually how the story's going to be told whereas TV, it's a machine you know. We just finisthed our ninth season so it's a very well oiled machine. Everybody knows exactly their place and what you're  doing so you go and you say your lines and you make sure that those lines are each heard. I feel like on Grey's it's been amazing. I've had a lot of input for my character on that show and they've been incredibly open and warm to receiving that but there something exciting about going somewhere for a few weeks and telling one arc, you know, taking one journey that has a beginning, middle, and end whereas on TV you have so many twists and turns you don't know where your character is going to go, you don't know who your character is going to wind up with, you don't know know what's going to happen. I love my job on Grey's and I have loved doing this completely.
I have to say as a mom, I lierally teared up watching the clip of you in the closet. Have you had moments like that?
Yes.
I actually had a moment like that with my husband this Friday, this past Friday, I just had this …it was…you know this has been a really exciting, amazing opportunity and so I have a lot of, kind of, going on and I'm working way more than I ever work on Grey's and so the hours have been longer than what I'm used to, cuz I have a lot of time off doing Grey's and just sort of, you know, there's pressure to feel like you're doing a good job and telling the story well and I have my son with me and my nanny with me and my husband's been teaching at Dartmouth so it's sort of been…talk about mommy guilt, oh man. Ok well, I did get in at 4 am but I should wake up with him at 7 because I'm physically in the apartment and then it's like no you have to sleep and then I feel guilty for sleeping. Whatever. Every mom knows what that feels like which is why we're telling this story. I had a lot of that building up and I just started crying and it happened to be in the walk in closet in the apartment and he's holding me and I'm shaking and he's kind of like this is like that scene. It was so funny.
Abut being a Christian in Hollywood
Yeah. You know what's wonderful is [Grey's Anatomy writers and director Shonda Rhimes are] just really excited to tell whatever story they want to tell well. So when they decided to make my character Christian, Shonda sat me down and said we want to tell this story well and authentically so you just tell us whenever something doesn't feel right, so I've had an incredible voice in the direction of the character which has been just wonderful and so fun and um I've had a lot of those kind of moments. So it's been fun, you know, I think that there are ..all those guys on that show they just are all about wanting to tell a story well. So I love that. I love that they have the kind of humility to go you tell us.. .I had a prayer. I said a prayer in a surgery two episodes…The second to last episode. And basically the writer.. I was like, yeah, I don't think I..and he was like, just do it. Pray when you're on camera. And I did. I just think that's been cool. It's been really cool.
Do you feel there are other people that have your voice too or do you feel like …Do you feel like there are inroads being made that there are other actors or writers or directors who are cognizant of Christianity, are Christians or is it pretty secular?
I've met Christians everywhere I go, I've met Christians on every set I've been on, in the crew, the cast, everywhere. I've met producers who are Christians and are producing secular shows. So much beauty and truth can be found in every, in every different show that's there. It might not be appropriate for children, for people of all ages, but I do think that, um, that that truth is a beautiful truth that people want, stories people want to tell. I've found it everywhere. I have.
Do you find prejudices against you for being a Christian?
I have have been only warmly received and welcomed. I've had moments early in my career that didn't feel that way as much, but I have found that, especially on the show I'm on right now, people are enthusiastically interested in whatever it is that you love, you know, that's how I have found the people that I work with. They're just excited to hear about whatever I'm excited to talk about. That's kind of the way that we all relate to one another.
Favorite scripture?
Psalm 139
Which is?
You knit me together in my mother's womb. I praise you because I am fearfully and wonderfully made.
That's good.
You know…You know me. You know when I sit and when I arise. You perceive my thoughts from afar. You observe my going out and my coming down. You are familiar with all my ways. Before a word is out my breath, you know it completely. You hem me in behind and before.
Too bad you don't really know it.
I know. [laughing] This is one I go back to when I'm feeling particularly beaten down and not enough
What advice would you give if there was a high schooler/college age kid who just really felt like something in production, perhaps acting, was something God had created them to do?
I would tell them to go for it in the same way as if they felt a passion to go be an accountant somewhere. You know what I mean? I think sometimes we put too much of a gravity on what it is that we do. I think that I have…my husband has been great about reminding me Sarah this is a job. It's a job. Everybody goes to work. Everybody has coworkers. You're not on this other eschelon of humanity because you happen to be onscreen. And thank the Lord in heaven I have a husband who tells me that and who reminds me that and in the same breath telling me that I am loved and extraordinary and all of those things. But yeah, I just think you go out into the world and if the door is open pursue with excellence whatever it is that you feel you are called to pursue.