Editor's note: John Snowden was a youth pastor in the Los Angeles area when Rob Moore of Paramount approached him about a project. Snowden came aboard Noah as Biblical advisor and we know the rest. As of April 1, Snowden is no longer under contract with Paramount pictures and now gives his full reaction to the controversies swirling around Darren Aronofsky's film.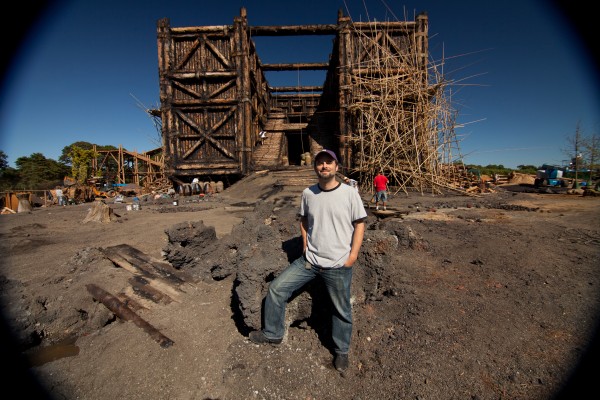 I knew some wouldn't appreciate Noah's liberties, for sure, but I didn't expect the level of ire I've heard about the now apparently controversial Bible movie. Ken Ham, along with Ray Comfort, and similar disagreement from Brian Godawa, have led an all-out assault on the film. Here is my response to a few of their thoughts, which hopefully will also be an opportunity shed more light on what I firmly believe is very positive theology in the film. (Warning: There may be spoilers if you haven't seen the film!)
Objection: Humanism!
Godawa in particular focuses on the fact that Aronofsky is allegedly a "humanist." I put that in quotes because I don't actually know that Darren is such. He might be. He may even "probably" be. But Godawa presumes that Aronofsky's worldview has compelled him to tell a subversive story undermining God, and the proof is not what is in the film, but that Aronofsky is a humanist. This cynical view (and cyclical argument) assumes no person can tell any story that they don't wholeheartedly embrace. So a humanist, for example, could never put into his film critical Christian theology such as that man was created in God's image, because that would undermine his humanist agenda.
The only problem with this is that the film clearly holds this very important piece of theology front and center, that God created people in His image. Despite Godawa's clearly false claim, the film repeats it many times from many characters. It is said by Noah twice, The Watchers said it once, Lamech said it, and it is perverted by Tubal-Cain. Throw in the bonus that Noah clearly says "we get our power from The Creator" and the whole humanism thesis quickly dissolves.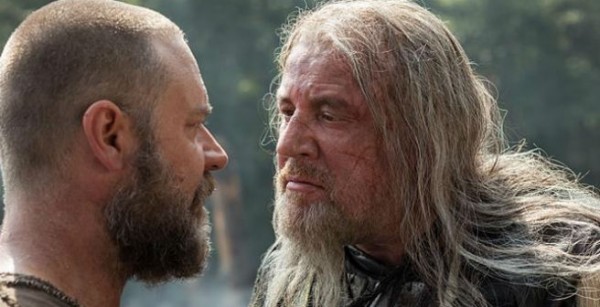 Objection: Veganism!
In an ongoing criticism of the film, Godawa vents that the depicted sin of humanity is all about meat eating in the film. When one reads through Genesis, there are two ways to read it regarding meat eating. First, the most literal way is that God never blessed eating anything but plants until after the flood – thus meat eating is a sin to Noah in scripture for the timing of most of the film. Or there's the more "nuanced" way – which we'd naturally assume is Hollywood's tendency: "Nuance it" to justify an agenda, right? Well, the nuanced way is: Sure, God never really gave permission to eat meat until after the flood, but since God did kill animals for Adam and Eve (but did He?), and since He gave Noah instruction to bring 7 of each clean animal onto the ark, and since we can read into that statement the Torah's definition (that Noah hadn't heard) of "clean" certainly implies kosher food laws it must mean that those animals were for eating, therefore Noah eats meat in Genesis.
For what it's worth, I think both are actually viable ways to read the text. And since there are two ways to read into vegetarianism in Genesis, maybe we can give "Hollywood" a pass on taking the more literal interpretation as their own.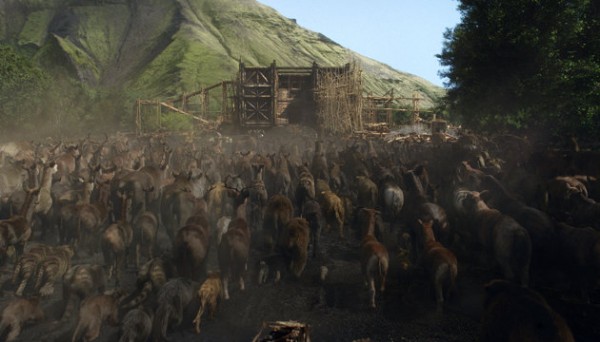 Objection: Creation From Nothing!
Creationism in the film was allegedly subverted too – because it starts with "In the beginning there was nothing." That's Pagan, they say! Atheists believe that!
So do I. I've taught the Bible plenty. My favorite part is creation and Genesis 1:1 – 12:3. The Hebrew verb for "created" in Genesis 1 is a word that is only used with God as the subject and it means to create from nothing. And in the creation sequence the film follows that very line with God speaking light into existence on "the first day and it was good." The creation narrative in the film then goes on to name the six days one by one (albeit with an evolving-animals sequence), yet then on the sixth day, God distinctly creates humanity in his image. While I wish it said it was "very good" at that point, the fact that God created us in his image on the sixth day is very clearly in the film. Adam and Eve didn't just passively evolve in the film. How can an atheist tell an atheistic version of creation with "The Creator" as the creator and still be pushing an atheist's agenda?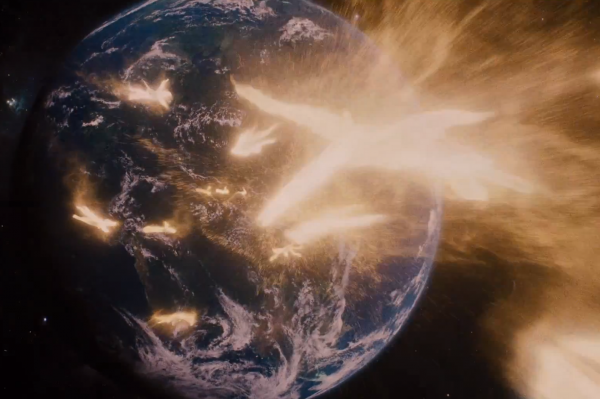 Objection: No Rebellion Against God!
In the most head scratching criticism from Ken Ham, he suggests that the film doesn't depict "rebellion against God." It's head scratching for two reasons. First, never are those words a part of Genesis 6 – 9. Second, more importantly, Tubal-Cain's speech as the rain starts is so so overtly personifying rebellion against God: Tubal-Cain's arrogant comparison of himself to god, giving and taking life, that men united are invincible, or that Tubal-Cain cries that he will build a new society in his own image are all manifestations of rebellion against God. Even just yelling at God to do what Tubal-Cain wants God to do images such rebellion. Tubal-Cain says to Ham "A man is not ruled by the heavens but by his will." These are the same themes of Biblical rebellion against God that we find throughout scripture including at the Tower of Babel, which the story of Noah (and the lineage of Ham) feeds.
Ham got on the boat. Ken Ham missed it.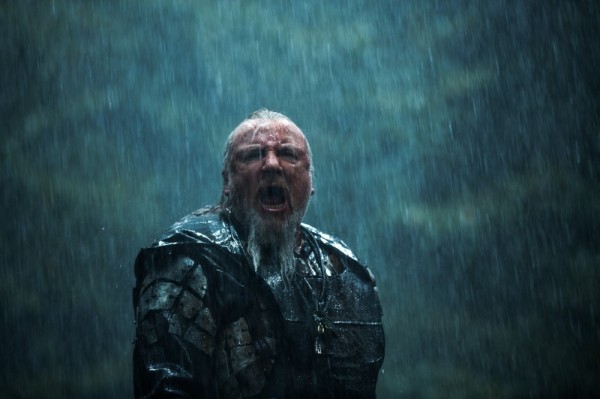 Objection: Environmentalism!
But the most important sin in this film is supposedly the environmental "agenda." It's pretty much unanimous after all, since almost every American right-wing Christian who's seen the film has completely objected to the environmental undertones in it. It's honestly not my favorite part either, but this is where grace (and not even that much is needed) toward a non-Christian director has to come into play.
But even with such grace, and to be clear, I'm a right-wing homeschooling Ken Ham-VBS-curriculum-teaching conservative-talk-radio-listening Christian myself (I really am), I defend the fact that the film clearly depicts primary sin as the violent arrogance of man time and again. It doesn't depict "property rights advocates" in a bad way like Godawa claims, it depicts a bad guy subjugating his fellow man and taking the land that others are living on. It's man's inhumanity to man – the very thing Ken Ham alleges the film didn't depict. And it most certainly doesn't explain the flood as anything but man's wickedness – which is partly environmental as depicted but is so overwhelmingly shown as violence (threatening, intimidating, killing, selling women in the mob scene, stealing, and people fighting over, yes, natural resources). You'd think from the reviews Tubal-Cain is the non-violent CEO of the Exxon corporation (yet carrying a "gun").
But then even looking closer we can find that it would undermine its own ostensible "environmental agenda." For example Noah scolds young Ham (played by a pastor's kid, no less) for picking a flower, he uses environmental jargon to teach his son a lesson. An environmentalist "agenda" would leave that flower dead, destroyed, and irreplaceable. It would be the final action that sets in motion the ball rolling that will actually clinch the destruction of the entire planet – right? But that's not the story told in that scene nor in the film as a whole. What happens in that scene is that God immediately and miraculously replaces that flower, clearly demonstrating that God is going to take care of things – just like he does in the end of this film, and in the end of Revelation 21-22. True story – an executive for one of those environmental organizations saw the film and was not happy with it. Why? Because the film showed that the "Almighty" (his word) fixed the environmental problems in the end, which is contrary to environmentalist's messaging. There you have it.
Naameh says in the film to Noah, "We are surrounded by darkness, yet beauty survives even in this barren ground. Maybe it is a sign he comes to heal."
God makes all things new. God restores the broken, grows gardens from deserts, and brings fertility from bareness. That is good theology, and that is in the film.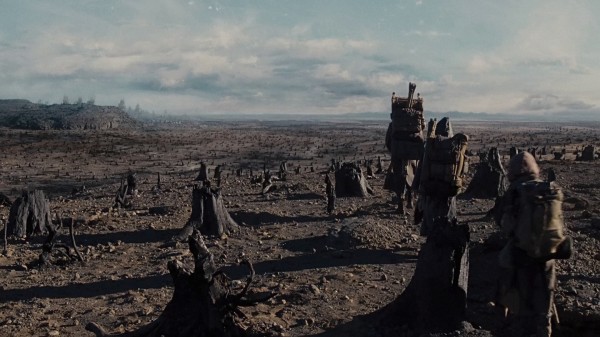 Objection: Unrighteous!
Nearly every rejection I've read mentions that Noah was righteous yet the film allegedly depicts Noah as anything but. Instead of being righteous he was sinful, mean, and focused on killing his grandchildren believing that God wanted him to kill off humanity. While I wouldn't make the theological case that the Biblical Noah was blind to God saving humanity through him (nobody is claiming that's the Bible's position – it's simply a movie's dramatization of God wanting to wipe out humanity which IS in the Bible), and probably in a million years wouldn't have dreamed up that plot for my own Noah's Ark movie, it is clearly a choice they made in the film. But it doesn't make Noah not righteous. Hold on, you say? You object? Let's think it through – how can a person who almost kills children thinking it's God's will be righteous? Well, you can ask Abraham. How can a person be a prophet of God when he doesn't obey God and wants people to die? Ask Jonah. How can a person be after God's own heart but also be a murdering adulterer? Ask David. Why do we protect Noah as proto-Jesus by assuming righteous means anything other than Noah trusted God? In the film, Noah wasn't taking pleasure in the idea of killing humanity, he was angry about it, and he was assuming it was God's plan just like it says in Genesis 6:5-8. I also, for the record, believe that in the end the film does not communicate that it's God's will for Noah to kill the babies, but it is God's will (as Ila explains) to help Noah learn God's mercy in contrast to the stark justice he just witnessed.
Abraham believed God and it was credited to him as righteousness. Where does Noah's come from?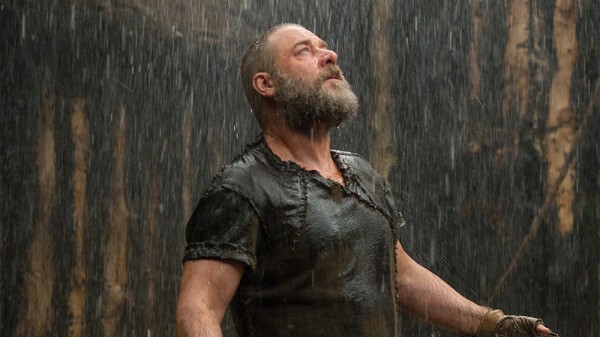 Objection: Paganism!
But all of these aren't the real issue. No, as I see it, the core of the criticisms I read boil down to the fact that a person who is not of the Christian worldview is making a Bible film. Or perhaps if Christendom allowed this, why on Earth did they let him have any ability to have any creative control over his own film? Either way, I'm reading between the lines that this is what is truly and fundamentally intolerable. How could a non-Christian possibly get it right? Is there a line that would have been "right enough?" No, I don't believe we would allow it. Rather any creative choice that strays too far from the text (if from a non-believer's mind) should be rejected. The text stands alone – and I believe it does. Maybe that means we should actually reject any depictions of a Bible character? Or maybe only if it's done by a non-believer. This is all sounding awfully similar to a fatwa, and it grieves me.
Wrap-Up
Let's wrap this up. "Love your neighbor" is our charge. That is expected of us even if we think he's a secular liberal vegan pagan atheist humanist environmental whacko Hollywood director. Vilifying him (and effectively his whole team) will not get us any closer to God. And to me, he was personally quite a kind, thoughtful, creative, hyper-intelligent colleague with whom I had incredibly fruitful conversations. I'm thankful that he took a huge risk to tell a Bible story in a very creative way, and did it quite impressively. You don't have to like the movie, love the movie, or see the movie. But we really need to respond better than this when we have objections.
John Snowden served as the Biblical Consultant on Noah from April 2012 until March 31, 2014. After six years of vocational youth ministry in West Los Angeles, John moved with his family to Kathmandu, Nepal, where he is a Vice President of CloudFactory, a tech company seeking to connect a million people in the developing world to basic computer work while raising them up as leaders to address poverty in their own communities. He is not related to Edward.
Read More:
Rebecca Cusey on An Invitation to Listen: How the Church Should Think about Noah
Rebecca Cusey's Review: A Bible Movie That Doesn't Preach or Browbeat
Rebecca Cusey's Interview with Aronofsky and Handel
Peter Chattaway's Extensive Noah Coverage