This is my first autumn at The Anxious Bench, and I'm steeling myself to endure all sorts of college football talk. After all, four of my Anxious Bench colleagues (David, Kristin, Tim, and John — who even shares his name with a Notre Dame defensive back) earned doctorates from 10th ranked Notre Dame, whose Fighting Irish will begin their quest for their ninth national championship tomorrow with a rare Sunday night game. And while #23 Baylor (employer of Beth and Philip, plus my predecessor Tommy Kidd — another Notre Dame grad) figures to be down this year after a turbulent offseason, the Bears steamrolled last night's visitors from Northwestern (LA) State and could well compete for their third Big XII championship in four years.
But it's worth remembering that neither is all that representative of college football. Unlike Notre Dame, most college football programs do not take in $86 million in annual revenues, 2nd only to the school UND will play tomorrow night: the University of Texas at Austin. Unlike Baylor, most universities do not spend a quarter-billion dollars on a new stadium, not to mention $50 million on other football facilities. And unlike either school, most Christian and church-related colleges and universities either play in lower levels of competition or don't field teams at all.
* * * *
As I've already established here, I work for a less famous Baptist "BU." Playing in the shadow of a rather hapless Big Ten program, Bethel University has been a perennial regional power in Division III of the National Collegiate Athletic Association (NCAA), which permits no athletic scholarships and garners little media attention. Led by long-time coach Steve Johnson, the Royals open their season today against the University of Dubuque, the reigning champion of Iowa Intercollegiate Athletic Conference.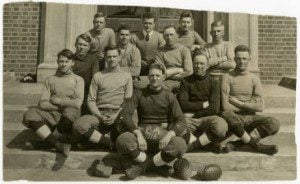 Bethel students have been playing football since before the school became a four-year college (1947). The oldest yearbook (1909) in our excellent digital library complains that then-Bethel Academy "had no grounds" for football practice "except the lawn around the building and this was greatly damaged thereby." This was no small matter to the student-editors, who placed athletic competition at the center of Bethel's historic commitment to forming "whole and holy persons":
We admire the motto of the Y.M.C.A.: Mind, body, and spirit. This motto, if followed up closely, will give us a perfect man as far as man can be perfect. The development of the mind is what we primarily come to school for, and yet we must not forget that the other two are equally as important, in fact more important. It is unnecessary to mention the importance of spiritual development, for we all know that a man without a clean soul has but little to live for. These first two essentials, mind and spirit, have received due attention at Bethel Academy, but in order to develope [sic] the mind and spirit, development of the body is absolutely necessary. We must remember that the body is the temple of the spirit. When we think of the beauty of the human body which is the image of the Creator himself, it would be an unpardonable crime to neglect its preservation and development, which many of us do.
Just four years after the deaths of nineteen college football players precipitated a presidential intervention, the editors of The Acorn insisted that neglecting such competition was potentially ruinous for a Christian school: "We are not only hurting ourselves but breaking the laws of nature, the result of which lowers our ability to accomplish things in this world."
There have been critics through the years. For example, in 1956 a seminary student dared to ask readers of The Bethel Clarion:
Is it spiritually healthy for a Christian to participate in football for no other reason than for the glory and love of the game? Is it spiritually healthy for a Christian college to support a sport, which is by its very nature antagonistic to the ideas and principles of Christ?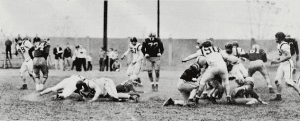 As far as I know, there's never been a serious move to eliminate football from Bethel's athletic program. But it's worth noting that Bethel is relatively unusual as an avowedly Christian university fielding a football team. As far as I can tell, about 60% of the institutions in the evangelical Council for Christian Colleges & Universities (CCCU) don't play America's most popular, lucrative, expensive sport on the intercollegiate level.
The list of non-football schools in the CCCU includes such consortium pillars as Calvin College (where Kristin teaches), Asbury University (David's employer), and Gordon College (Agnes and Tal's former academic home). Calvin revisited the possibility of starting a football team in 2011-2012 (a previous attempt was rejected in 1987), but the college's board decided to put off a vote. Some Christian colleges once had football teams, but decided that the cost (financial, if not spiritual) was too high. Most recent was King College (now University), in 2003. Several current CCCU members discontinued their football programs in the turbulent decade after World War II, including Cedarville, Erskine, Huntington, and tiny York College of Nebraska.
Why is football so rare among Christian colleges and universities?
First, we should remember that it's not actually all that unusual for American institutions of higher learning to go without gridirons. Almost half of the nearly 1,400 members of the NCAA and the National Association of Intercollegiate Athletics (NAIA) don't have football programs. After all, the sport is tremendously expensive, often helping to drive up student cost and promising uncertain returns on investment. And because of the gender equity requirements of Title IX, adding a men-only sport like football would require the school to take steps to keep athletic participation proportionate to student enrollment. (And most Christian colleges have significantly more female than male students.)
But some concerns are more specific to the religious contexts of Christian educational institutions. Goshen College and Eastern Mennonite University, two of the Anabaptist institutions that withdrew from the CCCU last year over their hiring of LGBT employees, have never played football. (When Goshen began tentatively to embrace competitive sports in the late 1950s, it instead added soccer, which Mennonite historian Theron Schlabach once called "a pacifist form of football.") Four years ago, Cedarville's athletic department began to weigh the pros and cons of restarting a football team. A survey by the student newspaper found mixed response. For example, while 84% of respondents thought such a move would attract more students to campus, half that number worried that many such newcomers "would fail to embrace our Christian culture."
Other evangelical commentators worry about the physical, psychological, and spiritual costs of the sport, prompting this FAQ item from the Calvin task force:
12. Is the "aggression level" associated with football accurate, necessary, different than other sports, and/or especially difficult to justify from a Christian perspective?  

The last part of this question assumes that there is a clear negative correlation between appropriate Christian behaviors and increasingly aggressive behaviors—the more Christian something is, the less aggression there is, and vice-versa.  This is not the place to dispute this assertion, other than to point out that the context of behavior is important.

In this discussion of football at Calvin, a better question is whether there is a fundamental conflict between excellently played Division III football and a Christian world- and life- view.  To that question, based both on data and a review of comparison schools, the answer seems to be "no."  Calvin hosts other sports with similar characteristics that might be termed "aggressive"—high contact sports, sports with similar injury rates, sports which encourage fan loyalty and expression, and other characteristics.
Indeed, it seems that the football tide may be turning in Christian higher ed. Since 2008 nine CCCU members have added football teams:
NCAA Division I: Houston Baptist (2013)
NCAA Division II: Oklahoma Baptist (2013)
NCAA Division III: George Fox (2014)
NAIA: Dordt and Kentucky Christian (2008); Bluefield (2012); Warner (2013); Missouri Baptist and Southeastern (2014)
And fast-growing Indiana Wesleyan, now the largest member of the CCCU, plans to add an NAIA football team in the fall of 2018. "This is about mission," said IWU athletic director Mark DeMichael:
This is about what God has called us to do at Indiana Wesleyan University. We are so blessed to have head coaches in our department right now that are first experts in their field, are master leaders and master tacticians in their sport, but first and foremost they are men and women of God who have been called to a ministry through coaching in college. That mission has enabled them to be used by God to turn out incredible young men and women who are going out into the world serving God in whatever profession He has called them to do.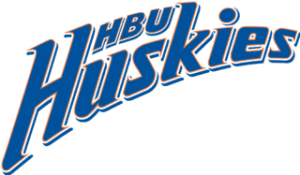 But Steve Moniaci, DeMichael's counterpart at Houston Baptist, had a more pragmatic explanation for his institution spending $10 million to start up a Huskies football squad, plus another million dollars in annual expenses:
Why are we doing this? The whys are pretty simple. We're trying to grow this institution… Study after study has shown that one way to attract more attention is to have a robust athletic department. The leader in the clubhouse is college football.
And HBU hopes to improve relatively low alumni engagement and raise its profile in a state with no shortage of colleges and universities. As Moniaci put it, "If you're in Texas and you're not playing football, it almost begs the question, 'Why aren't you?'"
As far as I know, Houston Baptist is the only CCCU school competing even in the second tier of Division I. But the non-CCCU institution that bills itself as "the largest Christian university in the world" has spent an enormous amount of money trying to join the likes of Notre Dame and Baylor in the Football Bowl Subdivision. "This investment will pay dividends for generations because it will shine a light on our core mission to train champions for Christ like nothing else can," Liberty University president Jerry Falwell, Jr. told Christianity Today in December 2012. "We see top-tier college athletics as a mission field."
(In 2014 Falwell told USA Today that adding football would help "show people Liberty's not Oral Roberts, it's Baylor." As I argued at my own blog last year, investment in football has been central for the leadership of both Liberty and Baylor as they aspire to be something like "the Protestant Notre Dame.")
Others in the CCCU aren't so sure Christian colleges can afford that kind of investment, or should seek that kind of spotlight. Brian Bolt, the kinesiology professor who chaired the Football Feasibility Task Force, told CT that
Evangelicals have wholeheartedly embraced sport in the name of spreading the Gospel, using the formula winning equals fame, fame equals exposure, exposure equals souls for Christ… Exposure of this sort runs the very real risk of fundamentally changing the message. How Liberty handles this conundrum will ultimately determine its success.
"When it works," said Gordon president Michael Lindsay in the same article, "the return on the investment can be tremendous. But without early wins and patient support, the investment can cost the institution not only its riches—but also its reputation."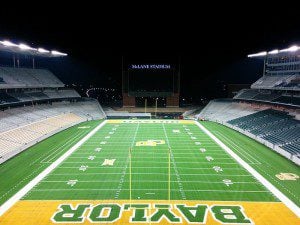 And as Baylor has found out this year, football can damage the reputation of a Christian university even when there's no shortage of on-field success and off-field support. This time last year, as people continued to debate the impact of concussions in football and news started to break about a Baylor player convicted of sexual assault, I suggested that "it's an open question whether avowedly Christian institutions ought to be participating in a brand of football that risks dehumanizing or debasing those who participate in it — or tempts institutions to compromise their convictions for the sake of competitive success." Then this year the scandal at Baylor broke wide open, as a damning external review commissioned by the school's board of regents led to Baylor parting ways with president Ken Starr, athletic director Ian McCaw, and football coach Art Briles.
So I think I ought to conclude this post the same way I concluded a similar one written at this time last year:
I'm leery of pushing too hard here. I've seen — and previously written about — the educational benefits of sports at schools like Bethel. What I'd heard of Art Briles before this summer [2015] was only positive. But as we enter what ESPN Radio host Mike Greenberg this morning predicted would be "a magnificent weekend of college football," I wonder if readers agree that there's a level (the Football Bowl Series subdivision? lower?) at which the cost of sustaining such magnificence requires a Christian university to run an unacceptably high risk of compromising its mission and values.
If you'd like to comment on this or other Anxious Bench posts, please note that World Table is having some problems with Firefox as it operates on Macs, and their best efforts to resolve the issue have not yet worked. If you do run into problems, try an alternate browser, such as Chrome or Safari. Thanks!