In the early days of baseball broadcasting, many announcers would work from a studio without actually seeing the action. Handed simple reports of hits, errors, and outs, they would spin two-hour long stories that made listeners feel like they were right there in the ballpark. Even before the invention of radio, baseball fans in large cities could sometimes "watch" a World Series game by going to a local theatre. Not only would there be a large diagram showing the numbers of balls, strikes, and outs and the location of baserunners, but author Bill Bryson reports that "An announcer on stage would relate—and sometimes creatively embellish—developments on a distant playing field from fragmentary information supplied by ticker tape while the scoreboard lit up, clanged, and traced footsteps in support" (One Summer: America, 1927, pp. 111-12).
Likewise, historians and biographers "relate—and sometimes creatively embellish—developments" on the distant field of the past, all on the basis of "fragmentary information."
Now, there's a limit to the creative embellishment permitted. "Unlike the fiction writer," explains historian Tracy McKenzie, "the historian is constrained by the historical record. The more extensive the surviving evidence, the greater the constraint."
But the evidence is never all that extensive.
Indeed, the most distinctive feature of history as an academic discipline is the relative paucity of the sources available. All we've got to go on are whatever artifacts survive the passing of time, and most of those sources erode. Past supporting preservation and archival efforts (including oral history projects), there's not much historians can do about this. We can't retire to our laboratories and test theories by running experiment after experiment. There's no petri dish or computer simulation in which we can reliably recreate historical change over time. And unlike our friends in the social sciences, we can't design a survey to administer to the dead.
So history is more like paleontology than most other sciences.
Imagine a dinosaur skeleton in a science museum. How many of the bones are actual fossils? A couple years ago, London's Natural History Museum made headlines for displaying a stegosaurus skeleton that was 85% real. Typically, that percentage is considerably lower. Much of what my kids see when they walk into that exhibit in the Science Museum of Minnesota consists of plaster replicas that have been added to the fossils to reconstruct a paleontologist's (highly) educated guess of what the dinosaur actually looked like.
This has significant implications for the writing of biography as well. In fact, it helps answer the question I posed in the previous post in this series: why are most biographies about powerful white men who made their names in realms like politics and warfare?
I quoted historian Ann Little's observation that publishers know that it's "better business to write about the rich and famous because there's already a built-in audience of book buyers" for such books. But her first explanation, from her new biography of a very different kind of subject, actually has to do with evidence:
…historians' choices have traditionally been restrained by their discipline's obsession with written information, so we must consider the politics of literacy in early America. Because even most free women in North America were taught only to read and not to write until the middle of the eighteenth century, most people, enslaved or free, couldn't generate their own archive, let alone possess the social and cultural capital to ensure its preservation for two or three centuries. It's a lot easier to write about people who wrote endlessly about themselves in journals or diaries, and carried on a voluminous correspondence with friends and colleagues which was then meticulously preserved.
Or as Little told John Fea in a recent interview for his Way of Improvement Leads Home podcast: "It's so much easier and [more] relaxing, I'm sure, to pull down a volume of The Papers of John Adams off the shelf and just start writing."
I'm currently reading a biography of a 20th century version of the kind of white guy Little is describing. It has a good forty pages of notes — and if they were presented as full endnotes, that section would be twice as long. The biographer had access to an astonishing abundance of source material, thanks to his choice of a subject who was:
An object of all sorts of modern media attention, with hours of audio and video and acres of newsprint documenting his life;
So highly sensitive to his legacy that he saved copies of all his correspondence and created an archival collection at a major research university early in his life; and
Survived by family members who published their own recollections and were alive long enough for the author to interview them.
As a result, the biographer seems able to narrate the subject's life on at least a weekly basis — sometimes daily or even hourly. I read his book to be inspired as a potential biographer; instead, I'm intimidated.
What if I don't have enough evidence to write the biography I'm contemplating?
I ought to take some inspiration from Little, who recently published a biography of Esther Wheelwright. Raised by a Puritan family in present-day Maine, Wheelwright was captured during a raid in 1703, raised by the Wabanaki people, and then placed in an Ursuline convent in Quebec, eventually becoming Mother Superior. It's a fascinating story of a woman who navigated numerous cultural, social, and religious boundaries in 18th century North America.
"Compared with lives of other fairly obscure nonelite women of the eighteenth century," Wheelwright's life struck Little as being "extremely well documented." Early childhood, adolescence, and last years left behind several sources, so Little explains that her biography pays attention to stages of life that often are overlooked.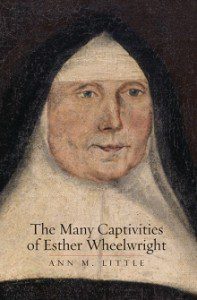 But by comparison with a Founding Father like Adams, "Esther's existence in scattered eighteenth-century primary sources is hardly a transparent or easily told tale." Particularly challenging is the fact that there's almost no evidence of her life between the ages of 7-12 (when she lived with the Wabanaki) or 18-50 (the first decades of her life as a nun).
Moreover, Little told Fea that she had few documents from Wheelwright herself. Most surviving letters in her own hand pertained to mundane convent business, and she never wrote her own story. Consequently, Little "had to… make up a lot of her biography. I had to go to sources that recorded the experiences of other children and young people like her."
Because I focus on diplomatic and military history in the 20th century, I've rarely had to be as creative as Little. But when I was working on a digital history of Bethel University's experience of the century of warfare between 1914 and 2014, I found that the years "1914-1918 left behind precious few fossils from Bethel's experience of World War I." Objects came home from the Western Front, but whatever makeshift museum housed them temporarily no longer exists. Most photos and student publications from the period have vanished. While the archives include a folder of correspondence between teachers and alumni in the military, the same file for the Second World War extends to multiple boxes.
In order to write a set of essays about Bethel's experience of that war, I had to take
our few threads from WWI-era Bethel and [weave] them into other, richer tapestries: histories of immigration and nativism, of temperance and Prohibition, and of neighboring colleges and universities whose experiences of the war were wider and deeper than Bethel's.
I'm sure I'd adopt a similar strategy if I end up writing the biography I have in mind. After all, as I wrote last time, I'd want to undertake that book in large part because it might shed light on larger historical developments. So I'm bound to tell other stories in the process of telling that of my subject.
But as I start to draft the proposal, I have to admit that I'm not sure how many fossils my research will turn up — and how much of that life I'll need to reconstruct imaginatively. That's all the more true because I'm contemplating a spiritual biography of a not-especially religious person, and that approach presents distinctive problems of identifying and interpreting evidence. More on that when this series concludes…