Since my Anxious Bench turn this year falls on the Second Day of Christmas, I thought I'd update something I wrote for that occasion back in the first year of my personal blog.
Not just Boxing Day, Return Unwanted Gifts Day, or Two Turtle Doves Day, the second day of Christmas has enormous theological importance. It reminds us that when the angels returned to the realms of glory and the shepherds to their fields, Mary and Joseph still had a child to parent.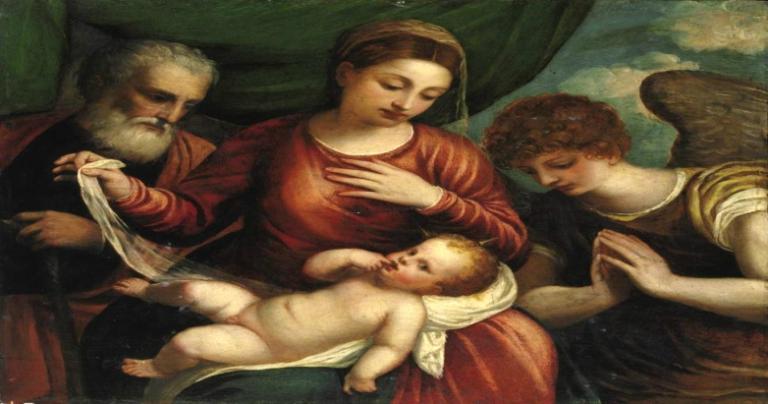 Why is it significant that Jesus experienced childhood? It's not a question that the Bible dwells on. The two infancy narratives in the canonical Gospels (Matthew 2 and Luke 2) don't add much about his upbringing. Matthew tells of the visit of the Magi to a boy no older than two, followed by the young family's flight to and return from Egypt. The parallel chapter in Luke reports on the circumcision of an eight-day old Jesus and then his encounter (as a near-six week old, if I'm reading Leviticus 12 correctly) with Simeon and Anna in the Temple. Before Luke even reaches the end of that chapter, Jesus is already twelve. When Matthew picks up the story, Jesus is being baptized by John; his age is unspecified, but it seems clear that he is an adult. (Assuming there's any narrative continuity from Luke 3:21-22 to the next verse, he was about thirty.)
What happened during the intervening years? One lesson here seems to be that we ought not to speculate too much. But if one error is to fill in the gap by telling tales about a somewhat malicious, miracle-working tot, another is to act as if the Christ child sped up time and moved almost overnight from Nativity to ministry. However paltry the details (left for Mary to treasure in her heart, it seems), it is significant that Jesus had growing up to do. He "…grew and became strong" (Luke 2:40 — v. 52 adds that "…as Jesus grew up, he increased in wisdom and in favor with God and people") as he lived with his parents and "was obedient to them" (v. 51).
But even more, the fact of Jesus' recognizably human childhood reminds us that our Savior, though "being in very nature God," nonetheless "made himself nothing" (Phi 2:6-7) and shared in our humanity. God truly was with us, even as a child.
When cloaked in jargon unfamiliar to most contemporary Christians, Incarnation can lose some of its force. But consider just what human bodies endure in utero and then in their first hours, days, weeks, and months. When I first wrote on this topic, my former teaching assistant Katie Thostenson shared a visceral passage from her doctoral research on the 2nd/3rd century African apologist Tertullian — part of his sarcastic response to Marcion:
Beginning then with that nativity you so strongly object to, orate, attack now, the nastinesses of genital elements in the womb, the filthy curdling of moisture and blood, and of the flesh to be for nine months nourished on that same mire. Draw a picture of the womb getting daily more unmanageable, heavy, self-concerned, safe not even in sleep, uncertain in the whims of dislikes and appetites. Next go all out against the modesty of the travailing woman, a modesty which at least because of danger ought to be respected and because of its nature is sacred. You shudder, of course, at the child passed out along with his afterbirth, and of course bedaubed with it. You think it shameful that he is straightened out with bandages, that he is licked into shape with applications of oil, that he is beguiled by coddling. This natural object of reverence you, Marcion, bespittle: yet how were you born? You hate man during his birth: how can you love any man?…. Christ, there is no doubt of it, did care for the sort of man who was curdled in uncleannesses in the womb, who was brought forth through organs immodest, who took nourishment through organs of ridicule. For his sake he came down, for his sake he preached the gospel, for his sake he cast himself down in all humility even unto death, yea, the death of the cross. Evidently he loved him: for he redeemed him at a great price. (De Carne Christi, 4)
Tertullian reminds us that Incarnation is carnal, not nearly as pristine as theological precision can make it sound. It is messy, even dirty. Whether he was born in a stable, a house, or somewhere else, Jesus surely required at least as much cleaning and "coddling" as any newborn.

And Mary and Joseph no doubt discovered that He was noisy. As many commentators have complained in recent years, one of the worst pieces of theology in any commonly known hymn is found in the second verse of "Away in the Manger":
The cattle are lowing
The poor Baby wakes
But little Lord Jesus
No crying He makes
This is not only a subtle denial of Jesus' humanity ("No crying He makes"?!?), but unintentionally callous. Going any significant period of time without hearing a newborn's wail is a new parent's nightmare, suggesting the possibility of a terrible fate. And this was a time in history when one-quarter of infants did not live to see their first birthday. Tertullian's "nastinesses" included all sorts of microbes and other threats against which a baby would have had little protection in a time of such limited medical knowledge.
"Why lies he in such mean estate?", William C. Dix asked in another, more thoughtful carol. Why should the Son of God have had to endure the squalor of his birthplace and the relative poverty of his upbringing? Why did the King of Kings have to endure the limitations of childhood and adolescence, dependent on others for nourishment, shelter, security, and care?
I'm sure there are many implications to draw here. First, we should take all the more seriously the central place of children in biblical conceptions of ethics. The next time you debate the meaning of Matthew 25:31-46, pause to consider that Jesus himself had literally depended on Mary and Joseph to give him something to eat when he was hungry, something to drink when he was thirsty, to clothe him and look after him when he was sick.
Or we could ponder the connections between crib and Cross. After asking about the scene of the Nativity, Dix proceeds to the still meaner estate of Golgotha:
Good Christians, fear; for sinners here
The silent Word is pleading.
Nails, spear shall pierce Him through,
The cross be borne for me, for you.
Hail, hail the Word made flesh,
The Babe, the Son of Mary.
The same child lying in a crib in Bethlehem would die on a Cross mere miles away. However one understands the Atonement, only a Christ who had shared in human existence — including the joys and frustrations of human development — could bear the sins of those creatures. And only the Word made flesh, now resurrected and ascended, could then advocate for them as one who is righteous (1 John 2:1) yet compassionate.
"Joy, joy, for Christ is born, / The Babe, the Son of Mary," indeed!