If there's anything left to say about the life and legacy of Billy Graham, I'm not sure I'm the one to say it. But as someone who studies the history of Christian higher education, I have given some thought to Billy Graham's legacy in that realm — and how he also demonstrates some of what David has identified as "the limits of evangelical intellectualism."
After all, Graham was a member of many different fundamentalist and evangelical learning communities, in a number of different roles. First, he was himself a product of Christian higher ed, having studied at three such institutions: Bob Jones College (briefly), Florida Bible Institute (now Trinity College of Florida), and Wheaton College, from which he graduated in 1943 with a degree in anthropology.
Then a year before the Los Angeles crusade of 1949 catapulted him to national fame, Graham accepted fundamentalist pastor William Bell Riley's invitation to succeed him as president of the Northwestern Schools in the Twin Cities, where he served — with mixed success, by his own admission — until 1952.
(Enrollment plummeted in the succeeding years, to the point that the school temporarily closed in 1966. But it has revived since reopening in the 1970s and considered renaming itself "Graham University" in 2013, before switching to the University of Northwestern-St. Paul. The school's student commons is named for Graham — I work two miles up the road, but I understand that students and professors generally just call it "The Billy.")
Graham later served as a trustee of Wheaton and leading evangelical seminaries like Fuller and Gordon-Conwell. And as David explained in his recent two-part series inspired by Owen Strachan's book on the subject, Graham supported Carl Henry's initiative for an evangelical research university, lending his name and fundraising abilities to the campaign. While they ultimately failed to launch Crusader University, Strachan includes the evangelist as a key supporter of Henry, Harold Ockenga, and other "founding fathers of scholarly neo-evangelicalism."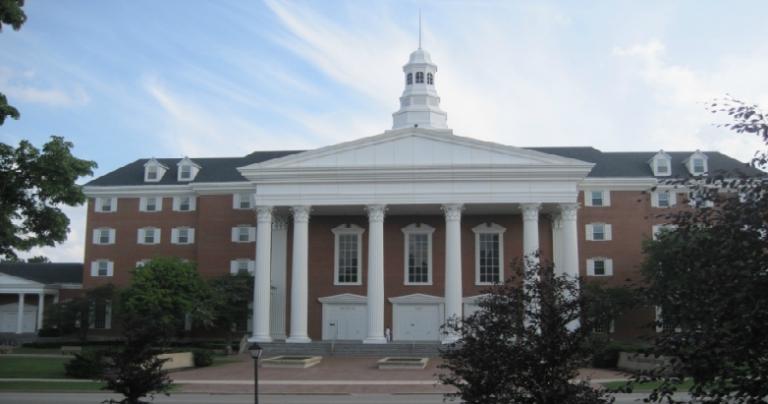 Now, having read more about all of this, I can recognize some of my pet peeves about evangelical higher ed in Billy Graham's story.
In some respects, the Billy Graham who attended Wheaton sounds like lots of the evangelical students I know today. From his 1997 autobiography, Just As I Am, you'll learn that he took anthropology in part because "I was told it was an easy course…" That his favorite professor, among his other appealing traits, "ardently convinced us that the origins of the human race were not up from the ape but down from the hand of God, as Genesis recorded."
That the liberal arts in general was prelude to "going on to seminary for a professional degree," and his major in particular would set him up well for "the remote possibility that I might end up on the mission field. Anthropology would give me empathy for people in social settings different from my own and an understanding of social customs and primitive religions."
Admirable goals! (I've claimed them for history, for that matter.) But I think it's somewhat telling that Graham sees his Christian liberal arts education — even in retrospect — not as a good in and of itself, but as a means to the end of his ministry as a pastor and evangelist. Paul Bechtel's institutional history of Wheaton reports that when Graham was elected president of the school's Christian Council in 1942, he said that his vision was "to stress a spirit of evangelism next year that will put the whole campus on a mass production basis."
When he became a Christian college president five years later — five years! — he got his chance. He recounts that he was drawn to Northwestern because he saw the chance "to lead an educational institution in a different direction from most of the other Bible schools and Christian colleges in the United States. The sort of school I envisioned was one from which we might send young people on fire with Jesus Christ and evangelism to the ends of the world." I'm not sure how distinct a vision this was for a Christian college in the late 1940s — Bechtel reports that 169 Wheaton graduates entered the foreign missions field just in the years immediately after World War II — but it speaks again to Graham's priorities: education, even with a liberal arts core, was meaningful insofar as it leads back to mass evangelism. Graham seemed to understand that, admitting that he spent a quarter of his time as Northwestern president "as an itinerant evangelist holding youth rallies and organizing local Youth for Christ groups…. I had the vision for Northwestern, but not the stomach. It did not help any that [his wife] Ruth kept reminding me that I was called by God to be an evangelist, not an educator."
In the midst of his time at Northwestern, Graham started his association with Fuller Seminary — but primarily as it connected to his evangelistic crusades. For example, George Marsden notes that an invitation to speak at Fuller's convocation in 1950 turned into a Rose Bowl rally, with the seminary's role much diminished. Marsden argued that, at that point, "the reformers of fundamentalism at Fuller Seminary remained faithful to what had been the central thrust of American evangelicalism at least since the days of Dwight L. Moody. While their agenda had expanded to include the rehabilitation of scholarship and Christian social consciousness, evangelism remained the sine qua non."
By 1957, "Graham recognized that he had to repudiate the anti-intellectual image associated with fundamentalism." Having already worked with Carl Henry on Christianity Today and the initial conversations about Crusader University, he accepted Charles Fuller's invitation to join the seminary's board. Marsden concludes that Graham's endorsement of "the overt intellectualism of Christianity Today and Fuller Seminary was an important step" in distancing himself from fundamentalists like his former teacher turned fierce critic, Bob Jones, Sr. But also "one that he could take without sacrificing the simplicity of his own preaching."
For that matter, while Carl Henry was animated by the intellectual ambition of an evangelical research university, David concludes in his posts on that project that Graham "cared about cultural engagement, but at base he was an evangelist." For that matter, the businessmen who supported his ministry "might have backed a Bible school that trained missionaries and preachers, but Henry did not want to develop yet another Bible school." Some of the energy behind Henry's failed initiative was channeled into what became the Council for Christian Colleges & Universities, though CCCU historian James A. Patterson says that Graham's commitment to his crusades left him playing only a "circumscribed" role in the conversations that eventually led to its development.
So there's the part of me that wonders if Graham's legacy for Christian higher ed shows up primarily in evangelical students who hear me say that education is conversional, and think I mean a moment of decision. (Preferably with an easy A.) Or in evangelical parents who value the life of the mind — so long as it leads to a life of professional achievement for their kids. Or in evangelical churches that prioritize evangelism and numerical growth ahead of intellectual formation, rather than seeing it (like social justice) as an integral part of the whole mission of the church.
But reading his autobiography also suggests a more hopeful vision, as I recognize another kind of young evangelical who sometimes shows up in my gen ed and history courses…
Before he reached Wheaton, Graham's first collegiate experiences suggest that he learned early on the value of Christians pursuing intellectual inquiry in a spirit of relative academic freedom. "Even our intellectual life was subject to regulation," he complains of his short time under the tutelage of Bob Jones. "Teaching in every subject was dogmatic, and there was little chance to raise questions. Dr. Bob's interpretation of doctrine, ethics, and academics was the only one allowed." By contrast, Florida Bible Institute not only caused him "to believe with all my heart in the full inspiration of the Bible," but introduced the young Graham to something more like the Christian liberal arts orientation that most CCCU schools prize:
One thing that thrilled me was the diversity of viewpoints we were exposed to in the classroom, a wondrous blend of ecumenical and evangelical thought that was really ahead of its time. Our teachers came from different backgrounds and denominations, exhibiting to us what harmony could be present where Christ and His Word were loved and served. In their teaching, they were not afraid to let us know about other philosophies and even about views critical of Christianity. [School founder] Dr. [William T.] Watson had actually dropped the word Fundamentalist from the name of the school after its first two years because it had come to connote such a negative image in the public mind.
Then as Graham comes to Wheaton, he explains his course of studies not only in terms of professional preparation, but as stemming from a desire "to get as broad a liberal arts education as I could… My choice of courses at Wheaton reflected this, ranging from classical Greek to economics to geology." Whatever his other reasons for his major, he also recalled that a "focus on anthropology would give me a liberal arts education in the best sense, obliterating any condescending notions I might have toward people from backgrounds other than my own."
So you can see coming into focus someone who would later be praised by Mark Noll, in his dialogue with Catholic historian James Turner (edited by Tal) on The Future of Christian Learning, for launching an evangelical periodical with serious intellectual aspirations:
Since the late nineteenth century, it had become customary for evangelicals to pose an antithesis between pious preaching and formal intellectual labor. Graham wanted the magazine to function differently… Graham's hope for Christianity Today was that it would function as a forum uniting disparate evangelical movements but that it would also provide evangelicalism with a measure of theological depth alongside savvy social analysis…. By trying to strengthen evangelicalism with biblical content brought into engagement with public issues, world affairs, and the life of the mind, Christianity Today marked a new evangelical openness to intellectual life.
While Noll cites the revivalist heritage extended by Graham as one of the sources of his Scandal of the Evangelical Mind, he ends up crediting that particular revivalist, because of his work with Christian institutions of higher learning and Christianity Today, with doing "[m]ore than any other public figure" to protect "evangelical scholars from the anti-intellectualism endemic to the movement."