I recently encountered an article that made me yell "Preach!" It was about single women in the Australian church, but everything it said resonated with me as a single woman in the American church. Australia has fewer men than women overall, and this ratio is exacerbated within the church. So many Christian women who assumed they would be married by now have instead found themselves still single.
I assumed similar statistics were true for the contemporary American church. Turns out that's true. Analysis of the Pew Religious Landscape Survey 2014 reveals this gender ratio among more "pious Christians," as measured by belief and religious activities:
"For every 100 eligible women, there are 85 eligible men. In other words, large shares of devout Christian women will have great difficulty finding a similarly, or even passably, devout Christian romantic partner."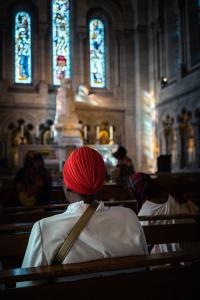 The problem may be even worse than that if the American church shares the following trait with the British church: According to a survey conducted by British author Vicky Walker (as reported by Anna Broadway in Christianity Today), two-thirds of church-attending Christian women would only marry another Christian whereas only half of church-attending men said the same thing. Do the math.
The Australian article acknowledges some of the frustrations experienced by single women in the church. A major one is "'singleness microaggressions'—like when someone at church asks, 'Why aren't you married?' before adding, 'You're great!'" And many of these women do long to be married.
But these women also report substantial satisfaction in their single lives. Single women are often able to maintain a larger number of substantive friendships than their married peers. They also appreciate the opportunity to make meaningful contributions to their local church communities, which often serve as their family.
While the ratio of women to men in the American church has fluctuated somewhat, women have always been in the majority—since the mid-1600s. Single women have thus always made up a substantial minority within the church.
This past weekend, I had the privilege of serving as the commentator on a panel of papers on single women throughout Protestant church history at the annual meeting of the American Society of Church History. I had to laugh—I felt particularly qualified! But my more important qualification was my research into American women's education: most female educators in the nineteenth and early twentieth-century U.S. were unmarried.
Together this panel's papers made the argument that single women have always both challenged the church's understanding of womanhood and contributed to the church's mission in unique ways.
Dr. Lynneth Miller Renberg, a guest Anxious Bench contributor, kicked off the panel by examining the place of single women in the early Reformation church in England. The problem, she noted, is finding accounts of such women. These women were in a far more precarious economic situation than their married peers and were therefore more likely to slip into poverty and out of the historical record.
Women in general largely slipped out of early modern Protestant sermons compared to their more robust presence in late medieval Catholic sermons. But whereas late medieval Catholic sermons tended to treat single women as a sexual temptation to men, early modern Protestant sermons did not join in this condemnation—even as the condemnation grew louder in secular literature. But neither did these sermons praise single women. They didn't mention them at all.
Where single women were mentioned in early English Protestant literature was in psalters, which listed specifically young single women among various groups of people specially called upon to praise the Lord. They were even paid as special dancers in church worship festivals. But later psalters soon replaced this reference to young women with one simply to children and likewise included only children as festival dancers. Renberg is still looking into possible explanations for these findings. Her research points to the marginal position of single women in the church of this era: overlooked in many ways, but respected in a few for their unique service to the church.
Dr. Elise Leal picked up the story during an era for which more sources are available regarding single women's activities and viewpoints. She investigated single women's participation in the nineteenth-century American Sunday School movement. Originally, Sunday School meant something different than it does today: in a time without universal public education, volunteer teachers, available on Sundays, provided both basic and religious education to poorer children whose families could not otherwise afford it.
Protestant women of that era participated in various social reform movements like Sunday Schools in the name of extending the unique values of womanhood beyond women's predominate vocation in the home as wives and mothers. Leal demonstrated that the values of womanhood being extended were not only those associated with mothering—because many Sunday School teachers were single women. These women, often evangelical converts, had a passion for "usefulness." They wanted to use their time of singleness in service to the church and the world. Their service expanded their church's conception of womanhood.
Finally, Dr. Aihua Zhang explored the history of the single women who served as the leaders (known as "secretaries") of the Chinese Young Women's Christian Association (YWCA) of the early twentieth century. The YWCA came to China via Western missionaries, but many Chinese women subsequently assumed leadership in the movement. The Chinese YWCA focused on religious education, and, increasingly, on improving the lives of children through activities such as building modern playgrounds and educating mothers in scientific parenting techniques.
Zhang argues that many of the single women who found satisfying work in the YWCA were nevertheless not single by choice. Rather, singleness was forced on them by men who did not wish to marry intelligent, accomplished women—or by the fact that the YWCA provided meaningful work for single women but would not employ married women because it did not believe women could combine family and career. Like the early generations of college women in the United States that I have studied, these educated Chinese women had to choose between family and professional service. But those who chose full-time ministry still contributed to family life—Zhang's evidence reveals it was single women who were instructing married women on the best child raising techniques!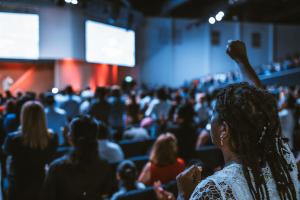 By standing outside of direct relationship to men, the very existence of all these single women in the church called into question definitions of Christian womanhood confined to women's relationship to men. In these different times and places, single women conformed to ideals of womanhood in some ways and pushed against them in others. This fusion enabled them to contribute unique service to the church: they didn't fit into boxes.
So how can the church today best respond to the large number of single women within our midst? First, be part of the solution for those who want to be married: learn from the plight of Chinese YWCA secretaries and train Christian men to value intelligent, accomplished women. Also take the initiative to set up the women who want to be set up—thoughtfully, not just with any ol' guy who also happens to be single! But most importantly, empower single women to serve the church with their gifts. They need a place within the church. And they have a unique perspective the church needs.