It can be easy to feel despondent about the future of colleges like the one where I work. On top of the challenges confronting all of higher education, plus those particular to private liberal arts colleges, there are layers of difficulty and anxiety more particular to Christian higher ed. Even if we weather last year's pandemic, or the coming plunge over the "demographic cliff" of the mid-2020s, we'll also be worried that Dave Ramsey devotees will stop taking on debt or that we'll have to choose between losing donors on opposing sides of political, theological, and cultural debates.
Fortunately, my job offers a built-in corrective to despondency: I get to hang out with young adults who radiate enthusiasm and idealism.
We're still six weeks away from starting classes, but earlier this afternoon I got to give a talk to a hundred incoming Bethel students. Here's a modified version of what I told them: my version of an inspirational address.
---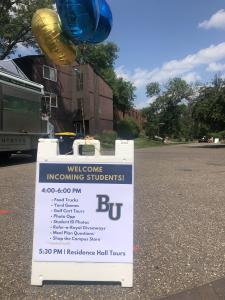 The organizers of this event told me that my job today was to get you "excited about academics."
Now,  in the middle of July I'm not sure that anyone can get you that excited about being back in class. I mean, our twins love education, but last week Lena got mad at me for "trying to trick her into doing math" during the summer. (I was.)
And maybe you feel the same way: you just finished one four-year academic experience; you want a break before you start envisioning the next one.
I think I can eventually get you at least close to excited about the idea of spending the non-summer year in classes with professors like me. But to get there, let me start with something that I am 100% certain you already find exciting:
Being together with people!
All the more so when we all just spent over a year learning intimately the meaning of words like distance and isolation. But forming relationships and community has always been central to what happens at college — a word that comes from Latin terms for "gathering together." A lot has changed since Bethel opened its doors — 150 years ago this fall! But whether they were Swedish American seminarians or high schoolers in 1871 or 1921, or our considerably more diverse college student body of 2021, new Bethel students have always come here eager to get to know new people.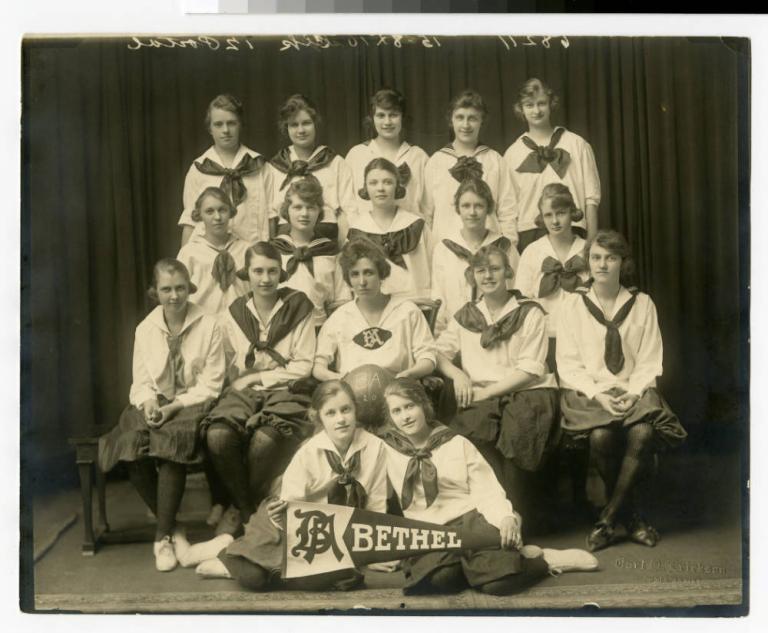 After all, this is a time when you expect to forge some of the most meaningful relationships of your life. Before your first year is out, you may have met your future spouse, or your best friend, or your mentor. You'll likely be part of a team or ensemble, or in the crowd watching that game or enjoying that concert. You'll have gathered with hundreds of others for worship, or with one or two for prayer.
Those are all important pieces of your education at a Christian college like Bethel; you learn from the co-curriculum, not just the curriculum. But I'm here to tell you that academics is also about meeting people and forming relationships.
Whatever you major in, our curriculum is such that you're going to encounter scientists who push you to the cutting edge of knowledge, and artists who stretch your imagination. You'll meet entrepreneurs and leaders who reshape our economic and political life, and activists who strive to make it more just and equitable.
And you'll meet some of my colleagues, like historian Amy Poppinga and philosopher Dan Yim, in whose classes you'll encounter people who are both like and unlike you: Muslims who believe and worship differently than you; skeptics who question the existence of God or the purpose of religion. In the midst of a country riven by polarization and tribalization, your time in college will give you a chance to practice disagreement and learn reconciliation.

But you'll learn to navigate difference in community united by a common faith.
The next time some of you will hear from me, it will be 9am on the first day of class, and you'll be sitting in CC 313 for Christianity and Western Culture, a core gen ed course that about 70% of our students take. I'll be up front opening with a reflection on our theme scripture for CWC:
Therefore, since we are surrounded by such a great cloud of witnesses, let us throw off everything that hinders and the sin that so easily entangles. And let us run with perseverance the race marked out for us, fixing our eyes on Jesus, the pioneer and perfecter of faith. For the joy set before him he endured the cross, scorning its shame, and sat down at the right hand of the throne of God. (Heb 12:1-2, NIV)
It's a different way of meeting people, but in CWC you'll get to know those who are long dead and yet alive in Christ: two thousand years' worth of women and men striving to live as disciples of Jesus. People like the African bishop Augustine, who became the greatest theologian of the Western church — but at your age struggled with temptations that you'd find familiar. People like Hildegard of Bingen, a medieval German woman who experienced ecstatic visions that left her feeling like she could suddenly understand the entirety of Scripture. And people like the French mathematician and philosopher Blaise Pascal, who warned modern Christians neither to "offend the principles of reason" and become "absurd and ridiculous," nor to embrace science so tightly that "our religion will have no mysterious or supernatural element."
Though he helped found computer science, Pascal knew that it was "the heart which feels God, and not the reason… a God who fills the heart and soul" of those who know him through his Son. Notice that the author of Hebrews values the "cloud of witnesses," but primarily because they point back to Jesus, "the pioneer and perfecter of faith."
Above all others, that is the person I'm most excited for you to meet in your classes, or to get to know even better.
It may sound odd for the history professor — and not the worship leader or campus pastor or Bible study moderator — in the room to be talking to you about "meeting Jesus." But if he is the way, the life, and the truth — if he is the Word made flesh through whom all that exists came into being — then you can expect to encounter Jesus in a science lab, a sculpture studio, a nursing practicum…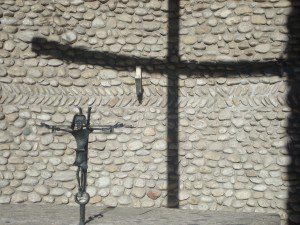 …or a history classroom. Though it may be hard to see Jesus at first if you take one of my HIS courses. Spend a semester with me, and you'll find yourself in the killing fields of the 20th century — World War I this summer, World War II last spring, the Holocaust this fall — and initially see God's absence, not his presence. But not only will study that challenging drive you back to God in prayer — because questions this hard are not within your power alone — but it will lead you to a savior who knew suffering, who had to experience death to overcome it. As one of my retired colleagues suggested this week, you will get to know a God who desires us to be transformed by our minds' renewal into godly people capable of mourning with those who mourn, and rejoicing with those who rejoice.
In the process, you can expect to get to know one other person: yourself.
That's why one of the central questions of CWC is this: Who am I, and who should I be? It's an especially pertinent question for young adults suddenly given the freedom to explore and experiment with identity. Maybe you know yourself primarily as others see you, and need to come here to recognize what makes you distinctively you: your gifts, your passions, your calling. Maybe you already have a strong sense of who you are and what you want to do with your life, and Bethel will just refine that.
That's who I was at your age. I knew that I wanted to get away from Minnesota, study international relations, go to law school, and make not a little money. Until I showed up in a European history class and realized that I didn't know myself at all. I got to know a person who not only loved reading and researching and writing about the past, but experienced something like joy teaching it to others.
Ten years later I was back in Minnesota, at Bethel. And it's here that I learned not only how to be a history professor, but what that had to do with my faith. May the same thing happen for you, perhaps even in classrooms like mine.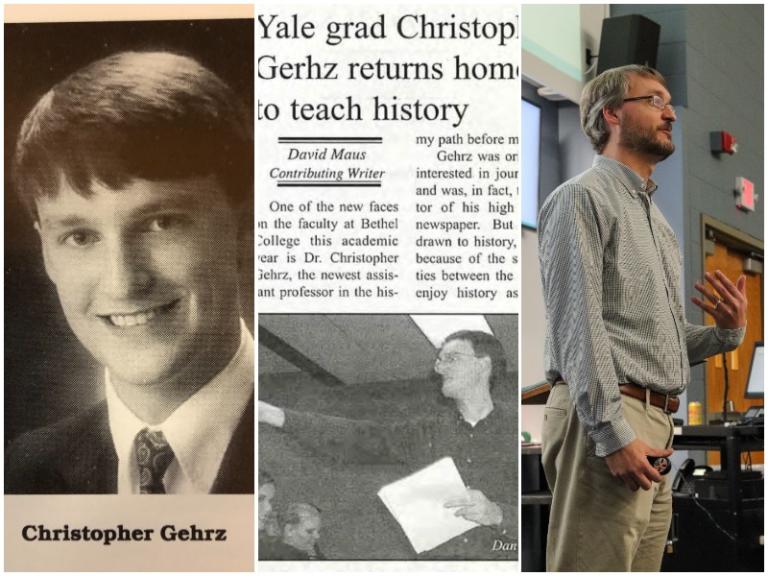 We each of us have a distinct divine vocation, but whatever else God calls us to do, all those who follow Jesus Christ must learn how to live out the Great Commandment: how to love God ("with all your mind," as well as heart, soul, and strength) and how to love your neighbor as yourself. Whatever else it does, a Christian college needs to help you do that.
I hope that excites you, because it excites me. Your God, your neighbors, and yourself: I can't wait to help you get know all of them better.