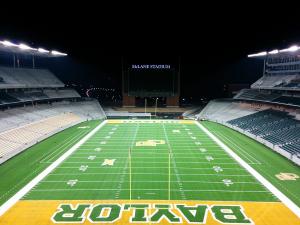 Hunter Hampton is Assistant Professor of History at Stephen F. Austin State University. Hunter earned his Ph.D. at the University of Missouri in 2017, and he's at work on his first book,Man Up: Muscular Christianity, College Football, and the Making of 20th-Century American Religion. In the midst of conference realignment chaos, Hunter explains why the nation's most prominent Baptist university cannot replicate the football fandom of its Catholic and Latter-day Saint counterparts. 
The most anxious bench in all of Baptist-dom at the moment is not in a sweaty revival tent, but outside the office of Baylor University's president, Dr. Linda Livingstone. The source of the anxiety is the University of Texas and Oklahoma University leaving the Big 12 Conference for the Southeastern Conference. While the greener pastures of the SEC will certainly help those schools, the others, like Baylor, are scrambling to not get left behind. As pundits and fans ponder Baylor's next move, the school's administrators must consider all their options. As a private, Christian university, Notre Dame has been the gold-standard for over a century in combining excellence in academics, athletics, and religious commitment. Baylor is not the first to try to emulate Notre Dame. But if Dr. Livingstone asked for my opinion, I would not recommend it. It is not a lack of funding, students, or effort that will hold Baylor back from being the next Notre Dame, but its Baptist ecclesiastical polity.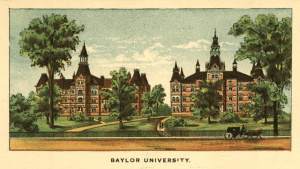 Established in 1845, Baylor grew into the leading Baptist university in the United States. Baylor's football program got off to a roaring start in 1899. For the next twenty-five years, Baylor played a leading role in white-Texas college football boasting undefeated seasons, touting All-American players, helping found the Southwest Conference in 1914, claiming the creation of homecoming in 1909, and winning three Conference Championships. While the team recorded many winning seasons, Baylor had to wait fifty years after 1924 for another conference championship.
At the turn of the 20th-century, American Catholics faced difficult questions about their religious and national identity. No institution did more to change the public perception of American Catholicism than Notre Dame football. By building their football program, Notre Dame allowed its student-athletes and fans to prove their manhood, patriotism, and faith. As a result, the Notre Dame football team helped enable American Catholics to transition from religious and cultural outsiders to American men. While most American Catholics have not gone to Notre Dame, they root for their Irish every Saturday in the fall.
One of the earliest schools to try to follow in Notre Dame's footsteps was Brigham Young University. When the Church of latter-Day Saints abandoned polygamy in 1890, it wrestled with finding a new identifier of Mormon manhood. BYU's football program provided Mormons the answer they were looking for. To introduce BYU coaches to the game, they hired famed Notre Dame football coach Knute Rockne to host a coaching clinic in Provo. As the premier Mormon university entered the uncharted waters of major college football, BYU hoped to follow Rockne's success at Notre Dame. BYU hit its stride with the hiring of LeVell Edwards in 1972. In twenty-eight years as head coach, he had only one losing season and won the national championship in 1984. Just as Saints gather at their ward or branch on Sundays for worship, they gather around their televisions on Saturdays to cheer, "On you go to vanquish the foe for Alma Mater's sons and daughters. As we join in song, in praise of you, your faith is strong. And cheer our Cougars of BYU."
One question Baylor, Notre Dame, and BYU football have wrestled with over their histories is what conference to affiliate with? Baylor helped found the Southwest Conference that consisted of seven Texas schools and the University of Arkansas. Notre Dame has remained independent throughout its history. BYU joined the Rocky Mountain Conference in 1922 and remained a member of various conferences until 2011. That year BYU followed Notre Dame's lead again and left the Mountain West Conference to remain independent.
The ability to forsake an athletic conference is a test of brand strength for a university. For Notre Dame, it technically loses out on shared money that would come from joining a conference. But its independence allows it to retain all the money earned from the College Football Playoff whether Notre Dame qualifies or not. The biggest advantage is that the team creates a competitive advantage by making its own schedule as easy or difficult as it sees fit. Depending on that year's team, Notre Dame can consistently shape its schedule to increase its odds for a national championship.
While a host of factors have influenced the level of fan commitment to these three programs, I maintain that ecclesiastical polity plays an important and unacknowledged role. For Notre Dame, its Catholicism emphasizes unity and universality. As the world's oldest and largest bureaucracy, the Roman Catholic Church has developed a system that encourages its members to identify as one person participating in a global community. Controversy has continued to swirl after Vatican II replaced Latin with each parish's native language to be used in masses. This one example illustrates the importance of participating in a global worship service to congregants.
For BYU, Mormonism has a similar, yet distinct, polity as the Roman Catholic Church. In Richard Bushman's Mormonism: A Very Short Introduction, he frequently turns to examples of Catholicism's structure to instruct readers on the organization of the LDS church. The structure of the First Presidency led by the President and Prophet serves as the headship that speaks with God to lead the church. From there, the Quorum of the Twelve Apostles to General Offices, Quorum of the Seventy, and Presiding Bishopric to the Stake Presidency to the Ward Bishopric to the local callings of individual members, Mormonism's ecclesiastical polity emphasizes participatory bureaucracy over individualism.
Baylor's quest to become the Baptist Notre Dame is doubly hampered by its Baptist-ness. First, the history of the Baptist church in America is a story of individual and congregational independence. Tommy Kidd and Barry Hankins's Baptists in America, both Baptists and Baylor history professors, charts this tension from Roger Williams to the naming of Fred Luter president of the Southern Baptist Convention in 2013. They conclude that one of the defining characteristics of American Baptist is that "almost all Baptists advocate the independence of the local congregation to one degree or another" (p. 251). Second, Baylor's brand of Baptist takes it a step farther by aligning with the Baptist General Convention of Texas, not the Southern Baptist Convention. Just as Baptists prize their independence, Texans' identity stems from the state's mythic fight for freedom at the Alamo. Last month, three authors received the full force of Lt. Governor Dan Patrick's use of cancel culture for questioning the validity of Texas's founding myth. Therefore, Baylor has received two-scoops of independence for its flavor of Baptist leadership structure.
Now, Dr. Livingstone must anxiously weigh Baylor's options for athletic conference realignment. Aside from the 30,000,000 reasons Baylor needs to be in a major athletic conference, the goal for the football team should not be to be the Baptist Notre Dame. While Catholics in Georgia will root for the Irish and Mormons from across the country fill the ranks of BYU's football team, even the most committed Baptist in Texas will not even buy a Baylor t-shirt much less season tickets or spend more on a cable TV package out of a sense of shared religious identity. Unfortunately, no number of wins, money, or faculty hires will overcome the ecclesiastical polity that pushes Baptists to choose their own football fandom rather than embrace their denomination's team.