Even if you're a historian, COVID does funny things to your perception of the passage of time. It feels, for example, like it's been a decade since I last attended a meeting of the Conference on Faith and History, but it was actually the fall of 2018 when we CFH members gathered at Calvin University (or was it still Calvin College then?) to celebrate the fiftieth anniversary of our organization, North America's largest professional society for Christian historians. Beth Barr gave the presidential address, using it to introduce themes that would find their way into her 2021 bestseller, The Making of Biblical Womanhood. In a panel on religious biographies, I talked through my first steps in researching an unlikely example of that genre that also came out last year. And Beth and I joined Kristin Du Mez for a roundtable discussion of how blogs like this one help Christian scholars resolve their "distribution problem" and better reach the Christian public.
To wrap up Beth's term as president, CFH was scheduled to reconvene in October 2020 at Baylor University… but that plan quickly fell apart with the advent of the COVID-19 pandemic. We tried to push the conference back one year, but Texas's COVID surge in the fall of 2021 forced another postponement.
So I'm thrilled to help spread the word that what's now CFH 2022 will indeed be held at Baylor early this spring. The undergraduate portion of the proceedings will begin on Wednesday, March 30th, then the three-day professional conference will open the following afternoon and run through Saturday, April 2nd. This year's theme is Protest, Resistance, and Transformation: Agents of Change, Past and Present.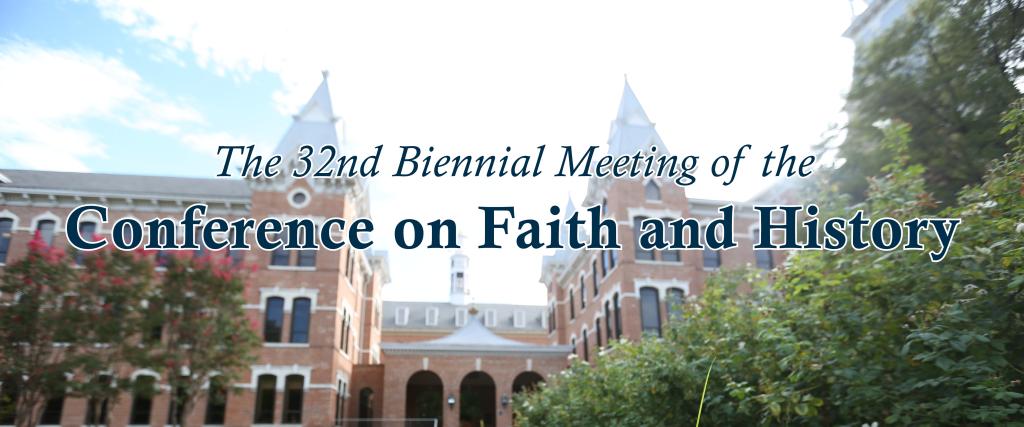 We all owe profuse thanks to those who have worked and persevered to make this conference possible, including Beth, site coordinator Barry Hankins, and program chair Lisa Clark Diller. You can find registration and lodging information and the current draft of the conference program at the CFH website. (Keep in mind that the CFH membership includes K-12 teachers, pastors, journalists, editors, librarians, curators, and students, not just professors, so if this year's program interests you, maybe now is a good time to think about joining CFH.)
As usual, current and former contributors to this blog will be well-represented on the program: (subject to change)
• Kristin will give the welcome plenary for the professional conference (Thursday, 5pm), a day after AB co-founder John Turner addresses the undergraduates (Wednesday, 7pm). Beth is being succeeded as CFH president by another of the original Anxious Bench-ers, John Fea, whose presidential address follows the Friday night dinner (7pm). Earlier that day (1pm), participants will hear from Jemar Tisby, the author of How to Fight Racism, who inspired our most-read post of 2021.
• Daniel Williams will give a paper on white evangelical support for recent American wars as part of a panel on "Christian Nationalism and Christian Faith" (Friday, 8am) that also includes former AB guests Elesha Coffman, Lauren Turek, and John Wilsey. Then David Swartz's research on the history of World Vision will inform his contribution to a panel on "Pedagogy and World Christianity" (Friday, 9:45am).
• An associate dean at Baylor among her many other roles, Beth will reflect on her experience of "Historians as University Administrators" (Friday, 8am). Twenty-four hours later she'll join John (Fea) and Kristin for a roundtable on the evergreen theme of "Christian Scholars doing Public History," chaired by former AB guest Joy Qualls (Saturday, 8am).
• Andrea Turpin will participate in a roundtable discussion of the second edition of George Marsden's Soul of the American University (Saturday, 10am, with comment from the author himself). Nadya Williams will join a conversation with other "CFHers Teaching or Studying at Secular Colleges and Universities" (Saturday, 10am — followed by a lunch meeting for that CFH connection group).
• That last roundtable will be chaired by Dan, one of several sessions scheduled to feature AB contributors in that role. See also: Beth, "Women in Reformation Theology" (Thursday, 1:30pm) and "Convents, Courts, and Colonies: Restructuring Authority in the Medieval and Early Modern World" (Friday, 2:15pm — featuring past AB guest writers Katherine Goodwin, Elizabeth Marvel, and Verónica Gutiérrez); Nadya, "Christ in the Unexpected: Finding Christian Resources for History and Theory" (Thursday, 3:15pm); Dan, "Forming and Un-forming Evangelical Identities" (Friday, 2:15pm); and Andrea, "Clinicians, Communists, and Charismatics: Health and Medicine in 20th Century Christianity" (Friday, 4pm).
• Finally, former AB guest Elise Leal will host a Friday lunch session (11:30am) of the Women of the CFH network, an especially exciting legacy of Beth's term as conference president.
Because of the consequences of COVID spending for faculty travel funds at Bethel, I hadn't expected to be able to attend the conference. But that freeze just thawed, so while I won't be giving a paper, I will be able to moderate a discussion of a topic that's far beyond my professional expertise but very much of personal interest: "Responding to Protest and Transformation as Christian Public Historians" (Friday, 9:45am — when I get back from CFH 2022, I'll start a unit on public history in our Intro to History course).
But mostly, I'll be at CFH 2022 to listen and learn — and maybe live-tweet — and to renew acquaintances that have been put on hold for far too long. If you're an Anxious Bench reader planning on attending the conference, please say hi! And feel free to pitch me on guest posts, or let me know if you'd like to contribute reports and reflections on what you heard at the conference.
See you in Waco in two months!