I've mentioned before that I'm a pulling for Mark Ballas and Katherine Jenkins on this season's Dancing with the Stars.  (How could I pull for anyone else?)
But even if I hadn't made my decision about whom I'm supporting, I would've become their fan during their last performance.  The theme of the week was to pick a year that meant the most to you.  Katherine chose 1996, the year her father died of lung cancer.  If you didn't get a chance to see the segment celebrating the life of her father, watch it here:
Mark apparently didn't let her watch this clip before their dance began, because he didn't want her to get too emotional.  He made a good decision, because their dance scored a 29 out of 30 and was a beautiful and moving tribute to her father.
On Monday night, Mark and Katherine will have to dance the Paso doble.  Tune in to see them dance – and make sure you vote for them.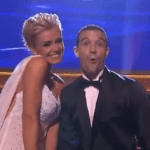 Go, Mark and Katherine!
Leave a comment below to receive weekly updates, including the best of this blog. You may also enjoy: