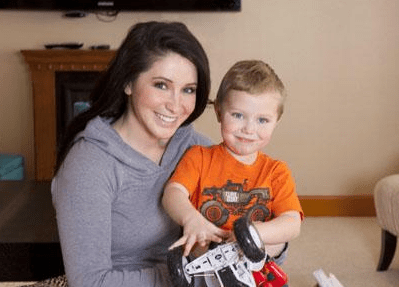 Trust me, it's crazy to see your life on television. That's why every week, I'm going to do a blog posts called "On Second Thought." These posts are where I will go over the episodes of my Lifetime show as I process the issues presented now that I've seen them aired.  I hope you'll join me for these weekly posts – which will undoubtedly be part-confession, part-explanation, and part-celebration of my life right now!
Episode Eight, Air Date: July 10, 2012
I always tried my best to imitate my dad!  Did you know that Arctic Cat makes smaller snow machines for kids (called "kitty cats," get it?) which limit the speed and allows little three to five year olds to have their own fun on the snow.  Track and I used to ride all over the lake.
Sometimes, Track would even race in "kitty cat" races, in which racers go around in a circle around cones.  I loved to watch Track do that, and once or twice I participated in my own races.  (Um… I never won!)
That's why I wanted Tripp to race in the Iron Pup. Snow machines have always been a part of Palin life and are a part of my most fun memories.  For example, my cousin Payton and I were outside Dad's Polaris store when we were kids.  Dad leaned out the door and told us to knock it off, advice we promptly ignored. Payton rode right into Dad's big old green monster truck, denting it with his helmet!
Another time when I was older, we went on a family ride out to a cabin.  We rode all in a row — like ducks – and I was the last one. At first, I was having so much fun…  looking through the goggles at the big snow-covered trees and mountains. There were no cars, buildings, or other people milling around. But as I watched my family zip through the trails, I started getting nervous.  What if I had a breakdown, what if I got snagged by some branches?  They'd never know it!  I'd be lunch for some bear!
After worrying for several miles, finally the inevitable happened. I did get hung up… barely.
"I got stuck," I yelled, after catching back up when they finally stopped after realizing I wasn't following. Normally, I wasn't a "drama queen" but I'd gotten a little more fearful with every mile. Finally, when they rode up to me, I threw off my gloves and hat, and yelled, "And I almost died!"
But in spite of our mishaps and dramatics, we loved snow machining.  Not only because they were fun, but because we wanted to be like Dad!
Dad is a four time winner of the Iron Dog – an impressive feat since it's the world's longest snow machine race through the most remote and rugged terrain in Alaska.  Of the six hundred or so teams that have started the race since it first began, less than half finished.  Why? Temperatures frequently fall fifty degrees below zero – not even factoring in the wind — which means Dad wears duct tape on his face for protection. The 2,000 miles race takes six days, and takes the racers over tree stumps, cliffs, large mounds of earth, the frozen Bering Sea, and other rivers so destructive to snow machines that when the machines that cross the finish lines have basically been almost completely rebuilt along the way.  The drivers don't fare too much better.  Broken bones are expected, and many just quit because their snow machines get fried or they tire of the relentless, unimaginable cold. But not my dad.  When Mom was Governor, people called him the "First Dude," but he was known for being so tough he could withstand wipeouts at 100 miles per hour and the mechanical breakdowns that would make normal men give up.
My friends may have thought Mom was cool, but they thought Dad was superman.
That's why it would be hard for any of us to hard to live up to the Palin name, especially before you can read Dr. Seuss books!  Tripp, of course, had no idea how much I wanted him to race, and he was having none of it. As disappointed as I was, I realize that sometimes you have to let a kid be a kid.
He'll have his whole life to snow machine, go to the Iron Dog, and to follow in Dad's sled tracks. But I only have a few years of comforting him when he's little, and snuggling with him on the couch.
I hope I can raise him to be as honorable man as my dad.
But in the meantime, I'll just love on him and give him hot chocolate.
The Iron Pup can wait.
You might also enjoy these articles on the Faith and Family Channel:
Connect with me further by: