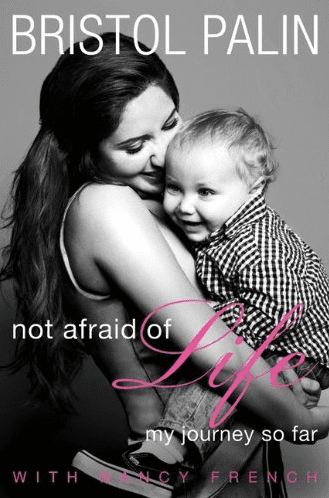 While I was watching my Washington, DC book signing for "Not Afraid of Life," it made me realize how many people were inspired by my story. Thanks for all the notes, Facebook messages, and e-mails of support!
This month, the SixSeeds Faith and Family Channel is giving away some "summer beach reads," and they asked me to participate. The way it works is simple. Just leave a comment below this article and I'll randomly select a person to receive their free copy of my book!
Here's a description of my book from Amazon.com:
Bristol Palin lived the life of an average American teen. She loved being outdoors, spending time with family and friends, and focusing on schoolwork and sports. But when her mother became the Republican vice presidential candidate in 2008, Bristol's world changed forever. She was instantly propelled into the national spotlight, becoming the focus of intense public and national media scrutiny at the age of seventeen.

In this personal memoir, Bristol opens up for the first time, taking readers behind the scenes of her life, from growing up in Alaska to coming of age amid the media and political frenzy surrounding her mother's political rise; from becoming a single mother while still a teenager to coping as her relationship with the baby's father crumbled publicly—not once, but twice. Through all of these ups and downs, Bristol learned how to face her challenges head-on with courage and grace, traits she put to good use as a contestant and finalist on Dancing with the Stars.

In Not Afraid of Life, Bristol speaks candidly of her aspirations and of the deep religious faith that gives her strength and inspiration. Plainspoken and disarmingly down-to-earth, Bristol offers new insight and understanding of who she is and what she values most.
Please leave a comment below for your chance to win! (Double your chance to win by leaving a comment here!) On July 20th at noon (EST), we'll pick a name in a random drawing from all eligible entries received and send you an email notification if you are the winner! (Limit one (1) entry per person per blog post below; NO PURCHASE NECESSARY TO ENTER OR WIN. Open only to legal residents of the 50 United States and Washington D.C. who are 18 or older as of date of entry.)
Also feel free to check out the other books being given away this month. Enter to win:
A Winning Balance (New York Times Best Seller!) by SHAWN JOHNSON and NANCY FRENCH by leaving a comment here.
Shifty's War by MARCUS BROTHERTON (a military biography on the legendary sharpshooter from the Band of Brothers) by leaving a comment here.
The Power of a Man by RICK JOHNSON (about authentic manhood) by leaving a comment here.
Man on the Run by ZEKE PIPHER (about how men can discover what is really good in life) by leaving a comment here.
Home and Away by DAVID AND NANCY FRENCH (For the men who serve their country and the families that love them!) by leaving a comment here.
Candid Confessions of the Imperfect Parent by JONATHAN McKEE (including great tips on building relationships with your teenagers) by leaving a comment here.
Terror by Night by TERRY CAFFEY with SixSeeds Team Member JAMES PENCE (a true story of a brutal Texas murder) by leaving a comment here.
A Good and Perfect Gift by AMY JULIA BECKER (the story of faith, expectations, and a little girl named Penny – a family's first years with their daughter born with Down Syndrome) by leaving a comment here.
Kisses from Katie by KATIE DAVIS (the story of an eighteen-year-old homecoming queen who moved to Uganda to take care of children) by leaving a comment here.
Jeremy Lin: The Reason for the Linsanity by TIMOTHY DALRYMPLE (about an Asian-American, Harvard-educated basketball player who became a basketball phenomenon) by leaving a comment here.
Through My Eyes (New York Times Best Seller!) by Tim Tebow and NATHAN WHITAKER (the memoir of Tim Tebow!!) by leaving a comment here.
Happy commenting! I don't want to be selfish, but I hope readers of this blog win them all! (I definitely have the best readers!)