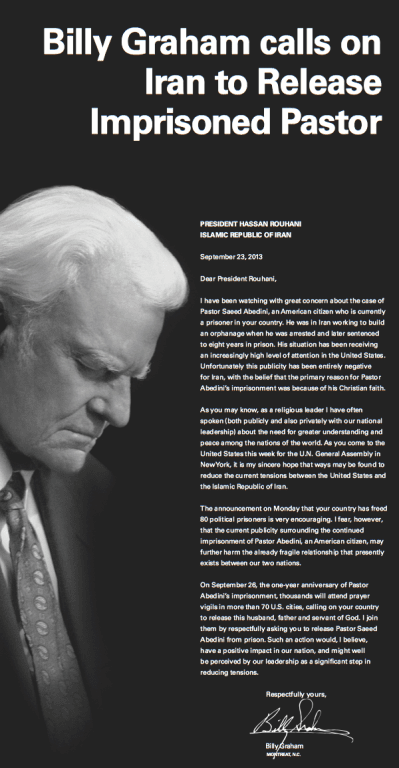 Today, I was so touched to see that Franklin Graham placed a full page ad in the New York Times, urging the new President of Iran to free Saeed Abedini, an American who is in Iran's Evin prison. There, prisoners are routinely hanged outside their cells to terrorize the other inmates.
All across our nation – and the world — people are gathering to hold prayer vigils. He certainly needs them. Saeed is being beaten, persecuted, and tortured simply because of his faith. (I've written about him several times, but we have to keep fighting for him until his release!)
What can you do to help? If you can't attend a rally, you can send a letter directly to the Iranian President Hassan Rouhani, just like Rev. Graham. To send your own letter, click here.
What else can you do?
Tell people about it on Facebook and Twitter
Pray.
Thank you, Rev. Graham, for continuing for speak out for the oppressed!
Read more on the Patheos Faith and Family Channel, fan me on Facebook and follow this blog on Twitter!