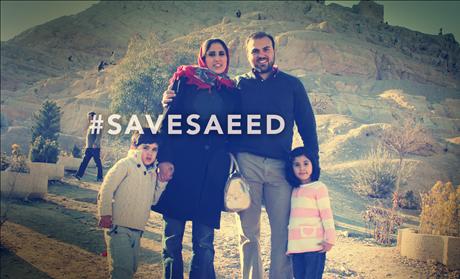 Wonderful news!!
I just found out that President Obama is meeting with Pastor Saeed's wife, Naghmeh, and his children in Boise, Idaho — the Saeed's hometown!  She was thrilled when she heard the news.  On Twitter, she announced:
The kids and I will be meeting with President Obama tomorrow! Thank you all for your prayers and support. Praise God! It is a miracle!!!

— Naghmeh Abedini (@NaghmehAbedini) January 21, 2015
According to the ACLJ, she also said, "I was overjoyed when I heard that president Obama wanted to meet with the kids and I during his short visit here in Boise. I have tried over the last 2 years to meet with the president or even get a phone call from him without success. It is truly an answer to prayer that he is coming to Boise and it is a miracle that he is meeting with us. I see God's Hand in arranging this crucial meeting."
I've written about him several times, and then told you when he was transferred to an unimaginably dangerous prison.  Then, I lamented that the president made a deal with Iran which didn't include Pastor Saeed.  I asked you guys to sign petitions on his behalf — no doubt your energy and attention has caused the President to take notice.  THANK YOU!!
Let's pray that this means that the President will do everything he can to get the American pastor home safely from Iran!!
Read more on the Patheos Faith and Family Channel, fan me on Facebook and follow this blog on Twitter!