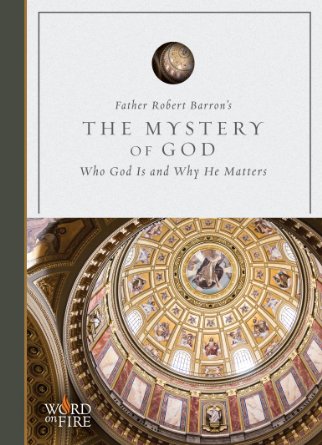 Bishop Robert Barron has a new DVD series out, The Mystery of God: Who God is and Why He Matters.
I will be giving away a copy of it (a $60 value) in about a week.
The most fundamental problems of belief in a late modern context are at the center of the questions answered by this series:
Atheism is on the rise. Skeptical thinkers like Richard Dawkins, Christopher Hitchens, and Sam Harris vigorously attack belief in God as irrational or, even worse, dangerous. The so-called New Atheism has attracted millions of young people thanks to bestselling books such as The God Delusion and God Is Not Great. How should Christians respond? How can we turn the tide of secularism and draw people back to God? You'll discover how in "The Mystery of God," a new six-part film series and study program by Fr. Robert Barron. The lessons reach into our rich intellectual tradition. Using the insights of St. Augustine, St. Thomas Aquinas, Pope Benedict XVI, you'll uncover a clear yet sophisticated understanding of what we mean by "God". Who is God? And why does he matter? Watch this series and you'll not only learn the answers yourself, but you'll discover how to share them with others – especially those who no longer believe. The DVDs provide options for Spanish dubbing and Spanish or English subtitles.
I recognized some of the topics from this series. The description of the first of six lectures featured in this two DVD series rang true and familiar:
There are lots of views about God. Some see him as a mythical fairy in the sky, others as the Supreme Being. Some consider him a threat to our freedom. But for Christians, God is not one being among many. He's not a competitor to our flourishing. God is that than which nothing greater can be thought, the strange and unique source of being itself. Before discussing anything about God we must become clear about one question: who is God?
I recognized it because I did some preliminary transcription for the program. It turns out Sam Sorich, who shot the Richard Kearney "Why Am I Catholic?" video for Cosmos (he plans to shoot more videos like it) also shot footage for this DVD.
But let's get to the meat and potatoes of this giveaway.
Here is what you need to do:
1. Go to the Cosmos the in Lost facebook page and hit "Like" for the page in general:


2. Next, on that that same facebook page look specifically for this very post you're reading right now (2DVD SET GIVEAWAY: The Mystery of God by Word on Fire) and hit the "Like" button for that post (you will have to scroll down some later in the week as I publish more posts):

3. Then share this post on your timeline using the "Share" button and the "Share Now (Public)" option:

It's that simple! That's all you have to do. To ensure complete impartiality the winner will be picked toward the start of next week by our three-year old daughter Hannah. I will contact the winner through the Cosmos the in Lost facebook page email, then promptly mail out their DVDs.
The giveaway will coincide with the beginning of my tenure as the Patheos-Catholic Channel Manager. I'm not sure how busy Monday will be, so that's the reason why it might take me a couple of extra days to close this giveaway. I suppose this is my toned-down way of making that announcement.
You might also want to see how recent discoveries in neuroscience are favorable to seeing God in a non-competitive light in relation to the world. I've complied a TOP10 list of books on the topic.
Please remember to donate with rent time around the corner and severe cuts in funding for rent assistance in Western Washington.