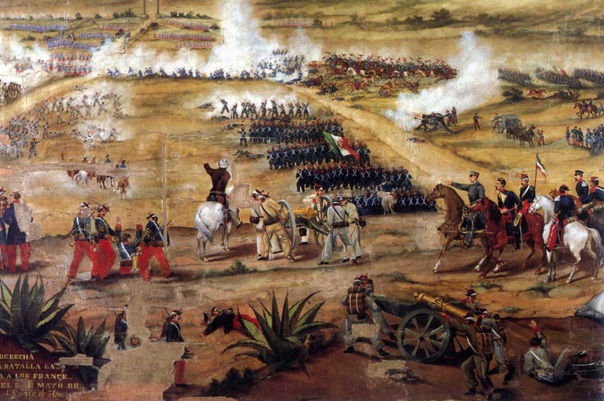 Cinco de Mayo commemorates the Mexican Army's surprising defeat of French troops at the Battle of Puebla on May 5, 1862, under the leadership of General Ignacio Zaragoza. Little known fact: the holiday is more widely celebrated in the United States than it is in Mexico.
In my wildly surreal mind this seems like an appropriate time to remind you of the legacy of the French thinker Rene Girard. I make this connection because most of his later work concentrated upon the utter pointlessness of modern warfare, especially in Battling to the End.
There's an added current events twist to this post too. The least palatable candidate in years, whom I jocoseriously endorsed yesterday, a man who has spent much of his time scapegoating Mexico, tweeted this out today:
Happy #CincoDeMayo! The best taco bowls are made in Trump Tower Grill. I love Hispanics! https://t.co/ufoTeQd8yApic.twitter.com/k01Mc6CuDI

— Donald J. Trump (@realDonaldTrump) May 5, 2016
I suppose this is an attempt to get into a mimetic rivalry with Mexicans by saying he does what they do better, and by subsuming them under the umbrella term "Hispanics," as if they lack a more specific identity of their own. This is the politics of ressentiment par excellence.
My Cinco de Mayo gift to you is a list of links to the most relevant pieces on Girard I produced over the years.
But that's not all. At the bottom of this page you will also find a link to a critical exchange on the legacy of Rene Girard hosted by the Lumen Christi Institute over at the University of Chicago. The panel featured some of the most important contemporary Catholic intellectuals, theologians and philosophers: Jean-Luc Marion, author of The Erotic Phenomenon; William T. Cavanaugh, author of Torture and Eucharist; and James B. Murphy, editor of The Moral Economy of Labor: Aristotelian Themes in Economic Theory.
That's quite a lineup!
But before you head for the video link below consider taking a look at these Cosmos exclusives on Girard. Together they form a basic introduction to his influential work:
I hope this makes your Cinco de Mayo a little bit weirder:
You might also want to take a look at: Rene Girard on the Culture of Deathly Desire Behind Capitalist Anorexia
Stay in touch! Like Cosmos the in Lost on Facebook:
Please also consider making a donation to this blog through the donation button on the upper right side of its homepage.