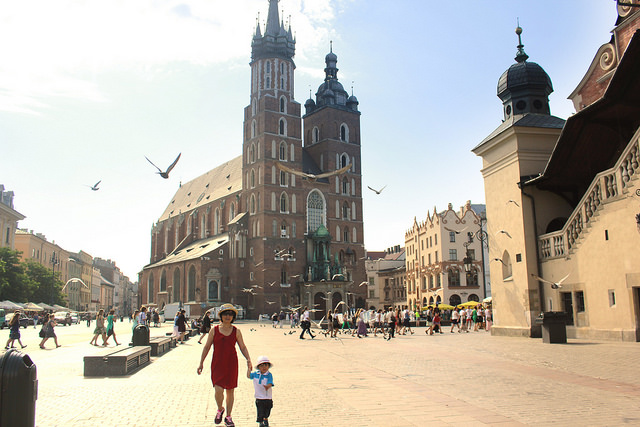 If I forget you, O Krakow, let my right hand wither. These are my "I'm not going to World Youth Day Blues." But I'm glad that some of you will go to the city that occupies almost as much of my heart as Rome. I know both of these cities better than I know my own native Warsaw, and semi-native Seattle. I spent three years of my life in Krakow, even though I come from Warsaw (an aesthetic wasteland).
I met my wife in Krakow. My firstborn was born there. My heart belongs there. I'm really tempted to go back.
One of the main vices of events such as World Youth Day (WYD) is that they last only long enough to give you more of the same commercialized experiences you've experienced and liked on previous trips and pilgrimages abroad. Religious events such as these also trade in the vice of the squeaky clean. They usually leave you curious about what real life is like for the people who inhabit the hallowed and haunted places like Krakow.
I'd like to give you a list of places where you can get an incarnational feel for the city and the inner lives its inhabitants lead. Fret not even if not everyone will speak in English. Some of the places I list below were discovered through my British and American expat friends, so they tend to be generally non-Polish speaker friendly.
BONUS: Insomnia-fueled bonus for film buffs. If you've seen Kieslowski's The Double Life of Veronique, one of cinema's most perfect metaphysical compositions, then you'll be curious to know that the part where Veronique first passes out after an encounter with a strange man in the street was filmed a block away from the Wawel on Koletek Street. The same street houses the Krakow Opera's site for practice, which I assume was were many of the film's scenes of opera rehearsals were filmed. There's also a nice little local bakery right across the street from the tennis courts on the same street where Agnieszka Radwanska, the WTA's fourth ranked player, perfected her game.
This is all I could come up with off the top of my head for now. If there's enough demand I might come back and dig into some more Krakow arcana. I hope this post proves useful to some of you. May WYD be fruitful for all.
You might also want to look at some of the following links for an insider look at Poland. Poland is much more than merely Catholiclandia, although it is that in its unique and slightly decadent way too:
The Nowa Huta neighborhood was built by the communists to counter decadent, conservative, artistic, and mostly religious Old Krakow. See the video below to find out why they failed:
Consider making a donation to this blog through the donation button on the upper right side of its homepage. Our family just moved to a new place, we're experiencing car problems, and things will be financially tight until the end of this year. Your donations help keep us, and this blog, going.
Stay in touch! Like Cosmos the in Lost on Facebook: