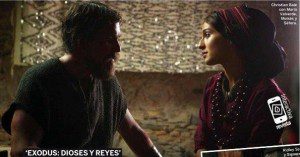 Exodus: Gods and Kings was shot partly in Spain, and María Valverde, the actress who plays Moses' wife Sephora, is Spanish herself, so it makes sense that our first look at the character comes now courtesy of the Spanish magazine Fotogramas.
The photo here (click on it for a slightly larger version) popped up on Imgur, but I have not seen the actual article anywhere yet, so I don't know what secrets from the set the actress may have spilled.
Incidentally, I cannot help but wonder how prominent a role Sephora (also known as Zipporah, or Tzipporah, etc.) and her father Jethro will play in this film.
Traditionally, going all the way back to the Bible, Jethro has been a mentor and even a father figure to Moses. He's the one who helps Moses adjust to life in exile, and he's the one who helps Moses connect to the God of Abraham rather than the gods of Egypt — and his significance has been recognized in films like the 2006 version of The Ten Commandments, which cast Omar Sharif as Jethro, and The Prince of Egypt, in which Jethro sings one of the film's best songs ('Through Heaven's Eyes').
But in Exodus, Jethro is being played by Kevork Malikyan, an Armenian actor who isn't all that well known, even though he has had roles of one sort or another since the late 1960s (most prominently perhaps in Indiana Jones and the Last Crusade, where he played Kazim, leader of the Brotherhood of the Cruciform Sword).
Instead, to judge from the picture below — and to judge from the original description of Ben Kingsley's character as "a Hebrew scholar" — it almost seems like Joshua's father Nun might have taken Jethro's place as the mentor figure in Exodus.
I could be wrong, though. As ever, we shall see when the film comes out December 12.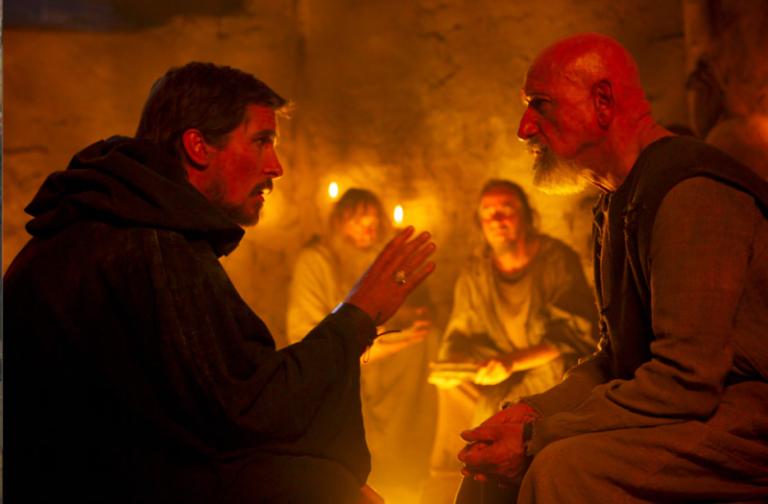 July 27 update: The complete Fotogramas article is now available as a PDF file or a very big JPEG. After entering the text of the interview into Google Translate, the only significant new plot point that I could detect was Valverde's statement that the children of Moses and Zipporah will also appear in the film.
Check out earlier photos and images from Exodus: Gods and Kings here:
And check out my shot-by-shot trailer analysis here: