Another week, another round-up of Ben-Hur-themed news items.
Last week I passed on a report that the film would have its world premiere in Mexico City tomorrow night, but it turns out the film had a premiere in Brazil last week.
A clip of Pilate addressing the crowd before the chariot race was released online.
The Hollywood Reporter spoke to director Timur Bekmambetov:
Was it intimidating to take on an iconic story in remaking Ben-Hur?

It was scary. It's a great, great book. It's very unique because it's a fictional version of the biblical story. It's very rare when you have material with a message. And at the same time, it's very entertaining because of the unbelievable naval battles and chariot races. But I like to take a risk and do something nobody wants to try. The 1959 movie is not the same as the book, which has a very different message. The book was written about forgiveness, and the movie they made in 1959 — a great movie — it's about revenge and miracles. Our movie is different.

How did you find your lead, Jack Huston?

Jack Huston came to read Messala's lines. After I met him, I called the studio and said, "I think we found Judah." And it was very symptomatic that he likes Messala's character because in this movie, Messala and Judah are both likable. It's not good boy versus bad boy. They're not fighting with each other; they're both fighting with fate, with fate testing them, testing their love, their brotherhood. When we found Jack, it was really easy to pick Toby Kebbell because he was the perfect opposite.
Film Journal also spoke to Bekmambetov:
Wallace, Bekmambetov explains, was a Union general writing in the aftermath of the Civil War. In creating his-best known work, he came less from a place of "trying to destroy your enemy" than guilt at the brother-vs.-brother conflict that had just ravaged his nation. The book presents "a very emotional story," Bekmambetov says, and one that's "very different from other Ben-Hur movies." . . .

While Ben-Hur has a "different tone" than the rest of Bekmambetov's oeuvre, "it's about the same things: violence, power, success," he argues. "But it's the next iteration. For the first time, I found material where it's not about who's tougher or who's braver. It's about human values. That's why it was interesting to me."
The New Yorker has our first interview with Morgan Freeman, who plays Ilderim:
In the 2016 version, Ilderim has been reconceived. Gone are the eructations and the casual racism. Ilderim now seems to be the biggest figure in the movie—Freeman towers over Jack Huston, the British actor playing Ben-Hur.

"There's no humor in him at all," Freeman said. "This character has quite a bit of power in the story. And I like playing power. It's something about my own personal ego."

Freeman added, "I have my own chariots and horses. I gamble on them and I make a lot of money, because the Romans are so idiotic. One line I have, I say, 'Was there ever a kind more obsessed with the obscene?' Nice line."
Cal Thomas included a brief quote from producer Roma Downey in his article on the film (warning: he also gives away how this version of the story ends):
I asked Roma Downey why she and Mark took on such a project. She replied in an email that while the central theme is about reconciliation and forgiveness, "It's not specifically a faith movie … it's an action adventure drama, but it holds in its heart a story of hope. This is the balm our hurting world needs. This is why a Ben-Hur release for 2016 makes sense. We need this message in our country and in our world right now."
Downey, incidentally, is getting a star on the Hollywood Walk of Fame on Thursday.
The Catholic World Report spoke to Downey and her husband Mark Burnett:
CWR: And Toby Kebbell plays Messala, his friend turned rival.

Downey: Toby sizzles on screen. Physically, he just brings it. He's good-looking. He's grounded. He's strong, and he inherently has such intelligence and depth.

We believe he loves Judah, and the thing that drives him through the second half of the movie is that love and disappointment.
DeWayne Hamby and Breitbart News interviewed Downey and Burnett too:
DH: Can you talk about what all went into making a movie like this?

MB: It's a very large budget movie. You see these big summer blockbusters and part of what causes the enormity of the budgets are the special effects and the experience of 3D that young audiences are expecting. As we mentioned to you guys last night, from a Christian audience perspective, it's very important to make content that would stand on its own whether it was Christian focused or not. It needs to stand on its own and be high quality in order to attract a wide audience. If it happens to also have a message of forgiveness and love and redemption and the story of Jesus woven in right, that's actually the right approach. Because you can't be expecting young secular Americans to be attracted to watch a movie that doesn't have the right trailer and the feeling that it's a big action, summer exciting movie. Remember what you're up against, look at the slate of this summer. People only have so much money to go to so many movies and so you've got to offer something pretty epic. Also, it being Ben-Hur, if you're going to reimagine Ben-Hur, you've got to do it for a new generation. It's the same story but it feels more present for a younger generation.
Us magazine reported on Jack Huston's celebrity endorsement of Tod's shoes:
The partnership is more than just business, though. The Boardwalk Empire actor, who's one-quarter Italian, has cultural ties to the brand. "I love the food, culture and people in Italy," Huston continued. "I spent six months filming [Ben Hur] there last year, and my family all fell in love. I'd love to end up in Italy rather soon and call it home. It's magical."
AOL Build in New York interviewed Huston:
WSVN News in Miami interviewed Huston and Rodrigo Santoro, who plays Jesus:
Movieguide interviewed Bekmambetov, Huston and co-star Toby Kebbell …
… as well as producers Burnett and Downey:
Jimmy Kimmel interviewed Freeman and asked about the wig he wears in the movie:
Kimmel also spoke to Freeman about meeting Prince Harry …
… and narrating a video for Hillary Clinton …
… and Kimmel gave Freeman an "I'm With Hur" sticker (get it? get it?):
The soundtrack album featuring Marco Beltrami's score for the film is now available for pre-order, and these are the track titles (warning: possible spoilers):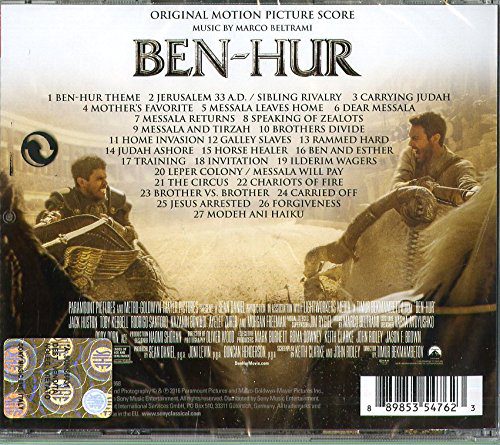 A music video was released for Andra Day's 'The Only Way Out'.
And Flickering Myth posted a "living poster" for the movie's British release:
Check out earlier trailers and other videos here: