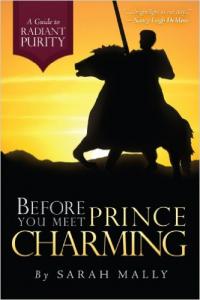 by Mel cross posted from her blog When Cows and Kids Collide
The exhort and advise section of  "Know That God Arranges Marriages" is completely theoretical so Ms. Mally begins by explaining that she can't answer any questions about how or when a person will get married because that's totally up to God – and the experience that God has in-store is going to be amazing!
I hate how cynical this sounds – but a lot of CP/QF courtship stories sound far more painful than enjoyable.
The majority of the chapter covers the steps from meeting an interesting guy through marriage.
Observe

As the Lord brings someone into your path who is of interest to you, your first step is not to show interest or get excited about him, but just to observe. It's good when parents can help with this too. What are his goals? Does he know the Lord? Is there ministry or spiritual fruit in his life? Is he committed to the word of God? How did he treat his mother and sisters?" (pg. 229)
This phase seems to be at cross-purposes.  Girls aren't supposed to give pieces of their hearts away (whatever that means) but following these directions will lead to far more wasted time and energy as the girls -and their parents(!) – try to assemble a dossier on a young man before figuring out if he's available let alone interested in the girl.
Heck, even thinking through the advice shows a few gaping holes.   Trying to get answers to a half-a-dozen personal questions will make a girl's interest in a guy extremely clear and obvious to anyone who is watching.  Adding parents to the mix will increase the level of awkwardness without adding much important information especially when the girl and guy are simply trying to get to know each other.
IMHO, there are a lot of far more important questions that need to be answered before moving into a more romantic relationship like:
Am I in a good place for a relationship right now?
Is the other person available for a relationship right now?
Am I attracted to this person?
Do we have interests in common?
Does this person treat all people respectfully- like wait staff at restaurants or that irritating teen at church?
An adult who is ready for a romantic relationship should be able to get the answers to these questions through their own observations, through interactions with the person they are interested in or from mutual friends.  Consider it good practice for forming adult networking skills.
According to Ms. Mally, once a person has moved beyond observing, they can become casual friends.
"Acquainted as Casual Friends

If God desires to bring two people together, he will give opportunities for them to get to know each other in natural settings –at church, school, work, homes of friends, conferences, camps, Christian organizations, ministry projects, or in one of God's other creative matchmaking situations.

You do not need to date in order to get to know another person. You actually learn more about an individual by seeing him in real life situations. Anybody can act mature, romantic, and considerate on a date. But how does he live in everyday life? How does he interact with people? How does he respond to various stresses and pressures?" (pg. 229)
I agree with Ms. Mally that many, many people will meet marriage partners through work, school, church or social activities.
I don't understand how that helps a homeschooled young woman who is a stay-at-home daughter of large family with limited means that home churches or is a member of a small congregation.  She can't meet new guys at friends' houses if she already knows the entire congregation.  Ministry opportunities will bring her into contact with those same people.  Going to camps, conferences and belonging to many Christian organizations costs money that she doesn't have access to.  That at least partially explains why so many CP/QF families have unmarried daughters who are over 30 in a culture that idolizes early marriages.
The second paragraph of the quote demonstrates the fundamental misunderstanding of dating that Emo-Pure writers have.  There is a world of difference between "going on a date" and "dating".
Yes, most people can handle being romantic for at least an hour or two on a date – but keeping up a false front is tiring and most people will have their real personality come through.  That's why a person can gain as much information by watching how their date behaves towards others on a date – the wait staff, the crabby toddler at a nearby booth, or a rowdy bunch of teenagers.
Dating, though, transitions from the early days of solely romantic dates to longer periods of time spent together in a wide variety of settings including family and work events.
Actually, this entire discussion about dating is a moot point.  Casual friends exist in wider US society because men and women can be friends without becoming romantically involved.
Young Man Takes Initiative

When the young man (or a young man's father) expresses interest, a new phase of the adventures suddenly begins. Interest has been specifically expressed! Now what?

It is at this point that parents (and/or other godly mentors) can play a key role in screening and protecting our emotions. If parents take the time to get to know a young man first, ask the many important questions, find out where he is spiritually, and discuss how your life goals fit together, think of how much parents can determine before we get too emotionally involved. This is a tremendous safeguard for us! I'm not talking about an "arranged"marriage. I'm talking about using common sense to avoid mistakes, pain, and heartaches. My parents understand how I think, and they know what I'm looking for in a spouse. I trust them. I trust God to give directions through them. If my parents have "checked out" a guy first, I will feel a whole lot safer in pursuing the serious matter. (pg. 230)
The first paragraph brought a basic truth home to me.  In spite of Ms. Mally's protests to the contrary, this courtship model could be an arranged marriage.  A guy – or his father (!) – could be observing and becoming casual friends with a young lady's parents instead of the young lady.  Honestly, sucking up to the parental units may well be more effective than winning the heart of the young woman.
The second paragraph brings home how passive a young woman is supposed to be in courtship.  She's allowed to notice a guy exists and learn some basic facts about him.  Everything else is taken care of by her parents.
The phrase "ask the many important questions" reminded me of the McDonalds' three hundred questions to ask potential suitors.  Whenever I need a laugh, I go to that list and throw a few of them at my husband.  I love how suitors are allowed to refrain from answering any questions that are too personal – but no one seems to question how creepy having the parents of a girl you want to date ask about a guy's exposure to porn including the extent and circumstance is….
I think I've figured this out: courtship isn't meant to make marriages; it's meant to scare off any potential suitors.
We are about halfway through the list; we'll cover the remainder in the next post.
Read more by Mel
Mel resides in Michigan with her husband and child on farm. With her years of teaching experience, keen mind and observational skills she always brings a deeper look at the issues of homeschooling, teaching issues, and explains the science behind behind quiverfull beliefs. Mother, wife, teacher and caregiver of a child with health challenges she always brings a measured and reasoned voice to NLQ.
---
Stay in touch! Like No Longer Quivering on Facebook:
If this is your first time visiting NLQ please read our Welcome page and our Comment Policy!
Copyright notice: If you use any content from NLQ, including any of our research or Quoting Quiverfull quotes, please give us credit and a link back to this site. All original content is owned by No Longer Quivering and Patheos.com
Read our hate mail at Jerks 4 Jesus
Check out today's NLQ News at NLQ Newspaper
Contact NLQ at SuzanneNLQ@gmail.com
Comments open below
NLQ Recommended Reading …