by Cindy Kunsman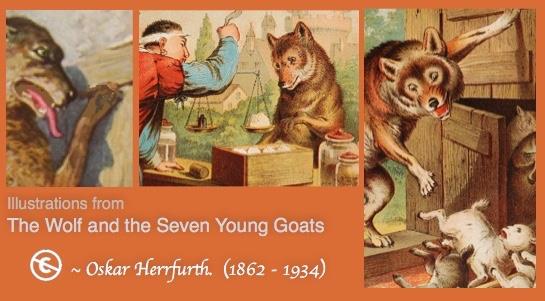 Long after I embarked upon adulthood, my mother could still recite the words of The Wolf and the Seven Kids, a children's story by the Brothers Grimm. It was my most beloved book when I was little. It presented wisdom as something that one must learn, though it cannot make us impervious to harm.
The story shows us many examples of learning through trial and error, how much people need one another, how we need to be forgiving with ourselves and others, and how creative hopefulness can help us when we fail. Even the most discerning of the young goats falls prey to the tricks of the deceptive wolf who manages to use that discernment and goodness against them. Yet hope is not lost, for deceivers sometimes reap what they have sown, meeting demise through deception themselves.
Over the weekend, I thought of this old story when I stumbled upon a new report that Al Mohler has repented for standing by his 'friend,' CJ Mahaney. Mahaney who took over People of Destiny and renamed it Sovereign Grace Ministries allegedly covered up numbers of cases of sexually and physically abused children. Mohler who serves as the president of the oldest Baptist seminary in the US and pontificates at parachurch ministry conferences initially disparaged the victims who now number over nearly 700. Was it the fact that Mahaney presided over 380 identified perpetrators, that 220 were convicted, or that 100 of them are still serving prison sentences at the time of this writing.

The abused among Mahaney's following began to come forward at around the same time that I first began to write about the Botkin Family model. The Botkin letter of protest of my ten year old writings remind me of Mohler's comments about Mahaney. This also seems as weird as John Piper's twisted and pathetic attempt to clarify a video about his expectations for wives to submit to (some) abuse within a Christian marriage that had been online for a full four years before we heard about his 'clarification.' What new pressures or factors prompted these men to come forward so many years later to clean up their image? Is it the #MeToo movement fallout? It certainly doesn't inspire trust. Like these other 'Calvinists,' why are the Botkins also suddenly so concerned about dated material?


Damage Control
The term of damage control popped up as a new descriptive term in the mid-20th Century to describe measures taken to contain or mitigate damage to one's reputation or power when challenged by some crisis or criticism. I've read that the term was borrowed from those who served on submarines – one of which you might remember as countermeasures in combat scenes from the film, The Hunt for Red October. Cultic groups notoriously use damage control to not only keep followers ignorant of criticism to preserve the milieu control, but they will also use other concerns or events to draw attention away from that 'bad press' to contain or circumvent the damage that it can cause.
Watchman Fellowship offers an easy to read profile of spiritual abuse that lays out how hard groups work to make themselves look special to outsiders, and inwardly, they are demand an unrealistic standard of perfection from their followers by keeping a tight hold on them through through information. Criticism is not permitted. They creatively use propaganda to instill fear in followers concerning information from unapproved sources so that they won't consider it. Most groups also use some strategy to punish the dissemination of information that casts the leadership or the group's ideology in a less than positive light.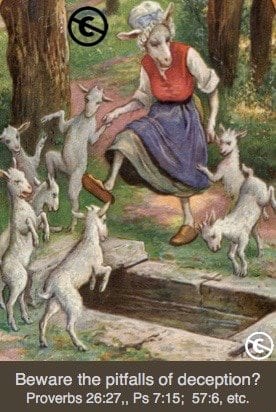 The Boomerang Effect
Very recently, Chicago area Baptist pastor James MacDonald woke up to discover that his own thuggery caught up with him when his church fired him. (Please don't confuse him with the James McDonald who also once ran with the Bayly Brothers, Doug Wilson and R.C. Sproul 2.0.) I think that people forget that this same pastor oversaw thinning out of the leadership in his church a number of years ago for describing the church's culture as one of "intimidation and fear." Elders who didn't agree with MacDonald were denounced, dismissed, and formally excommunicated by the yes-men elders. They even went to the trouble of making this video to ensure that church members understood that their position as elders made their discernment divine.
Much like Ligonier Ministries' 2006 attempt to squelch criticism when they initiated legal action against an anonymous blogger, MacDonald made his own attempt to stop some of his critics with a defamation lawsuit. As the letter I received from the Botkins suggests, anything declared by such enlightened souls who are closer to God than the rest of us automatically becomes true. MacDonald and the church dropped pursuit of adjudication of critics when a Cook County Judge failed to accommodate his measures to hinder the discovery process. MacDonald was then dismissed from his employment at the church he had founded because unfavorable evidence made it into the press. I'm likewise reminded of how the court ruled against Hank Hanegraaff when he sued a fellow Christian apologist. Leaders tend to forget that the sword of the court cuts both ways.
I tend to think of these aggressive damage control measures as examples of the
Boomerang Effect
. The wolf in the Grimm's story uses deception and manipulation to prey upon a little one but later suffers his own demise through deception. We can't fault mama goat who uses deception to avoid retaliation by the wolf as she rescues her little ones alive. Not realizing what has happened, i the wolf is technically responsible for his own fate. All of these mentioned ministries displayed aggression toward their perceived foes, only to realize that the long term consequences showed them to be more like bullies than victims.
Sowing and Reaping?
I often ponder what goes on in the mind these 'ministry' leaders who demonstrate this aggressive stance toward those critics who don't see truth as a fluid concept. Do their attitudes trick them into a belief that their public audience lacks so much discernment, or do they themselves truly believe that their own desire creates truth? Do they believe that when they claim that 'there's nothing more to see here,' we chumps on the outside of their bubbles of influence will just nod and smile like fools? Don't they realize that they're insulting their audience by assuming that we chumps cannot recognize that things don't add up?
I find it fascinating when the lack of regard for others just drips off of the words and deeds of these spiritually proud who seem to be completely unaware of how miserable they seem to the rest of us. Their behaviors only magnify their own lack of self-awareness and ignorance. Are they deluded (an incorrigible belief in a falsehood)?
Are they just not thinking clearly when they claim that others are guilty of the errors which most people note to be far more true of them (projection)? All of us human beings suffer pain, anger, and confusion when we're presented with information that contradicts what we believe. I can understand that kind of denial, but not in the long term. What doesn't seem at all Christian to me is the thuggery. I wish that more people had the attitude of Gamaliel when he said of Paul that, if Paul preached falsehood, the lack of merit of the message would eventually lead to naught. Slathering damage control on things only draws more attention to the discrepancies, making their reputations seem even more sinister.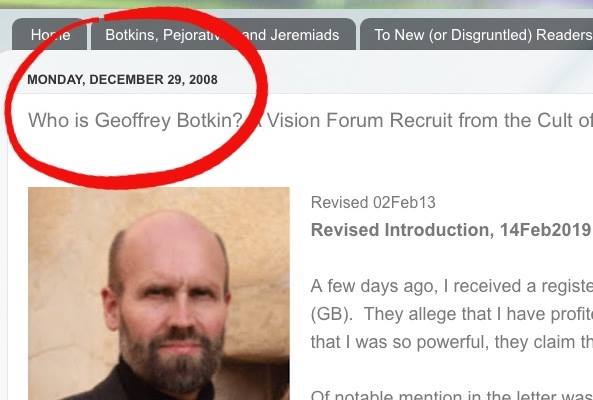 A few days ago, I restored the "Who is Geoffrey Botkin?" post on Under Much Grace. To explain why one of my blogs will be renamed if I even bother to restore it, I added what Blogger calls a "page" (the tabs at the top of the blog). Read more about my explanation for my actions in the page named Botkins, Pejoratives, and Jeremiads. The Botkin daughters demanded that I remove their family name, but I had to explain my use of it as well as my reason for making so many changes. They hoped to see their name go away. Sadly, I may have removed a good deal of it had they approached me honestly without the thuggery.

The family seems to want all of us to associate them with New Zealand, or as many people do, believe that they are from New Zealand originally. Though it seems ironic to me, they appear to be rather adept at the skill of indigenous Australians with a boomerang.
~~~~
Cynthia Mullen Kunsman is a nurse (BSN), naturopath (ND) and seminary graduate (MMin) with a wide variety of training and over 20 years of clinical experience. She has used her training in Complementary and Alternative Medicine as a lecturer and liaison to professional scientific and medical groups, in both academic and traditional clinical healthcare settings. She also completed additional studies in the field of thought reform, hypnotherapy for pain management, and Post Traumatic Stress Disorder (PTSD) that is often associated with cultic group involvement. Her nursing experience ranges from intensive care, the training of critical care nurses, hospice care, case management and quality management, though she currently limits her practice to forensic medical record review and evaluation. Most of her current professional efforts concern the study of manipulative and coercive evangelical Christian groups and the recovery process from both thought reform and PTSD.
She blogs at Under Much Grace and Redeeming Dinah.
Read more by Cindy Kunsman
If I'm Never Ready, I Can at Least be Wise
---
Stay in touch! Like No Longer Quivering on Facebook:
If this is your first time visiting NLQ please read our Welcome page and our Comment Policy! Commenting here means you agree to abide by our policies.
Copyright notice: If you use any content from NLQ, including any of our research or Quoting Quiverfull quotes, please give us credit and a link back to this site. All original content is owned by No Longer Quivering and Patheos.com
Read our hate mail at Jerks 4 Jesus
Check out today's NLQ News at NLQ Newspaper
Contact NLQ at SuzanneNLQ@gmail.com
Comments open below
NLQ Recommended Reading …
I Fired God by Jcoelyn Zichtermann