by Cindy Kunsman
There are a few more faces that I'd like to introduce to everyone who has read the Botkin letter – people who helped me and have helped many others when they left TACOs (Totalist Aberrant Christian Organizations). I was thirty years old at the time, and I had a horrible time trying to find anyone who understood what I was experiencing. Paul Martin (the psychologist who had once been a member of Great Commission Ministries) asked me to write about the problems I encountered when I went searching for counsel.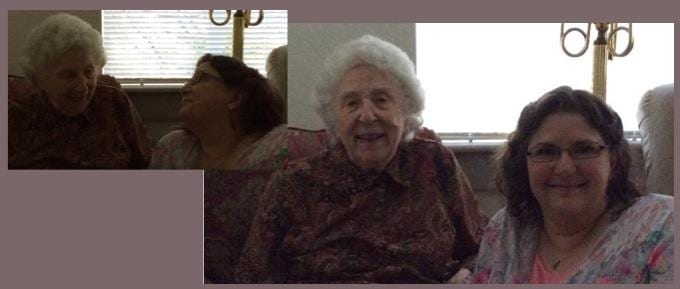 Here I am with my exit counselor, Doris, who my husband and I went back to see nearly twenty years after we first met in her home north of Baltimore in 1997. She'd just retired from volunteering with the Cult Awareness Network (CAN). I kept in regular contact with her over the next twenty years as I worked on my own recovery, and after I decided to write about the topic of TACOs. I learned many things about recovery, but I also learned about significant events that took place in Maryland, some of which had some bearing on my own TACO of record.
Doris would often encourage me by pointing out that so many others had faced what I did, telling me about people that she met with as they went through their own struggles after leaving their own groups. When the issue of discipline and punishment of children came up for me with my peers, she told me about her experience working with former members of the Great Commission in the 1980s. They were very active on college campuses as was the fashion for recruitment before they descended around the DC Metro area to attempt their government takeover for Jesus. She also told me about how she accompanied many former members to speak with their leaders who were just convinced that they could get through to them about the unpleasant aspects of their TACO. I went through so many of the same hopes and challenges, and I noticed the same characteristics that she did among children in patriarchy.
When I asked how she became involved with exit counseling, she told me that she'd found a young man who was still in seminary at the time to exit counsel a family member who joined a cult. He wouldn't take money from her because he wasn't yet finished with his training, so she promised to be as much as a help to him as she could thereafter. For many years, she answered phones for him, helped with his schedule, and worked with parents who wished to hire him to get their adult children out of cults (which tended then to be mostly residential). As one of the best ways to help former members recover involves just allowing them to gather and talk with a helpful coach to guide them, she ended up doing a great deal of this with that 'young man' whom she thought of like one of her own sons.
I had no idea that I would end up becoming friends with that 'young man' one day or that I would meet and develop friendships with so many others whose writings had been so healing for me. I didn't even figure out that Dave Clark was the man that Doris spoke about until afterwards, but I could have met him in person at the apologetics meeting in 2008. (This was the same conference where I presented the workshop on patriarchy that some still consider infamous. It's also still a pretty good review of how this patriarchy/quiverfull belief system originated.) Both Dave and Doris conducted recovery meetings, met with hospitalized students who were traumatized from their involvement with the Great Commission, and worked with their former members, etc. during the mid-Eighties.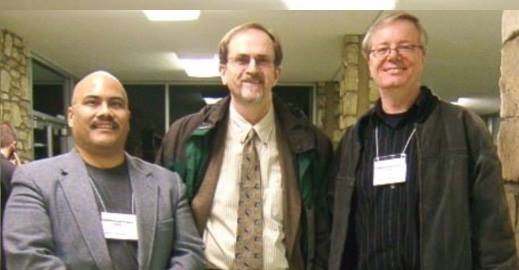 Rafael Martinez is the shorter of the three men in this photo, pictured on the left. He filmed the workshop that I gave there at a seminary in Missouri. He has been a true friend to me since that time, and his own journey has not been so easy. Gwen Shamblin's organization has challenged him in court, and though Rafael prevailed each time, I don't know that anyone can really assess the costs that such a thing requires of a person. He exit counseled so many people who left that TACO, once brought Dave Clark to Tennessee to help him, and he continues to work with others after spiritual abuse. When I got the jackboot from the apologetics community for challenging the aberrant teachings that were then vogue among Southern Baptists, Rafael hosted the video of my workshop for me on Spiritwatch Ministries.
The guy in the middle of the picture is Paul Martin (author of Cult Proofing Your Kids). Paul was really funny when we first met. He kept what I'd call an almost uncomfortably wide personal space between us until he asked me who had exit counseled me. When I told him that it was Doris, that personal space collapsed into at least half of what it had been! His countenance changed, and he began to talk about how amazing Doris was, noting how helpful she was in the DC area. The Great Commission was known for aggressive corporal punishment of children who often behaved like soldiers. There in front of me stood the most brilliant and accomplished researcher of cults and post cult recovery, and he told me all about how much Doris taught him through her work with CAN and her experience with the Great Commission in particular.
And pictured on the right is Dave Clark, the tallest of the three. I joke now and say that he's my exit counselor 'grandfather.' In the picture that follows, I held up my iPad to show that picture of Doris to pose with Dave on the day that he received ICSA's Lifetime Achievement Award – three generations of those whom God used to made something good out of an otherwise utterly terrible experience. (I think that I look goofy because I was trying not to cry because I don't feel worthy to stand with them. I include it here because it gives me hope, and I pray that it inspires others. )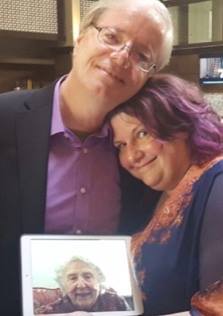 I say that I would not be here were it not for Dave and Doris because they were both available to me to help me after what was the worst experience of my life. Everything that I'd ever believed seemed to come apart at the seams when I realized the cruelty of spiritual abuse – and the threads of it that went back to my childhood. My faith in God didn't collapse, but it suddenly seemed like my love for God, for my fervent desire to know God, my constant study, all of the words of so many great Christians that I'd read, writings of our Founding Fathers that stirred the fire of freedom in my soul, volumes written by Francis Schaeffer, all of my service, my music, and everything I was seemed to fail me. I believed bunches of lies, and I failed. They were there to remind me that there was life for me on the other side of the trauma.
It has been said that I have hurt so many with names and faces that I've not considered and will never know. May I offer also that I strive to be a messenger to those people who will one day wake up like I did, faced with evidence that the glue that held their religious ideas, their good intent, all of their strengths and their gifts and their lives that were dedicated to study seems to be failing them. The fragments in isolation suddenly seem like so many broken pieces all strung together with deception, wishful thinking, and good intentions that suddenly seem to have done more harm than good.

There are names and faces of many people who have been in this very same place, and they also had many who came to them to help them. Now many know just a few of mine who allowed their brokenness to become a fountain of healing for many others. Some people will wake up on the day when they feel things starting to unravel, and they will choose to bury themselves more deeply in their TACO. I've written what I have for those who decide to make the painful but liberating journey out.
Cynthia Mullen Kunsman is a nurse (BSN), naturopath (ND) and seminary graduate (MMin) with a wide variety of training and over 20 years of clinical experience. She has used her training in Complementary and Alternative Medicine as a lecturer and liaison to professional scientific and medical groups, in both academic and traditional clinical healthcare settings. She also completed additional studies in the field of thought reform, hypnotherapy for pain management, and Post Traumatic Stress Disorder (PTSD) that is often associated with cultic group involvement. Her nursing experience ranges from intensive care, the training of critical care nurses, hospice care, case management and quality management, though she currently limits her practice to forensic medical record review and evaluation. Most of her current professional efforts concern the study of manipulative and coercive evangelical Christian groups and the recovery process from both thought reform and PTSD.
She blogs at Under Much Grace and Redeeming Dinah.
Read more by Cindy Kunsman
---
Stay in touch! Like No Longer Quivering on Facebook:
If this is your first time visiting NLQ please read our Welcome page and our Comment Policy! Commenting here means you agree to abide by our policies.
Copyright notice: If you use any content from NLQ, including any of our research or Quoting Quiverfull quotes, please give us credit and a link back to this site. All original content is owned by No Longer Quivering and Patheos.com
Read our hate mail at Jerks 4 Jesus
Check out today's NLQ News at NLQ Newspaper
Contact NLQ at SuzanneNLQ@gmail.com
Comments open below
NLQ Recommended Reading …
I Fired God by Jocelyn Zichtermann