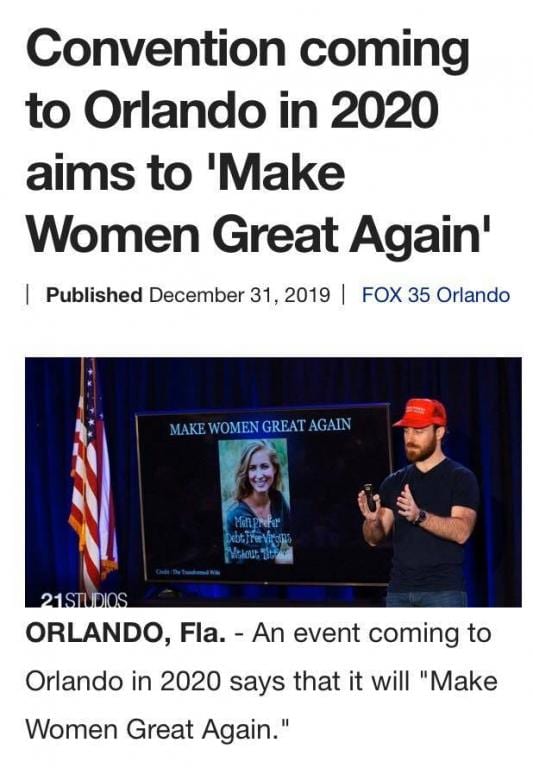 Yesterday I finally got internet connection again just in time to witness a pile of curious things involving this "Make Women Great Again" conference and a few prominent Christian Red Pill guys. When I got up this morning and found Lori Alexander once again babbling about the conference after many commenters tried to warn her what the conference founder was all about (and it is not good) to no avail I knew it merited a second post today on top of Debi Pearl's complaining about fecal transplants.
First let's look at Lori glorying in against all warnings this silly conference. The 22 Conference that is likely to be deserted save a few journalists showing up just to document the freak show nature of it all:
"There's a conference being put on by men called "Make Women Great Again." The organizer of the event, Anthony Johnson, contacted me and told me that my viral post Men Prefer Debt Free Virgins Without Tattoos was the motivation for having this conference. In a video of his, he uses the picture for my viral post and says that women like this are today's rebel and nearly impossible to find. He's right!

Some asked if there was going to be some Christian male teachers at this conference and he responded by saying there will be Christian men but this is NOT a Christian conference. This type of conference wouldn't even be needed if pastors and older women were teaching this in all, or at least many, of the churches. It's a sad state of affairs that a conference like this is teaching biblical womanhood by men when most churches won't."
And exactly what type of man is Lori praising here for teaching and leading this conference? Anthony "Beach Muscles" Johnson. This guy.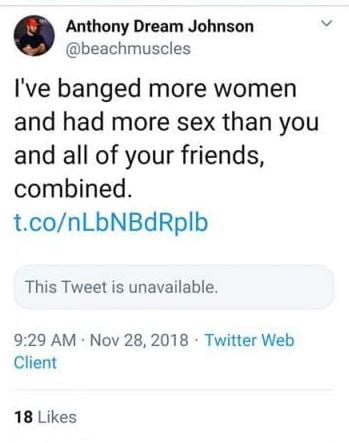 and this….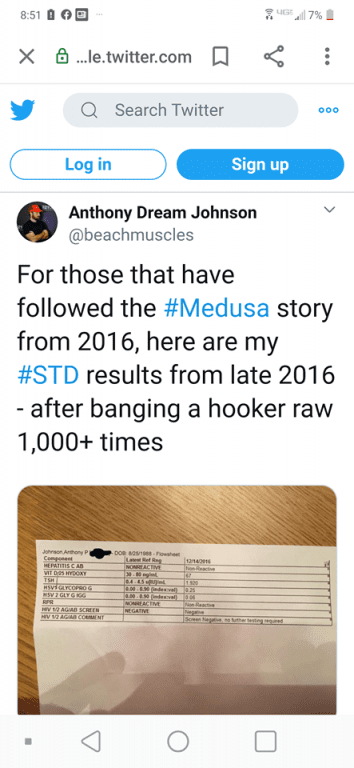 Yes, this is the moral caliber of the man Lori Alexander has chosen to follow and support. Klazzy! There is zero evidence beyond Beach Muscles crowing how 'moral' and 'Christian' he is that he has any faith. That tweet is little more than a year old, and it speaks volumes about the type of man this 'leader' is. He is a man who sees women only as fungible, only as objects to be used and discarded at will, not fully human. I hate to use these words but… jizz storage units.
Lori follows by praising former pick up artist and now Christian mansphere idol Roosh V. to make her point and it does not help her cause any.
"***Here's some good news, it appears that some men in the "manosphere" are turning to Christ! Holding biblical values without Christ are meaningless. Here is what Roosh published on Twitter yesterday and wrote above it, "A masculine Christian revival will replace the manosphere."
Not on my tintype buddy! He posted a tweet Lori is speaking of here with talking about Molyneux and others are steering the conversation among the Red Pill guys back to Christ and now all of them will take their Godly Kings position and teach the lowly unGodly women who is boss.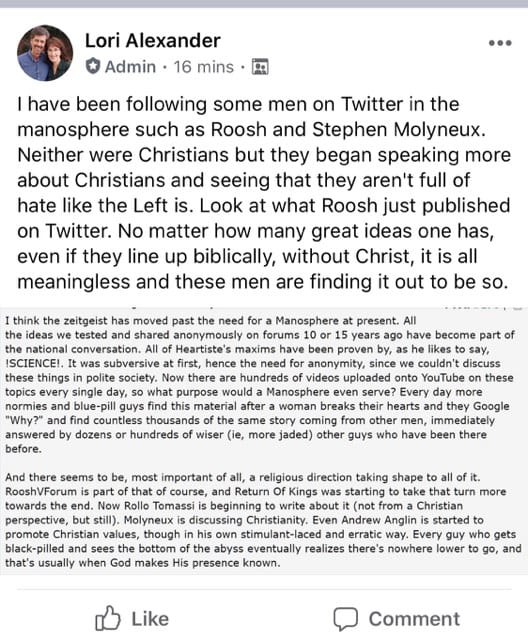 Keep in mind these guys are all akin to this one guy.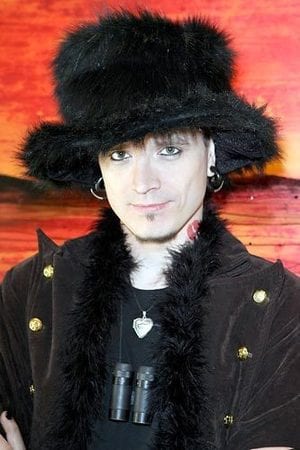 Mystery, the star of VH1's "The Pickup Artist", just one of many in a lineup of bad reality shows that included Bret Michael's "Rock of Love" and Flavo Flav's "Flavor of Love" Mystery seems to have taken his fur hat and guyliner and disappeared into the manosphere ether after the show and his book. Except he is still apparently out there teaching his questionable methods to other guys. Someone is still buying this load of twaddle. Want to raise your blood pressure this morning? Read about their technique of "Negging" which is a type of abusive gaslighting.
There is nothing genuine or safe about any of these guys, the ones that screech what good Christians they are while negging you, right down to fur hatted Mystery trying to get into someone's pants.
Which leads us to this. A couple of guys who straddle the Red Pill/Christian line have started to disappear from the online world. The newest one, that Lori Alexander always loved, is the repellent Dalrock. Dalrock after nearly ten years is stopping all his writing apparently.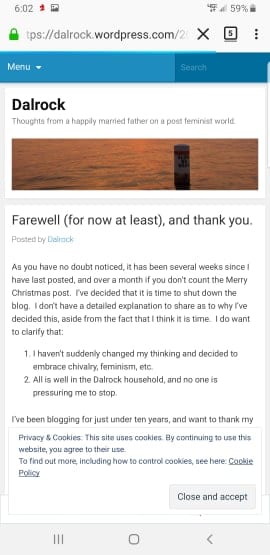 Oh happy day!
I think we are witnessing the beginning of the end of the whole silly manosphere/red pill/mens rights/incel/mgtow thing, just the very first rumblings that all is not well there, something we've already known for sometime now. What type of angry self-hating women links herself to these guys? Lori.
On a final Lori note today I have to share what has to be the sickest literally of commenters on Lori's recent promotion of her own eating beliefs, her video about her pantry and her crazy ideas on nutrition. I post this as a caution. Please, no one should EVER be taking 30 benadryl pills a day for any reason. I take them, I take lots of them, as does Cindy Kunsman and others I know that struggle with allergies and asthma. They are a helpful tool that is very far down on the dangerous list, at least right up until you start taking them in toxic kill your liver and kidneys amounts! This is one of the big dangers of Quiverfull, self medicating in dangerous ways instead of listening to what a legitimate doctor says. And yeah, while deleteing anyone that does not agree with Lori on Beach Muscles she let this dangerous garbage stay up.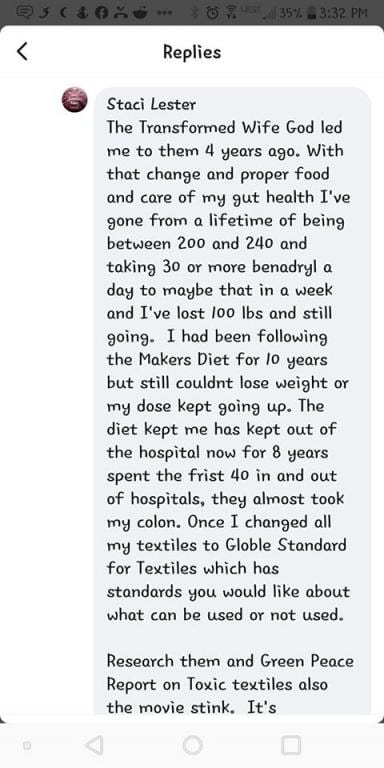 Being serious here. If you're taking that high a dose of over the counter meds you have a problem that likely mental health professionals should be dealing with. Not online cranks suffering from malnutrition.
Stay in touch! Like No Longer Quivering on Facebook:
If this is your first time visiting NLQ please read our Welcome page and our Comment Policy! Commenting here means you agree to abide by our policies but our main rule is this – Do not be a dick!
Copyright notice: If you use any content from NLQ, including any of our research or Quoting Quiverfull quotes, please give us credit and a link back to this site. All original content is owned by No Longer Quivering and Patheos.com
Read our hate mail at Jerks 4 Jesus
Check out today's NLQ News at NLQ Newspaper
Contact NLQ at Suzanne.calulu@gmail.com
Comments open below
NLQ Recommended Reading …
I Fired God by Jocelyn Zichtermann