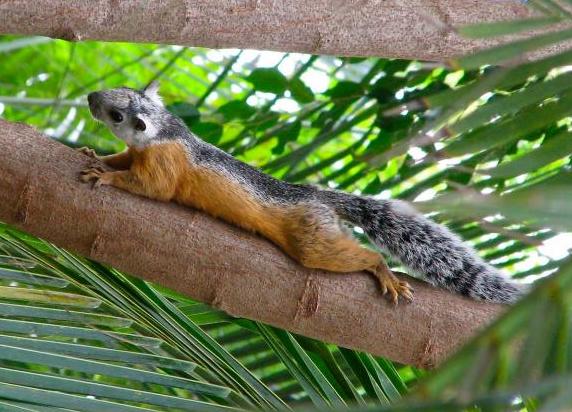 A few mornings ago I saw the most unusual sight. A squirrel leaping about. Not too unusual, right, because this is what squirrels do? Except this squirrel was not doing anything that made sense. It was leaping about at high speed on the ground, on to the tree, on the ground, on to the tree over and over again. Unconnected to anything food related or predator adjacent. Just crazy hopping around like it had gotten into someone's Adderal stash and had no idea what to do next, just motion for sheer motion's sake.
When I witnessed things like this I am always reminded of Quiverfull want to be cultural enforcer Jill Rodriques. JIll and her constant relentless motion via posting reams of photos with her illogical assumptions, throwing shade anyone else not in her group. I suspect the same thought processes in the squirrel is how Jill operates.
Part of me is tempted just to label Jill Rodrigues a Covidiot for her previous posts mocking the stay at home orders. Then she was radio silent on social media. Now we have her overwhelming pile of parenting in the time of Coronavirus social media posts, starting at the park.
The park you say? That place that Ohio has closed down? Ohio governor Mike DeWine apparently merely shuttered park offices, while leaving the parks themselves open for use by the public, while they are practicing social distancing and proper masking. At least according to the governor's office.
We've seen Jill taking the very normal action of taking her brood to the park combined with the very unnormal action of witnessing to strangers and violating the social distancing orders. She's still at it. More crazy squirrel leaping about mindlessly.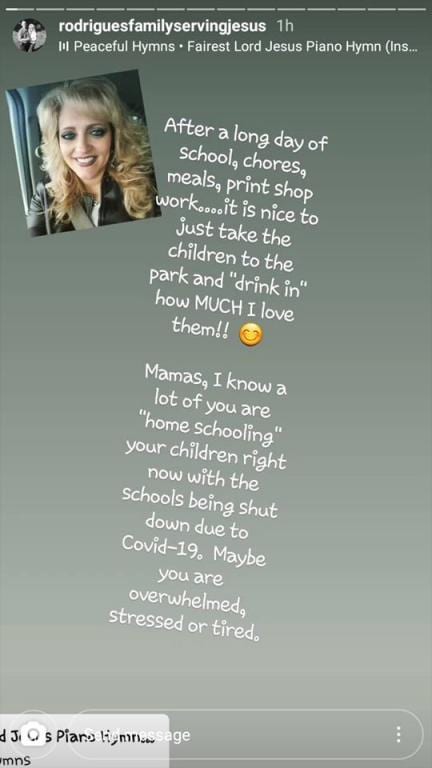 Jill throws a bone to the newly homeschooling mamas to start and then goes right to "Why we are superior to you." mode. Now she's posting how much more she and her husband David love their children than the average nonbeliever. I don't know, but I have yet to see a photo where it seems David is involved with the kids. David just seems to exist in a weird bubble removed from everyone and everything based upon what we see in photos.
This belief that non Christians are better to their pets than their kids is one that regularly circulates around Evangelical and Fundamental circles. Even as everything we've witnessed within that sphere involving animals seems to run counter to the Bible's insistence that a righteous person cares for their animals. Do they think we sell our kids at yard sales like they sometimes do with their cats and dogs?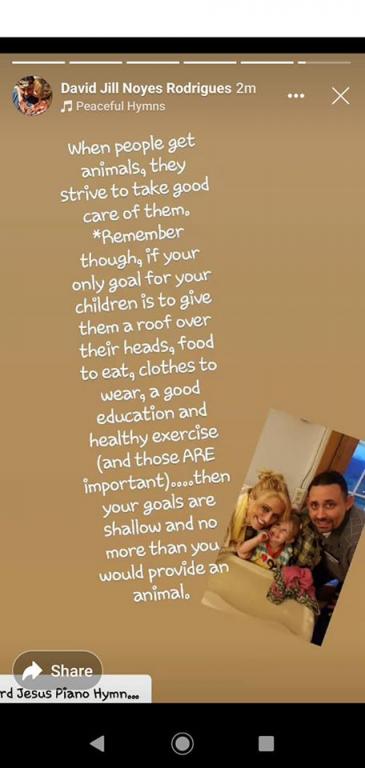 Those goals are less "shallow" than dragging your kids around COVID ridden areas, treating your animals like they are disposable, underfeeding your children, running from children's protective services, mocking a pandemic, and behaving like a 12 year old trying to glom up all the attention with crazy tilted word pictures.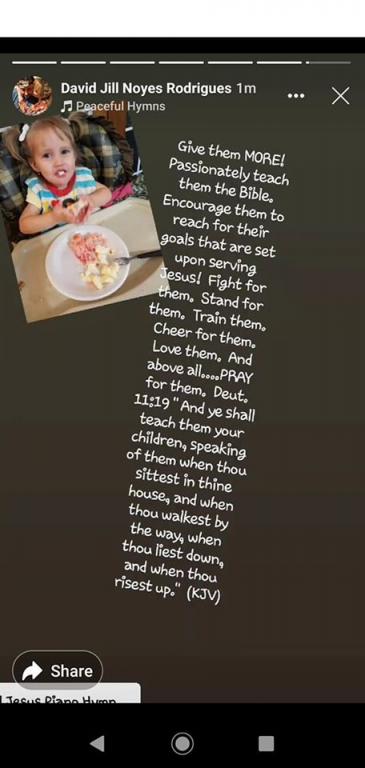 She's alleging here that parents not in her high demand religious group do not do any of these things for their children. Simply not true.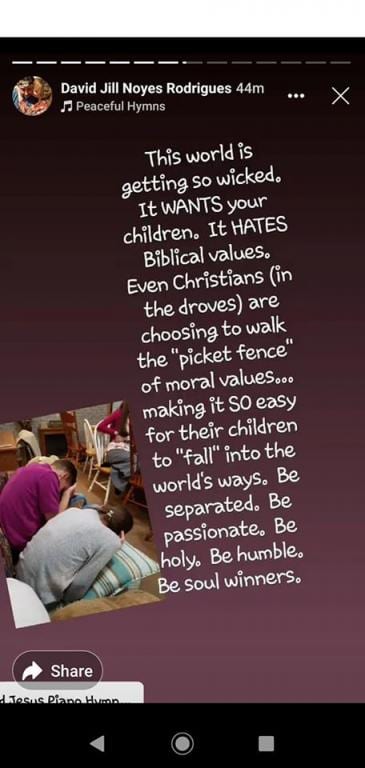 Be as absolutely unthinking as possible.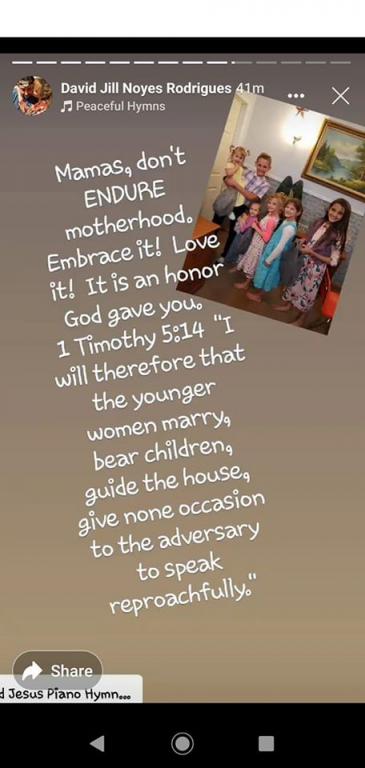 One of the biggest lies promoted by Quiverfull is that mothers outside of their group do not embrace their roles as mothers. This is simply not true. There is no one right way to mother or not mother. There are as many ways to mother as there are to cook. Language like this is merely divisive, shaming and blaming, intending to heap guilt on those not doing it her way.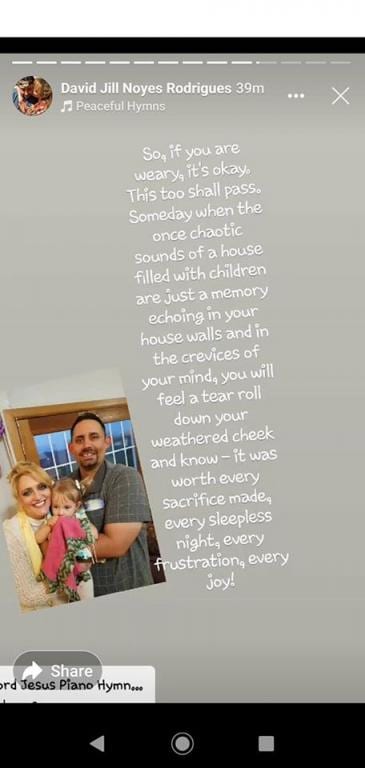 Wow, for once some mercy and admission that it is okay not to be a meth-fueled smiling robotic mom spouting Bible verses and swilling Plexus.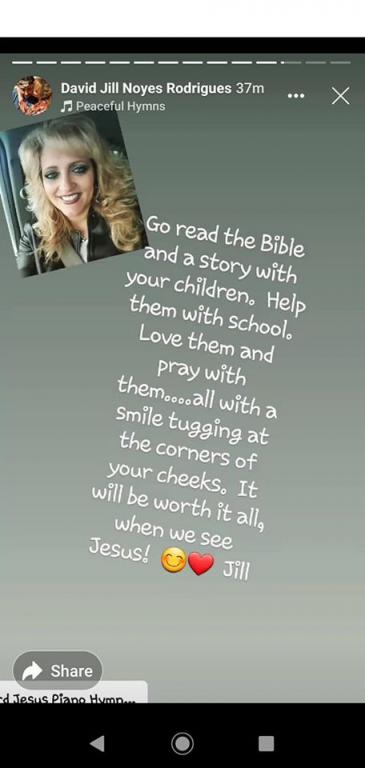 If only motherhood was that simple, read a Bible story and go meet Jesus! This seems particularly clueless, trite and surface in the face of this pandemic when people are trying to figure out what the next few months, the next year will likely hold. It's a bit more complex than any piece of advice she gave in the last few days.
Look, I get it. It's a stressful time filled with so much uncertainty. Even the ideas surrounding the virus change from day to day. People are stressed out. Stressed out folks tend to react in all sorts of irrational ways. It has to be weighing on Jill that she and the family cannot go out and sing for their supper now with the shelter in place orders.
Part of what is also going on here is that Jill is a perfect storm of 2nd generation Quiverfull homeschooled kid. Married off at 18 years old to a man over 30 without any life experience. Just homeschooling and isolation. Jill is the poster child of what you get if you follow that movement into the next generation. Which will make it even more interesting to see what happens with the 3rd generation homeschooled kids like Nurie and Timmy Rodrigues. This is not a world view or lifestyle that tends to produce anything but paler and paler carbon copies of the original person embracing the movement.
Is this what the pandemic is reducing the Quiverfull moms to right now?
After reading Jill and a pile of others in Quiverfull my question I am pondering during the pandemic is why is it so much easier for these folks to believe a wild conspiracy theory than it is to believe in an unpleasant truth?
Oh good golly these folks are breaking my brain again. I need a Quarantine Coffee…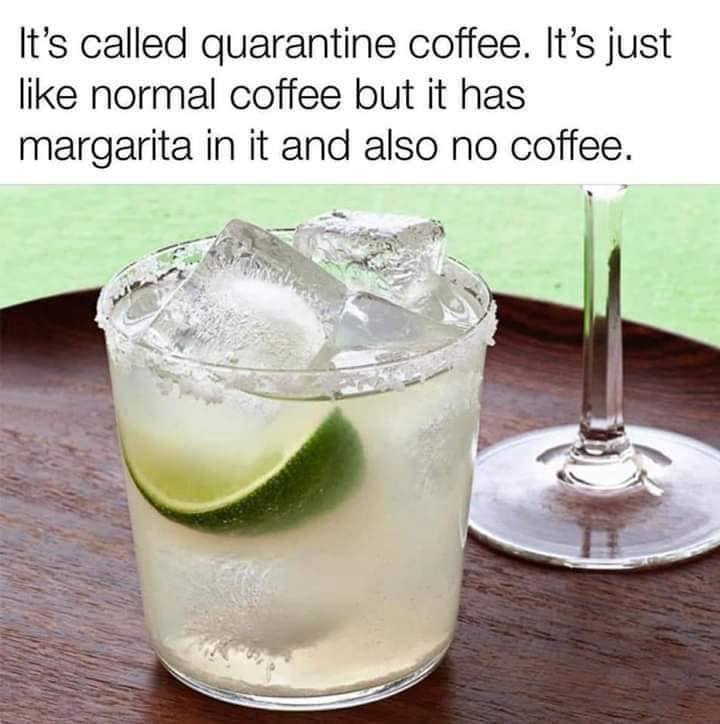 Stay in touch! Like No Longer Quivering on Facebook:
If this is your first time visiting NLQ please read our Welcome page and our Comment Policy! Commenting here means you agree to abide by our policies but our main rule is this – Do not be a dick!
Copyright notice: If you use any content from NLQ, including any of our research or Quoting Quiverfull quotes, please give us credit and a link back to this site. All original content is owned by No Longer Quivering and Patheos.com
Read our hate mail at Jerks 4 Jesus
Check out today's NLQ News at NLQ Newspaper
Contact NLQ at Suzanne.calulu@gmail.com
Comments open below