Still not entirely sure why anyone would care either way what TLC's Jim Bob and Michelle Duggar would think about any of this. Of the protests, the deaths of black men that the hands of white cops, the systemic racism of America driving so many bad things. The Duggars are arbiters of nothing. Not influential beyond their fan base.
It's not in their wheelhouse, their sphere of influence like child discipline, militant fecundity, or using your adult children as unpaid labor on your television show. Speaking of which it looks likely from the promos and gossip that another Duggar couple has jumped ship. Austin and Joy Anna Duggar Forsyth have stopped filming "Counting On" except for group events.
Another Josh Duggar victim kicks the family business, that they were sacrificed for, to the curb. I wonder if the family and friends posting photos and more during their time of grieving the loss of their 20 week old daughter had anything to do with the decision. Seeing it pimped out on People magazine I doubt was Joy's decision. It seems like a dickish Jim Bob Duggar move. Exploit for more viewers a deeply private moment.
Back to the Duggars and Black Lives Matter. This pastiche of Duggar fans saying thing about the Duggars and our latest national tragedy just reminds me of how people who see you weekly on tv feel like they know you. When they do not genuinely know you, just whatever side reality television decides to focus on. The original poster whited out the names of these posts, and they were gathered from a variety of Duggar-centric social media including official Duggar things.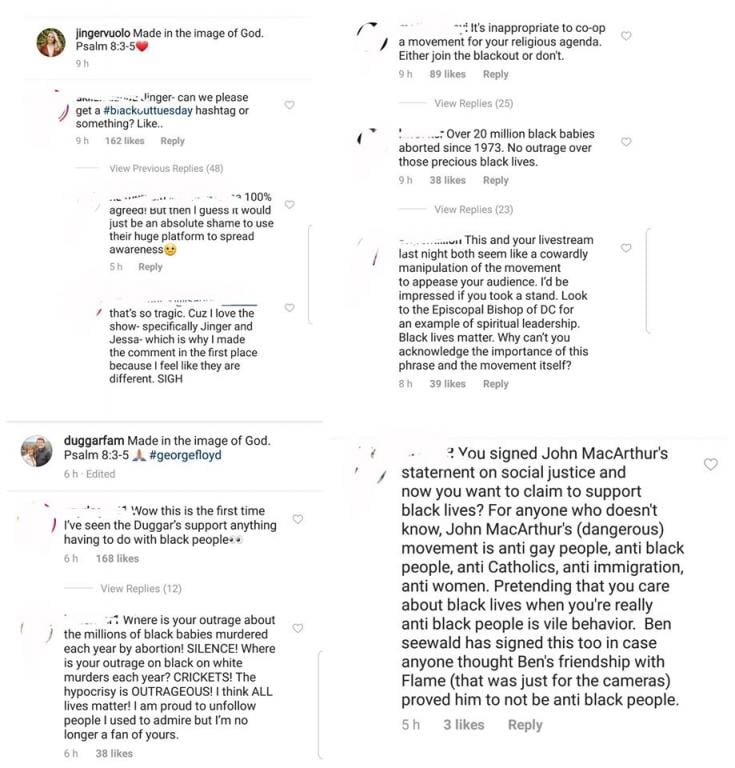 I think it's likely that the Duggars, like so many other Evangelical Quiverfull I've known through the years talk a good game. They say they are opposed to racism, yet there are zero black families or people of color in their churches. They piously post when tragedies happen about focusing on the Lord, but gripe about 'Those people' burning down or looting their own neighborhoods. Covert racism, which is after all what Quiverfull is all about.
Nancy Campbell and others have stated that the ultimate goal of Christian Quiverfull is to outbreed scary brown people, the Muslims and others. Is it really a leap from outbreeding Muslims to outbreeding others of other shades of brown that do not think, behave and believe like them? Racism underpins the entire movement.
And then we have Jill Duggar Dillard, the sole brave soul in this entire bunch posting this: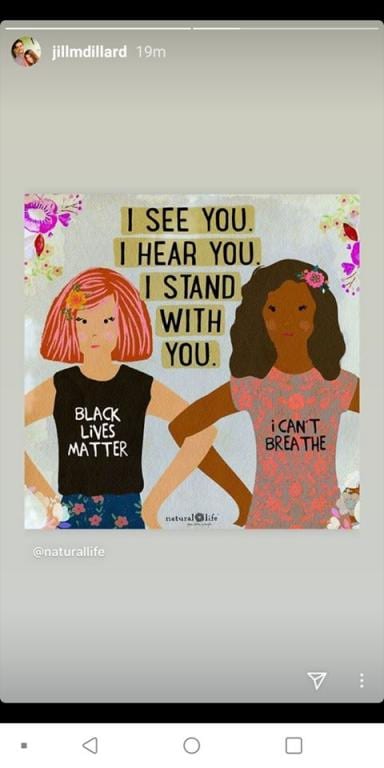 Yes, there is hope that at least some of the Duggars aren't completely racist without the painfully pompous ponderings of a certain Duggar son in law. Looking at you, Jeremy Vuolo..
Jeremy and Jinger Duggar Vuolo paid lip service to the notion of not being racist.
She who we try not to mention here wrote a particularly vile post today on racism after a week of her own very racist remarks. She's back pedaling from her earlier remarks very hard now. Knowing, hearing, and hearing again from friends and family that were at the White House protests this weekend makes me so furious with her lack of compassion and reality.
~~~~~~~~~~
Completely unrelated but oh so funny Timmy Rodrigues, Jill and David Rodrigues eldest son just released a video of himself singing "It Is Well With My Soul"
The song is an old hymn with a tragic backstory of the author losing his entire family, yet writing that it was still well with his soul. Lovely song, but not this rendition. Suspiciously the comments are turned off, which means there's no way to let poor Timmy know what the world thinks of his singing, the pennywhistle performances of his sisters, and his mother's off key use of melisma.
While part of me really cringes for Timmy, and feels bad for laughing, one of the reasons I share this is that this is such a common problem in Quiverfull. The family isolates the children, tells them that they are the best at things they are clearly only mediocre at. Reality is that there will always be things we do not excel at no matter how much we wish it. You can see this very thing heavily in play at non-Quiverfull things too. Like those classic audition episodes of "American Idol" when kids whose mommas have said what wonderful singers they are get to hear truth and reality out of the mouth of Simon Cowell for the first time ever.
We all need a laugh right now, even if it comes at the expense of a Rodrigues.
Stay in touch! Like No Longer Quivering on Facebook:
If this is your first time visiting NLQ please read our Welcome page and our Comment Policy! Commenting here means you agree to abide by our policies but our main rule is this – Do not be a dick!
Copyright notice: If you use any content from NLQ, including any of our research or Quoting Quiverfull quotes, please give us credit and a link back to this site. All original content is owned by No Longer Quivering and Patheos.com
Read our hate mail at Jerks 4 Jesus
Watch our goofy rants on YouTube and the bad Biblical advice of Dori Dalexander.
Check out today's NLQ News at NLQ Newspaper