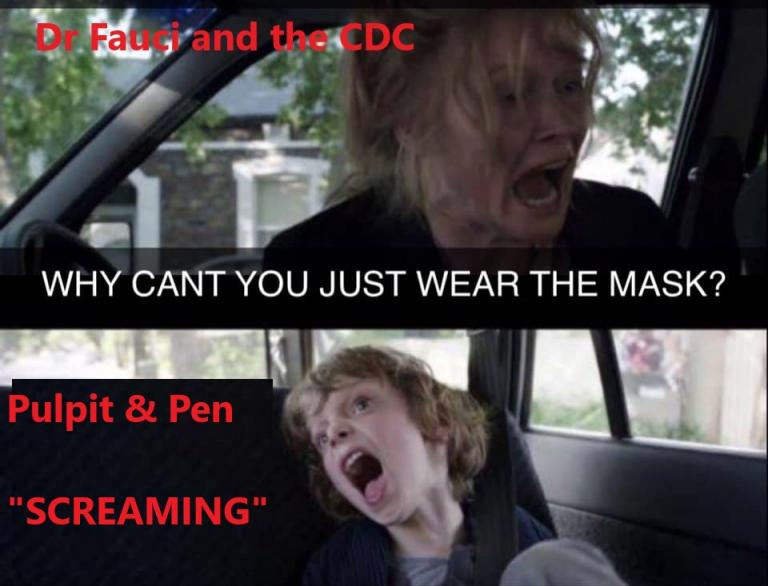 We haven't had an open thread on COVID 19 Coronavirus in awhile. We've all fallen into something of a pandemic fatigue, or at least I have. Masking, reopening protocols and a new world. Wash, rinse, repeat.
Let me apologize in advance for the salty mean language, but when someone else busts out language like "idiot" to describe those following CDC guidelines I tend to lose it.
Here we're on the verge of another total lock down. Rates has soared again as most everyone in Costa Rica decided upon emerging from phase one of our shutdown to toss the masks and social distancing since we had one to two new cases a day only. Yesterday we had close to 4oo new cases in a single day. A lot for a small country with half the hospital beds per capita than the United States.
Yesterday we heard rumors of an upcoming lockdown more severe than the first that is being proposed as a measure to drop rates again. As someone in the high risk group on immune suppression therapy I am not opposed to that. This is at a time when just about every Tico here is clamoring to reopen to tourism, flights were to resume from Europe in August. Looks unlikely now, and the poverty will get worse at the same time.
Not that anyone will be allowed to go to and then back from the States. Costa Rica, and pretty much the world has marked the United States as third world plague rat territory. For good reason.
I see the climbing rates in the United States and can hardly believe what I am seeing in a country that used to lead the world in science and medicine, that used to be a great shining beacon of hope. No longer. Due to the unleaderly leadership of President Donald Trump a crisis that could gave been averted simply by following CDC guidelines, closing down for a time, and following those same guidelines upon reopening.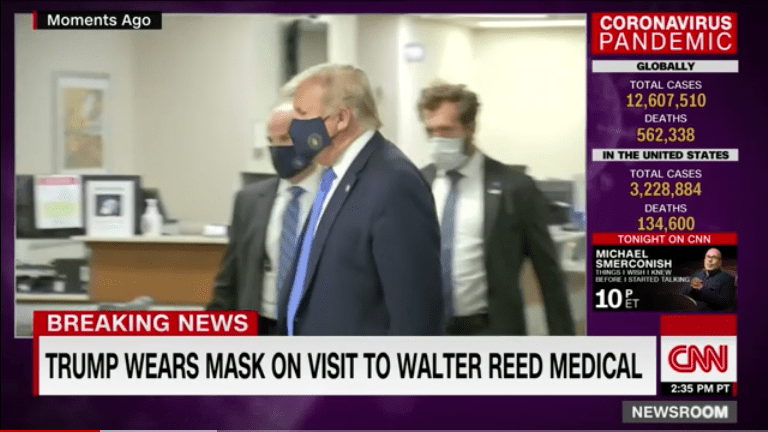 I guess at least Trump finally wore a freakin' mask at Walter Reed Medical Center yesterday. But, I suspect, that was only because the powers that be at Walter Reed said he would not be allowed on grounds if he didn't. Trump has done everything he possibly can to undermine Dr. Fauci and the CDC, almost like a paid saboteur instead of a president.
Sadly it seems that the guys over at Pulpit and Pen have decided to further foment the lies involving masking by saying this:
"America has been pillaged, plundered, ruined, and ravaged by an invisible enemy. And that enemy is not COVID-19. The invisible enemy is the unconquerable ignorance of abject idiots.

Thankfully, those idiots are wearing masks so we know who they are."
The only idiots I see are a bunch of idiotic plague rats that ignored Steven Anderson covering up the sexual abuse of young girls, that now seem to have a hard on for scientific and medical research denial.
They are whining that the reported rates are skewed and something called "Big Tech", screeching for reopening because 'economy' and calling it a medical hoax. Real Jesusy of this idiots.
I don't call people idiots lightly, and I would not normally even call the guys at P&P idiots, but they themselves have used the term to describe those of us who social distance, who wash our hands, who use hand sanitizer, who wear masks, and who care about the health of others. They agree that the above actions are good, everything except the masking. That is the poppy seed stuck under their Jesus dentures making them lose it.
"It turns out, the best advice for mitigating coronavirus is (A) wash your hands (B) don't needlessly touch people and (C) if you're a sickly fellow, an invalid, or already on death's door, stay home. After all that panic, it turns out grandma's basic advice is better than anything coming out of Washington."
So they accept the CDC advice that takes the most minimal effort to protect others, because that is exactly what masking does, it protects other people!
Here's the big thing they are missing when they tell those of us with underlying conditions just to stay home – IDIOTS! I HAVE TO GET GROCERIES, MEDICINES AND DOCTORS APPOINTMENTS TOO!!!!!
There aren't delivery services worldwide so that you can just stay home and avoid everyone. If I have to have blood work and chest xrays then it is off to the clinic and the doctor. I would LOVE to be able to stay completely home until there is a vaccine or this dies off but it's an impossibility! To even suggest it is some brass balled ablism! They need sensitivity training in dealing with anyone with disabilities.
Even in your home you are not always safe from the mouth breathing plague rats like these guys. Just yesterday I turned away a group of maskless plague rats that showed up wanting to use my hot tub without a mask or bottle of hand sanitizer in site.
Just take a look at the thing they're not talking about, the other repercussions of the illness. Sometimes death is not the worse thing that can happen to you. More people are coming away with strokes, lung problems and serious heart problems.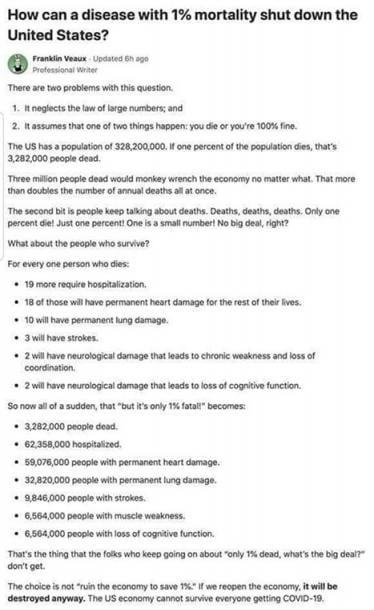 The numbers put to lie just about everything these morons are saying. This is real. This is serious. We need to be helping protect each other. Masking works. It's been proven, and it was one of the ways that the nation finally recovered from the flu pandemic of 1918,
"While it's unfortunate that power corrupts, it's not unexpected. What's unexpected are the troves of mask-wearers who voluntarily don a mouth-diaper despite the scientific and medical evidence that coronavirus probably will not affect you, likely will not hurt you, and almost certainly will not kill you (unless you're already teetering on the edge).

Oh, but you don't wear a mask for you, we're told. You wear a mask for the vulnerable among us.

Listen, if at this point someone is vulnerable to the coronavirus it's because they're vulnerable to everything; the immune-compromised, the perpetually sick, the elderly, the dying, etc.

If you believe that the actions of society as a whole should revolve around those who are so physically fragile they could die from literally any illness whatsoever, you're just awful."
If you think Jesus approves of never thinking about other people and their needs then the awful, moronic, idiotic, stupid, hateful one is YOU! Jesus effing wept~!
Want to know what you can do for the disabled people you know during the Pandemic? Respectability.Org has some great ideas on how to help.
For the rest of us trying to navigate this stressful new world let me leave you with the musical stylings of Puddle's Pity Party and his mash up of Queen's "Under Pressure" and "Let It Go" from Frozen.
Stay in touch! Like No Longer Quivering on Facebook:
If this is your first time visiting NLQ please read our Welcome page and our Comment Policy! Commenting here means you agree to abide by our policies but our main rule is this – Do not be a dick!
Copyright notice: If you use any content from NLQ, including any of our research or Quoting Quiverfull quotes, please give us credit and a link back to this site. All original content is owned by No Longer Quivering and Patheos.com
Read our hate mail at Jerks 4 Jesus
Watch our goofy rants on YouTube and the bad Biblical advice of Dori Dalexander.
Check out today's NLQ News at NLQ Newspaper
Contact NLQ at Suzanne.calulu@gmail.com