I knew this was coming, and it's why I keep saying 'stay tuned in, folks.' More is emerging both about the Falwell's relationship with Giancarlo Granda and now a former Liberty University student alleges to being sexually assaulted against his will by Becki Falwell.
Can someone remind me again what do we call sexual encounters that happen against our will, without our consent? Oh yeah, rape.
No one is calling what happened rape, but it's pretty clear that due to the power dynamic between the wife of the head of the school and a lowly student that this was at the best very problematic sexual encounter. Men have been arrested for things like this, even if it's been politely framed as 'Date rape'.
First Granda, who spoke this morning on ABC's "Good Morning America" with George Stephanopoulos. Giancarlo claims, just as we suspected, that Jerry was lying about the affair when he explained that he was the poor, cuckolded wronged husband.
"Jerry's lying," Granda told GMA's George Stephanopoulos. "That was his game plan under the beginning, to throw her under the bus which I think speaks a lot about who he is, about his character. He was aware from day one about our relationship."
Thank you, Captain Obvious for confirming what many of us have figured out from his statement last week.
"Granda said he 'lived through hell" when an attorney threatened to expose the nature of their relationship in 2014."
Don't doubt that. This is the problem with secrets and secret behavior, they don't stay secrets long. Combining that with the many rumors through the years about the behavior of the Falwells with others like their personal trainer I'm only surprised none of them didn't come out sooner.
"Granda, a former pool attendant, accused Falwell of knowing of his relationship with wife Becki Falwell and that Jerry Falwell participated in some of the encounters as a voyeur. The couple told Granda they were at a swingers club the night before."
Wait, hold up! They go to swingers clubs too?
Granda goes on to talk of an inebriated Becki flirting with him, and insisting he come have sex with her in front of her husband, which he did. He goes on to point out the obvious again, that there was an incredibly uneven power dynamic between himself and the Falwells. He being a poor young working stiff with no money or much life experience against the wealthy and powerful Falwells.
The Falwells are starting to sound no different than the U.S. businessmen and others with money that fly down to Bangkok or the Dominican Republic to have sex with underage sex workers.
"Falwell said he was seeking mental health counseling after dealing with the fallout from the affair, which he claims he had no role in."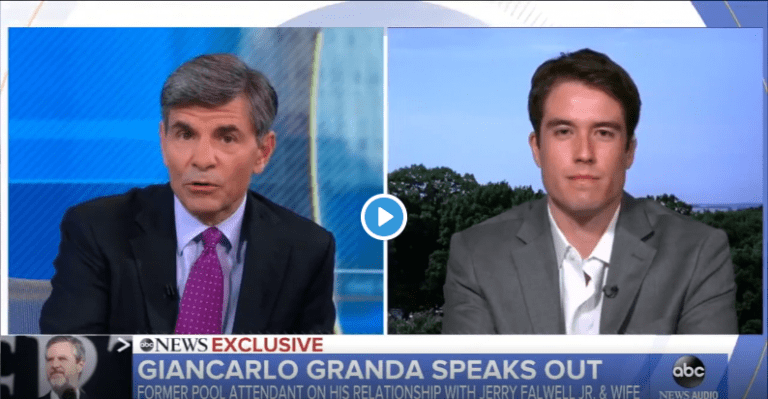 Politico is reporting on an anonymous former Liberty University student who has come forward with claims of an unwanted sexual encounter with Becki Falwell that has nothing to do with Jerry.
"The student was 22 at the time of the encounter, near the start of Liberty's fall semester. He said she initiated the act, and he went along with it. But despite his rejection of further advances, he said, Falwell continued pursuing him, offering him gifts and engaging in banter through Facebook messages."
This does not sound like a one time infidelity on her part, but just like a single link in a long chain of these things.
"She was the aggressor," he said.
The messages, screenshots of which were provided by the former student to POLITICO, suggest a flirtatious relationship that went beyond what might be expected of a mother communicating with her son's bandmate.
This is where I would insert a shocked face. This was not something I had foreseen coming in this saga at all. She preyed on a son's friend.
"Another member of the former student's band, who spoke to POLITICO on the condition of anonymity, said the student told him of the oral-sex encounter with Becki Falwell within a month of it occurring."
Apparently there are text messages and other evidence that Politico has that have the Falwells claiming this never happened and it's another attempt to shake them down. The article details Becki's increasingly flirtation manner leading to a drunken night when the young man was asleep in the guest room and Becki came in to aggressively sexually assault him, performing oral sex on him.
Her text messages read like those of an obsessed fan, and could not be more inappropriate as the correspondence of the mother of an adult bandmate to her son's friend.
The saddest part of this entire sordid episode is the toll it took on this former student's mental health.
"For the then-student, the incident with Becki Falwell incited a long struggle with both his faith and mental health. He said he did not tell family members of the cause of his distress, and only confided in a few close friends.

"It made [him] feel bad. It was a depressing thing; he struggled with depression [afterwards]," the former bandmate told POLITICO."
And I leave you with this. A young man coming to realize he was criminally sexually assaulted by Becki Falwell:
"Usually I think about a middle-aged man grooming someone," the former student said. "It's funny how it happened with the whole, 'Me Too' [movement]. I'm on the other end of the spectrum [from] men harassing women. I found [that] a lot of the traits that these guys had, [Falwell] had as well."
I do know one thing about sexual predators. They don't stop. It's unlikely this was her first, or last coercion of a young Liberty student in violation of her contract with Liberty. I suspect as time goes on more will come forward with stories of being pressured into sex with both Falwells. I hope the Virginia State Police or other local law enforcement entity starts an investigation. Why? Because as the victim points out there's no difference between what Becki did, and what the many male predators exposed in the "Me Too" movement and sent to jail have done.
Whoever thought that Becki and Jerry Falwell Jr. had anything in common with the late Jeffrey Epstein?
In just over a week, September 8th, is the release of Michael Cohen's book "Disloyal" and I believe we're going to see another side to this entire story considering Cohen helped Jerry shut down at least one blackmail attempt. You can read the foreword to Cohen's book at his website.
Will update this story as it evolves. This is just the tip of the iceberg I suspect.
~~~~~~~~~
Stay in touch! Like No Longer Quivering on Facebook:
If this is your first time visiting NLQ please read our Welcome page and our Comment Policy! Commenting here means you agree to abide by our policies but our main rule is this – Do not be a dick!
Copyright notice: If you use any content from NLQ, including any of our research or Quoting Quiverfull quotes, please give us credit and a link back to this site. All original content is owned by No Longer Quivering and Patheos.com
Read our hate mail at Jerks 4 Jesus