There is more whining in this book than in all the combined classic Country Music songs of the golden classic years of the genre.  More than any goat rodeo hellscape version of "Stand By Your Man" Just like that we're back in the book by Lisa Moravek titled Serena's Serenity.
Last episode is here.
Side ramble. Since I know we have readers from everywhere that were confused by my quarter at Aldi's references last week I'll explain. Aldi's is a German discount grocery chain that ten years or so suddenly appeared in the States. Cheapest place to get food many times. Instead of paying employees to trudge around the parking lot picking up stray carts or trollys they have a mechanism on the cart requires a quarter to unlock the cart from the stack. You have to return the cart, and put it back in the cart area to get your quarter back.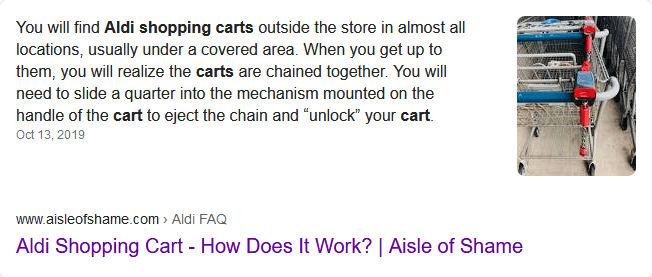 Serena moans about having to hit the grocery store, and makes it sound like she's DEVASTATED by the mild criticisms she received for failing to meet the schedule and having books outside. She's shaken and shaking. The store is clearly Aldi, she moans she has no quarter for the cart and no shopping bags, not thinking that a) there are handbaskets there and b) you can usually cadge a box off them to tote your groceries out. Add in whining about only having twenty bucks for groceries to remind us again how poor Serena is.
During the Aldi trip she discovers her beloved pink calculator that was a gift from her father when he started homeschooling her. This leads to claims of how her "Private" school failed her in every way, including math, and she only started to really learn when her parents homeschooled her.
Hubby Carl picks up on her upset. She unloads. He gets her to sit down so he can fetch all the loose groceries because Serena is the most thin skinned person around. He also confessed he was too hungry to wait and made up boxed macaroni and cheese.
Side ramble: ALL of the food choices in this book are pre-processed very bad for you, the cheapest stuff available. ALL of them, even in the rich folks homes. I think we're seeing how Lisa and Jill Rodrigues were raised by their mother, a being my friends have always referred to as Turtleneck Trish because momma's shade shirt is always a turtleneck.
Lots of complaining about aching legs and varicose veins and remembering how Serena would homeschool her kids while they rubbed her legs.
Carl behaves like a convenient listening ear, tea maker and sympathy sally to his wife as she whines that the girls she was watching should have warned her of their mother's rules. She refuses to take any responsibility for her actions, following the whining with this:
"From the bottom of my heart I want to be a Christian testimony to this family. This is my new mission field."
Good golly! Just stop whining!
Then she throws more shade at her employer:
"Never before have I seen a mother cater to her little ones so. Honestly, she treated her children more like equals than myself."
They are interrupt by a phone call with "Brookelle" and "Joelle" Tears are shed by both, and random conversations about a trip to Amish country happen. Serena collapses in tears and agony after the twins beg to come live in their one room apartment in the bad part of town.
And it's morning, we're treated to Serena's morning grooming habits involving hair straighteners, other electronic hair geegaws and lots of makeup followed by more questionable meals made for lunch. This woman literally spends over two pages moaning over a peanut butter sandwich and more complaining about poverty:
"Carl trims my hair, and I shop frugally. I save present that were given to me to use for other's wedding, birthday or Christmas gifts

Instead I get blamed for being a typical young person who wants everything at once, like that lady at church said when we bought our house.."
I know there is a temptation to save 'nice' things for later, a special time, or to regift. Please take this old lady's advice. Use those things, use them now. Don't save your good china for the right time or you'll never use it. Those gifts were given to you to use because someone thought enough of you to give them to you. It's not a sin to enjoy what you have.
Nor do you need to be worrying about what some random person says about your finances. They aren't you, they don't know your daily struggles!
She follows all of this up with a self justifying prayer about why they bought their exploding house. Useless guilt and worrying what others think.
Serena gets to work and unlike her fearing it would be awful, it's not. It's like the mild scolding never happened. She says she refuses to warm to the children 'after their betrayal.' How is that a good Christian witness again?
Her friend Mrs. Kenaston, who got her the interview in the first place shows up at lunchtime and Serena immediately launches into how difficult the job is. What? She's just read to the kids, and watched them play. While whining she's serving the twins the baloney sandwiches the housekeeper made for them. White bread, mayonnaise and baloney with tortilla chips. Most unrealistic thing so far! You know damn good and well that a family with money, a housekeeper, a gardener and anal about books would likely faint dead away if the housekeeper made that meal for their kids.
There is a tantrum, baloney is tossed and pudding denied. Serena punishes the girls and we're out. Expect another awful chapter later today. Next Serena is forced to actually COOK for her charges and Mr. Huff!
~~~~~~~~~
Stay in touch! Like No Longer Quivering on Facebook:
If this is your first time visiting NLQ please read our Welcome page and our Comment Policy! Commenting here means you agree to abide by our policies but our main rule is this – Do not be a dick!
Copyright notice: If you use any content from NLQ, including any of our research or Quoting Quiverfull quotes, please give us credit and a link back to this site. All original content is owned by No Longer Quivering and Patheos.com
Watch our goofy rants on YouTube
Check out today's NLQ News at NLQ Newspaper